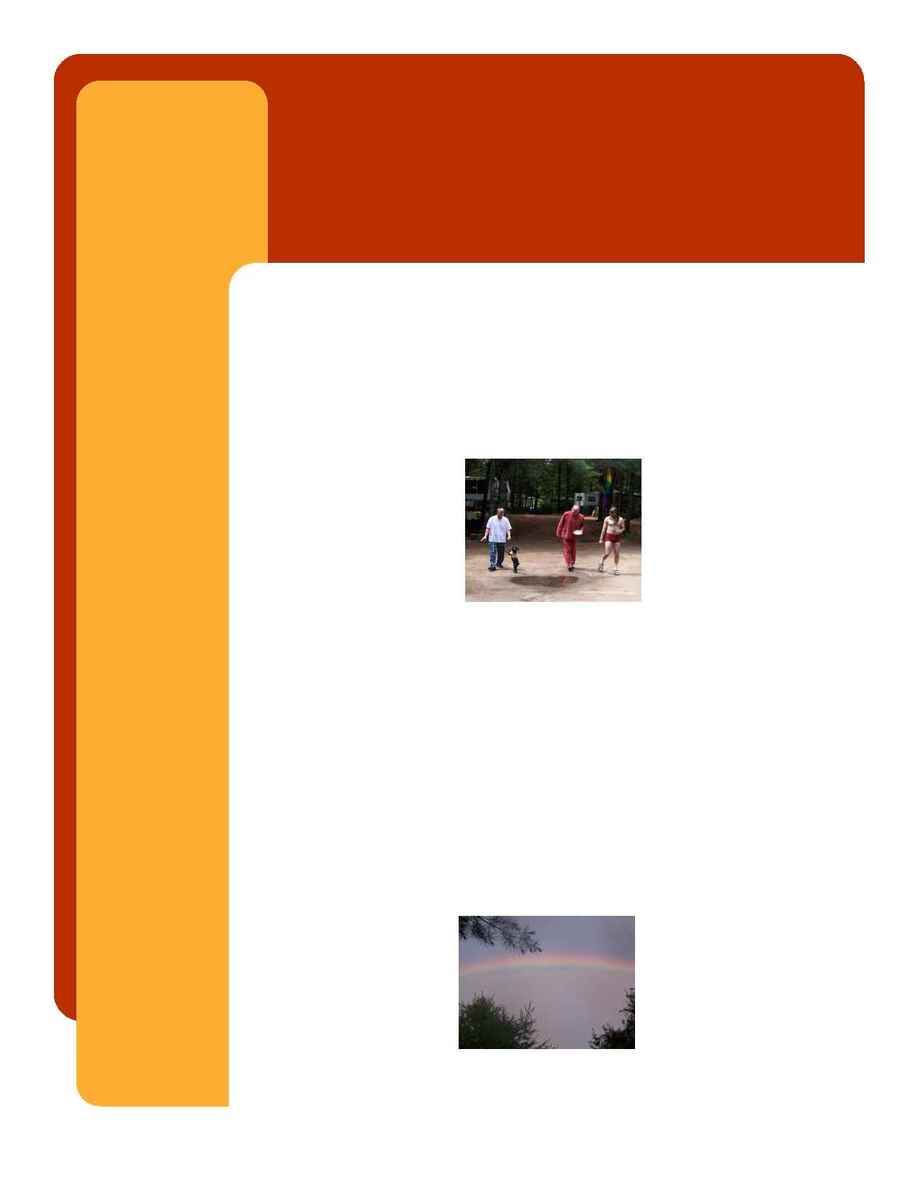 range of ages from 27 to 65 and
ranges of types from twinks to
bears to our campground. Who
says the rain will lower your
spirits. This at Rainbow Woods,
Rain or not, no ones spirits were
dampened.
Our PJ's and BJ's weekend event
was held this weekend, and at-
tendance was high. The success-
ful weekend that Lyall planned,
included a wonderful breakfast
event which satisfied even the
most voracious appetites.
While the weather was hit and
miss all weekend, any rain
seemed to hold out during any of
the events that took place. Nor
did the weather cause much
interference with campers mak-
ing nature walks to the beach to
gather with other campers river-
side during the afternoons.
While others chose to have invit-
ing groups welcoming others for
seafood dinners of lobster and
clams or private meals between
couples.
Because of high attendance, extra
bonfires were held on Thursday
and Friday in addition to the
usual Saturday.
Saturdays bonfire was a little
difficult to light, however this was
nothing that a little newspaper
and ingenuity couldn't handle.
This weekend also brought a
The weather events this week-
end gave our campground an
excellent opportunity to back up
it's moniker with reality as we
had a wonderful rainbow appear
in the skies above the camp-
ground.
Even though this rainbow was
bright in color, it ranged from
one side of the campground to
the other. Campers watched it
appear and gathered in the
Promenade to watch it diminish
into the weather. It was a sight
to see at Rainbow Woods.
PJ clad campers heading to
breakfast.
I N S I D E
T H I S I S S U E :
Fireworks
Give A Bang
2
Lightning
Strikes
2
PJ Breakfast
2
Site Seeing
3
Latest Perms
3
Campfire
Tales
3
Next Event
4
Rainbow Woods Lives Up To Its Name
J U L Y 9 , 2 0 0 7
V O L U M E 1 , I S S U E 1
F U T U R E
E V E N T S
Weiner Day
At The Beach
7/20-7/22
Wigstock
Weekend
7/27-7/29
Mardi Gras
Weekend
8/3-8/5
Hawaiian
Luau 8/17-
8/19