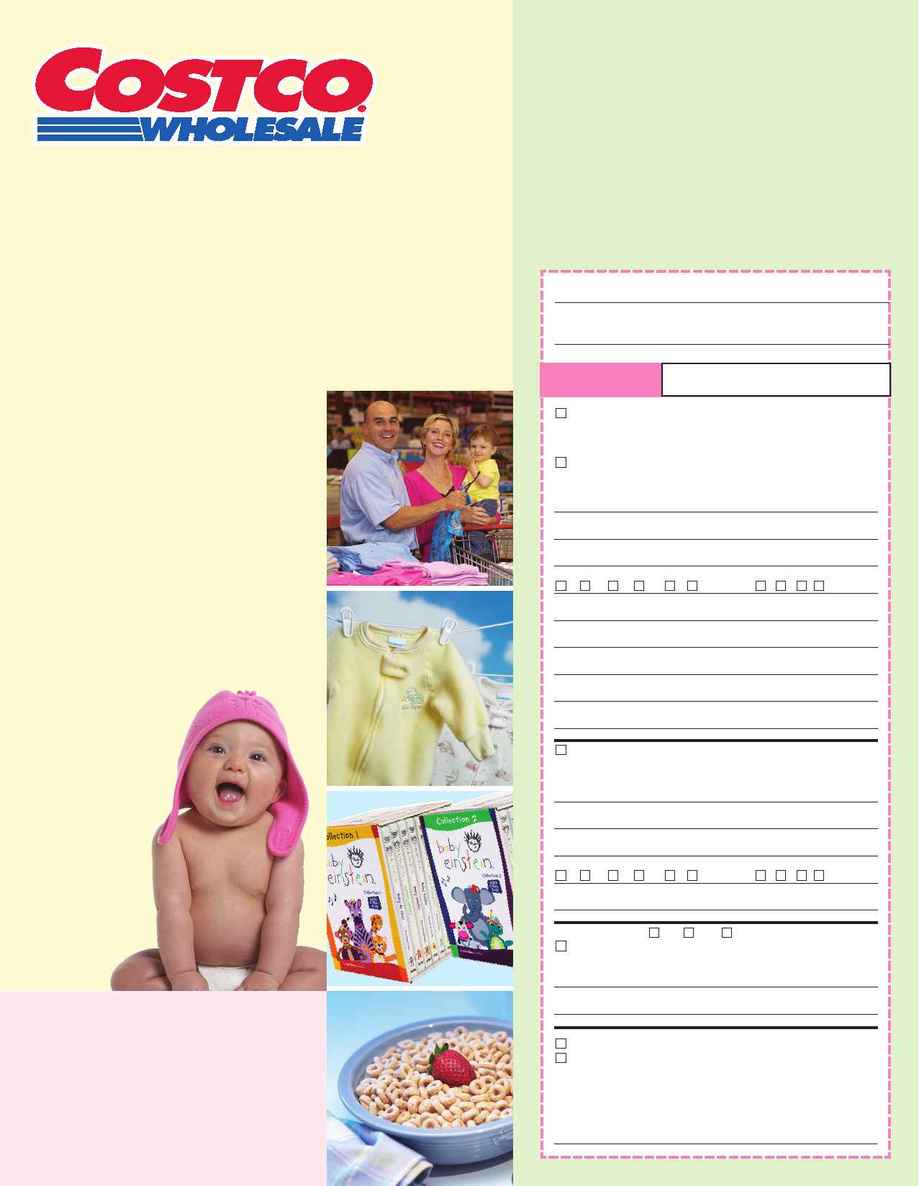 For more information about
Costco, visit costco.com
MEMBERSHIP
APPLICATION
M E M B E R S H I P N U M B E R
Please include sales tax in NY, NJ, HI, AZ, NM, UT, plus all other applicable states. Fees are subject to change.
$10 COSTCO CASH CARD WITH GOLD STAR MEMBERSHIP
Membership is $50 a year including a free Household Card. Offer expires Jan. 31, 2007, and
is valid only for non-members for their first year of membership. Limit one Costco Cash
Card offer per household. You must apply in person at any U.S. Costco location. Offer is
nontransferable and may not be combined with any other offer or coupon.
YES! I want to learn more about the TrueEarnings
sm
Card from
Costco and American Express.
See the membership counter for details.
MARKETING CAMPAIGN CODE: 21194
NICKNAME (name to print on membership card)
E-MAIL ADDRESS ­ Receive special offers and hot buys from costco.com.
FREE HOUSEHOLD CARD
A Household Card is available to a Primary or Add-on Cardholder's spouse, domestic partner or immediate
family member over the age of 18 and living at the same address. Household Cardholders will be asked
to present proof that they live at the same address as the Primary or Add-on Cardholder.
NICKNAME (name to print on membership card)
METHOD OF PAYMENT:
Cash Check American Express
SAVE TIME AND POSTAGE
Check here to renew your annual membership automatically on your
American Express Card. Costco may receive updated card account information from American Express if you
have chosen to have your new Costco annual membership fee automatically billed to your card account.
Costco is continually developing new and exciting programs and services at substantial savings for our members.
Check here if you do not want your name, postal address, e-mail address, and membership number and
status shared with carefully selected partners so they may qualify you for these offerings.
Check here if you do not want your Household Cardholder's information shared as well.
Your driver's license number is not mandatory to gain membership at Costco,
but if you plan to write checks at Costco, we do need your driver's license number.
Note: Completion of this application constitutes acceptance of Costco's Privileges and Conditions
of Membership, including our privacy policies and practices, which are available at the membership
counter or online at costco.com. Please provide your Household Cardholder with this information.
MEMBER'S SIGNATURE (required)
$
10 COSTCO
CASH CARD!
See the application below for details.
To join, complete the application and bring it to the nearest Costco
location along with your membership fees.
Save on all of the items your family needs:
· Diapers · Formula · Wipes
· Clothing · Photo Albums
· Photo Announcements · Groceries
· 1-Hour Photo · Cameras · Camcorders
· Videos, CDs and DVDs
· Ready-to-Serve Meals
· Pharmacy
(also online at costco.com)
Specialty departments and services may vary by location.
Already a member?
Refer a friend, reward yourself.
If you introduce a new member
to Costco by Jan. 31, 2007,
you each will receive a
$10 Costco Cash Card.
Simply bring your friend
and this form to any
Costco warehouse.
Once their new
membership is
activated, you
each will receive
a $10 Costco
Cash Card.
Costco and your
growing family ­
what a comfortable fit!
SPONSOR`S NAME
(Limit two sponsored memberships per primary member per year. Use a separate form for
SPONSOR`S MEMBERSHIP #