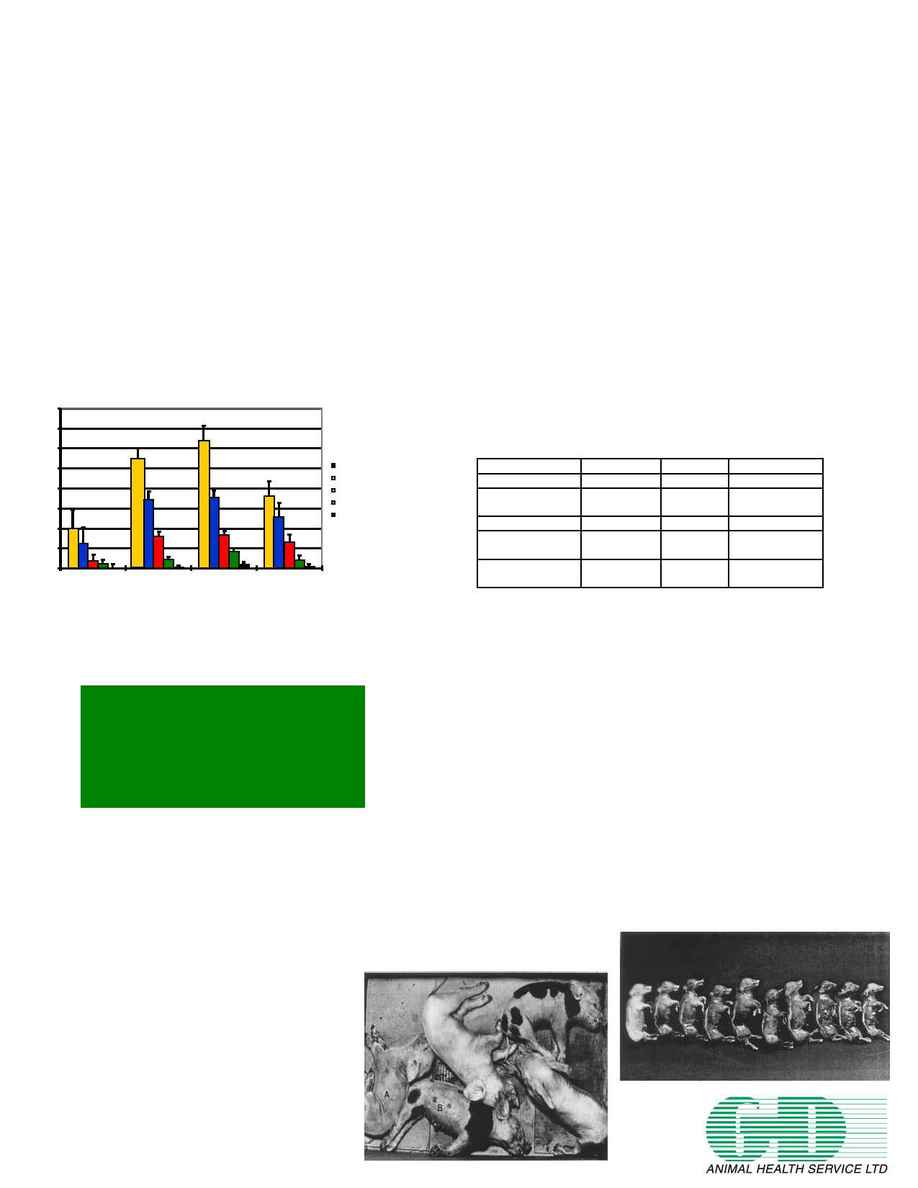 PSEUDORABIES SUCCESSFULLY ERADICATED FROM THE NETHERLANDS
T.F. Duinhof
1
Animal Health Service Ltd., P.O. Box 9, 7400 AA Deventer, the Netherlands (t.duinhof@gdvdieren.nl) www.animalhealthservice.nl
Product Boards for Livestock, Meat and Eggs, P.O. Box 460, 2700 AL Zoetermeer, the Netherlands
Introduction
Since 1993 a national program to eradicate Pseudorabies-virus (PRV,
Aujeszky's Disease Virus) has been carried out in the Netherlands. This
program is based on the compulsory vaccination with gE-deleted vaccines
according to a strict vaccination scheme, in order to reduce PRV-
transmission. Since 1993 there has been a sharp reduction in prevalence of
PRV-seropositive pigs (see figure 1).
At the start of the campaign in 1993 approximately 70% of the sow-
population was PRV-seropositive. By the first quarter of 1998 the mean
PRV-seroprevalence of the sow population in the southern (herd-dense)
region was approximately 1%.
Eradication program
The following measures were imposed:
a. Compulsory vaccination since 1993:
b. Notification of clinical PR, since 1994. No clinical
outbreaks have been reported since.
c. Restricted use of vaccines: gE-deleted, and meeting the
effectiveness of the vaccine with strain 783 in O/W-adjuvant.
d. Monitoring gE-seroprevalence in domestic pigs.
Since 1996 on a yearly basis 500.000 ­ 600.000 samples
from all pig farms have been checked.
e. Monitoring of gE-seroprevalence in wild boars.
Since 1994 a total of 100 ­150 blood samples, and in
recent years 300 samples, are examined annually. It is
concluded that the wild boar population is not an
important reservoir.
f. Certifying herds free of PR. Since October 1998 PR-free
certification is compulsory for all pig herds. Situation in
January 2004: all 10.800 Dutch pig herds are certified
free of PR, except 30 herds (0,3 %, in all cases based on
administrative reasons).
Central role of vaccination
The available modern vaccines have proven to be effective in reducing or
even blocking the transmission of the PR-virus. Setbacks in the PR-free
status have only been seen in the years 1996 and 1997. On 10 sow herds
an outbreak of PR was detected. In all cases reasons could be found in:
the vaccine that was used (not meeting the standard), non-optimal
vaccination strategy, or multiple introductions over a longer period of time
from compartments with rearing or finishing pigs or from neighbouring
herds.
Results: Serological findings in recent years
In table 1 the number of samples that have been found positive in the PR-
gE-Elisa (Idexx) in 2001, 2002 and 2003 is presented. Also the result of the
confirmation-test carried out by the National Reference Institute in Lelystad
is given. On each farm with a confirmed gE-positive result an extra sampling
was performed. In all cases no extra gE-positive samples were found. This
leads to the conclusion that there was no reason to withdraw the PR-free
certificate from these pig-herds.
Table 1: Blood samples collected and examined in the years
2001, 2002 and 2003
2001
2002
2003
Positive gE-
Elisa (AHS)
NRI-pos. on
total
PR-free certific.
withdrawn
AHS: Animal Health Service, Deventer, The Netherlands; NRI: National Reference
Institute (CIDC), Lelystad, the Netherlands
The total amount of blood samples in the year 2003 is much higher than in
the years before. This is due to the fact that, from the 15
extra blood-sampling is required for the export of piglets to the German
regions Lower-Saxony and Northrine-Westphalia, since these regions have
achieved the article 10 status.
Heading for article 10 status
The above mentioned results of the eradication program leads to the
conclusion that the Netherlands are free of Pseudorabies. Therefore the
Product Boards for Livestock, Meat and Eggs (PVE) will have to decide
upon wanting the status as described in article 10 of EU-directive 97/12 or
not and start negotiations with the European Commission.
Points of discussion will be:
a. the use of gE-deleted (marker-) vaccines in case of outbreaks of PR and
b. the bringing to market of pork of vaccinated pigs also from positive
farms.
c. in the opinion of the Dutch Product Boards, pig farmers and the Royal
Dutch Veterinary Association stamping out should be avoided as a
method of controlling outbreaks of Pseudorabies.
0
5
10
15
20
25
30
35
North
East
South
West
Region in The Netherlands
Figure 1: Results of estimating prevalence of PR-gE in
sow-populations
Vaccination Programm
Sows & boars: 3 times per year
rearing pigs:
- 1st vaccination at 10 weeks of age
- 2nd vaccination at 14 weeks of age
- 3rd vaccination at 6 months of age
Fattening pigs:
- 2 times unless certified
Clinical signs in piglets
Sero
p
r
ev
alen
c
e
o
f
AD
V in
so
w
s
(
i
n
%)