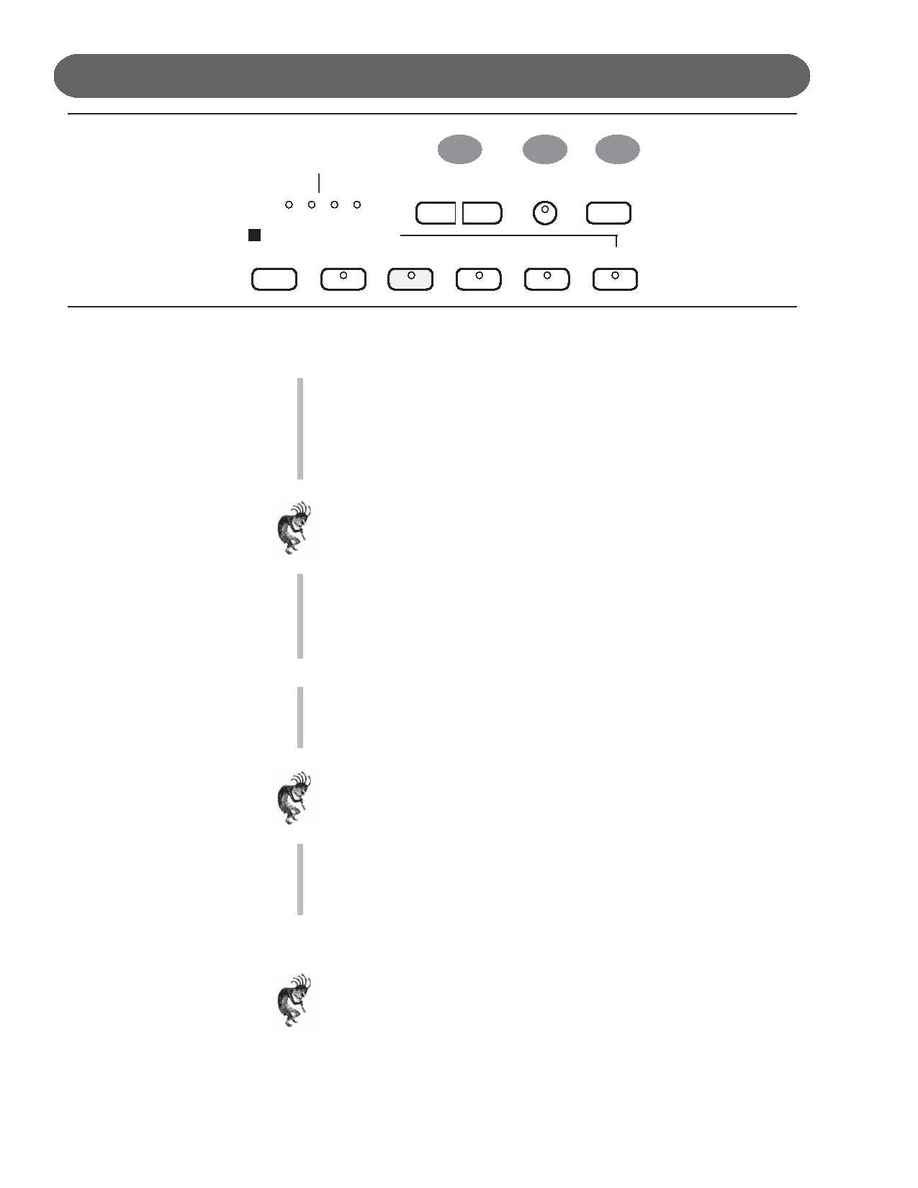 PANEL CONTROLS
8
9
10
8.
TEMPO - Press one of the TEMPO buttons, the current tempo value will
appear on the display.
You can use the TEMPO +, TEMPO ­ buttons, or the +/­ VALUE buttons to
increase or decrease the tempo of Orchestrated Accompaniment Pat-
terns and other Recorded features.
The Tempo value range is from 40 to 250 bpm (beats per minute).
Note: Press the ­ TEMPO or + TEMPO buttons or the +/­ VALUE
buttons simultaneously to recall the default tempo setting for the se-
lected rhythm style.
LED Rhythm light bar display - There is a four-dot beat indicator to
the left of the tempo buttons. It indicates the Tempo and beat for the
accompaniment that is playing. The lights flash simultaneously on the
first beat of each measure, then the indicators flash individually in
sequence on the remaining beats.
9.
ONE TOUCH - This button works in association with your selected
Rhythm Style. The ONE TOUCH button will automatically select the
predetermined optimum instrument voice settings for the selected rhythm
style.
Note: The voice, voice volume, fingered accompaniment chord, mode,
harmony and effects will automatically be engaged or altered when the
One Touch button is engaged.
10.
ACCOMP (AUTOMATIC ACCOMPANIMENT) - Each of the 100 rhythm
styles have an auto accompaniment pattern, often called the auto bass
chord.
These accompaniments are dedicated to the selected rhythm style, and
will create fully orchestrated rhythm, bass and chord accompaniments,
based on the chord that you play with your left hand.
Note: The ACCOMP button activates the chord select screen.
With the accompaniment function engaged, the keys to the left side of
the split point act as the auto accompaniment piano keys, while the
keys to the right are available for normal playing.
The auto accompaniment fingering modes are single, fingered and piano.
Please see the Auto Accompaniment section of this manual for more
information.
LED Light Bar Display