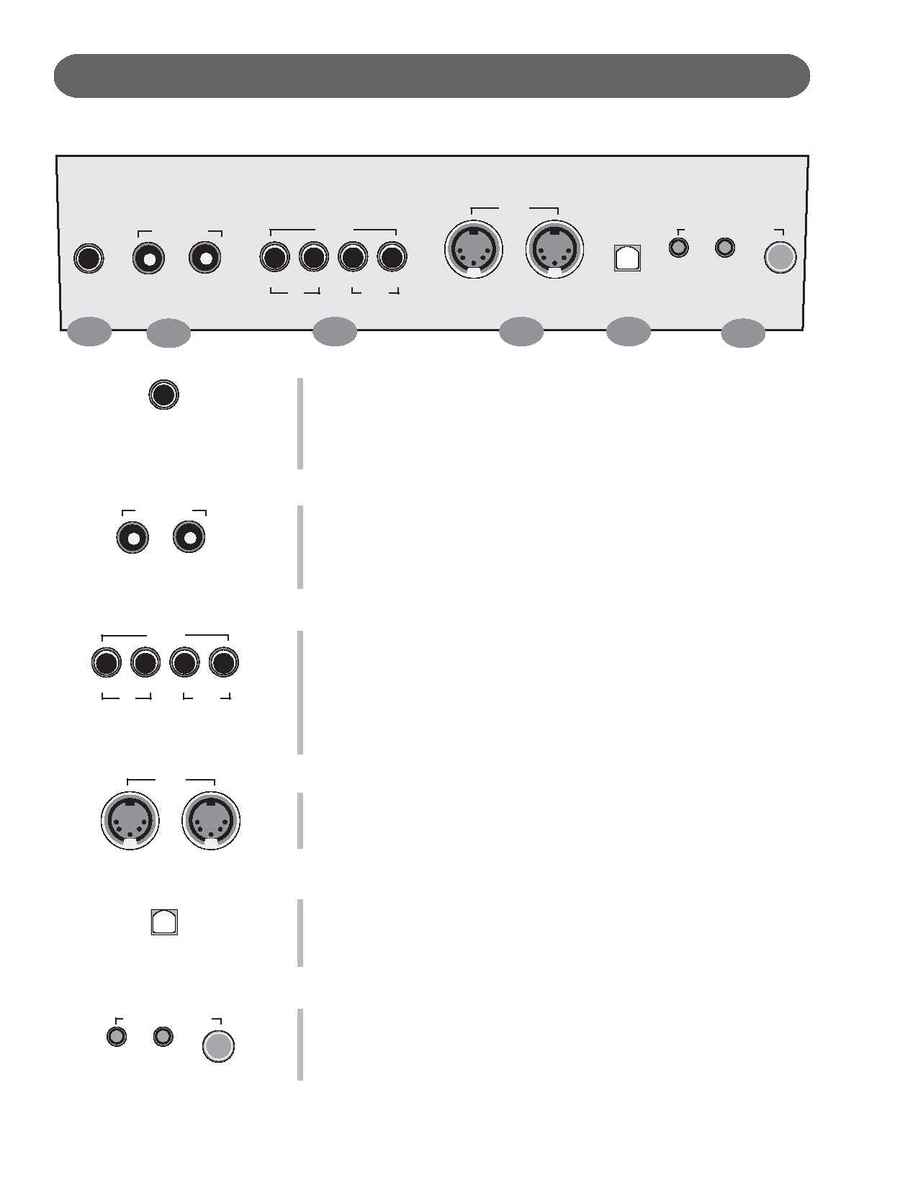 CONNECTOR PANEL
1.
VIDEO OUTPUT - This jack will send the NTSC video signal of the
Karaoke Lyrics to your TV. It is located to the left of the Connector
Panel. Please use the included cord or similar RCA type cord to plug
the GP-3 video output jack to the similar style Video Input Jack on your
TV.
2.
PHONE 1 / PHONE 2 - You can play in total silence, without disturbing
others in the room, by plugging a set of headphones into one of the
appropriate sockets. When headphones are plugged into either of these
jacks the main speaker system is turned off. Two sets of headphones
may be used simultaneously.
3.
LINE IN - These stereo audio input jacks will amplify the supplied signal
through the internal sound delivery system. They can be used to hook
up items such as CD players, MP3 player or Cassette player.
LINE OUT - These stereo audio output jacks supplies the piano's output
signal to external amplification, such as home stereo, PA system or
other stand alone amplifiers.
4.
MIDI IN / MIDI OUT - This piano contains MIDI in and MIDI output ports.
MIDI jacks allow communication with other products equipped with MIDI
interfaces. Please see the MIDI section of this manual for further details.
5.
USB - The USB connector allows you to connect the piano directly to
your computer's USB port. This allows you to update your piano's
software if necessary. Do not turn on piano with USB cable connected
to the computer to avoid having to restart your computer.
6.
MICROPHONE INPUT - The Microphone Input is for use of the micro-
phone.
The Volume Knob controls the Microphone Volume.
The Echo Knob controls the amount of Microphone output echo.
This connector panel, with its various jacks, is located on the bottom left of the piano, under the keybed.
1
2
3
4
5
6