WKQI Detroit Say Itand Win Contest Rules 2005 Page 1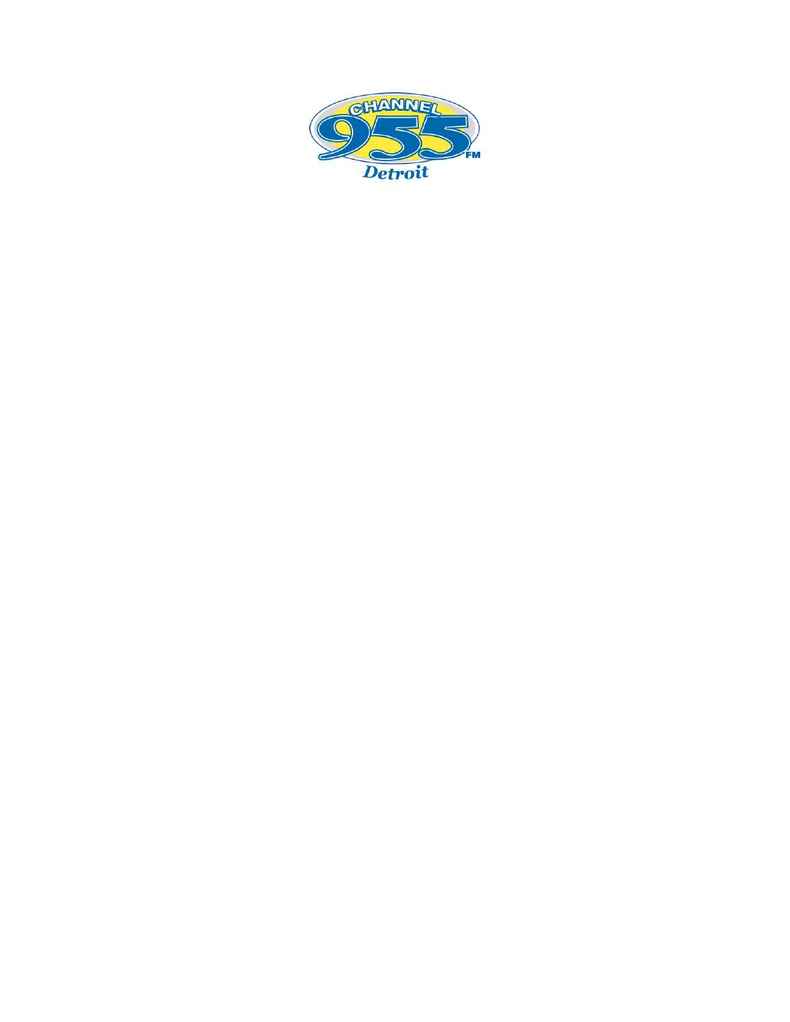 CHANNEL 955 "SAY IT AND WIN" RULES
The Channel 955 "Say It and Win" contest is open to all residents of Detroit and the
surrounding listening area. You must be 18 years of age or older to participate and win.
There may only be one winner per household...this is defined as anyone living in the
home of the participant including PARENTS, SPOUSES, SIBLINGS, CHILDREN and
ROOMMATES. This contest is not open to employees of Clear Channel Worldwide or
immediate family members, or members of any other media organization and/or
business. VOID WHERE PROHIBITED. NO PURCHASE OR OTHER
CONSIDERATION NECESSARY. Winners of all Channel 955 contests may only win
"Say It And Win" will air weekdays beginning 2/14/05 through 3/11/05 and may be
extended further. The contest will air weekdays only. To participate, listen to Channel
955, a recorded or live announcement will instruct the listening audience to call the
station at (313) 298-9595. The participant must be the twenty fifth caller. The participant
will be required to say "I am Channel 955" as many times as possible in 9.55 seconds.
The participant must say "I am Channel 955" clearly and completely to win. The
participant will receive $100 for each time they clearly and completely say "I am Channel
955". The air personality is the judge and has the final decision. WINNERS ARE
RESPONSIBLE FOR ALL TAXES INCURRED BY WINNING THE Channel 955 "Say It
and Win" contest. PRIZES ARE NON TRANSFERABLE.
ALL WINNERS MUST PRESENT IDENTIFICATION AND SIGN A RELEASE TO
Channel 955 (a) PERMITTING REASONABLE USE FOR PROMOTIONAL PURPOSES
IN ALL MEDIA OF THE PARTICIPANT'S NAME, LIKENESS AND BIOGRAPHICAL
INFORMATION FOR A PERIOD OF ONE YEAR WITHOUT FURTHER
CONSIDERATION, AND (b) RELEASING Channel 955, CLEAR CHANNEL
CORPORATION, IT'S OFFICERS AND DIRECTORS, STOCKHOLDERS AND
EMPLOYEES FROM ANY AND ALL CLAIMS ARISING DIRECTLY OR INDIRECTLY
OUT OF THE AWARD AND USE OF THIS PRIZE (c) Channel 955 IS NOT
RESPONSIBLE FOR DAMAGE TO A PRIZE OR LOSS OF THIS PRIZE AFTER THE
PRIZE HAS BEEN PICKED UP FROM Channel 955.