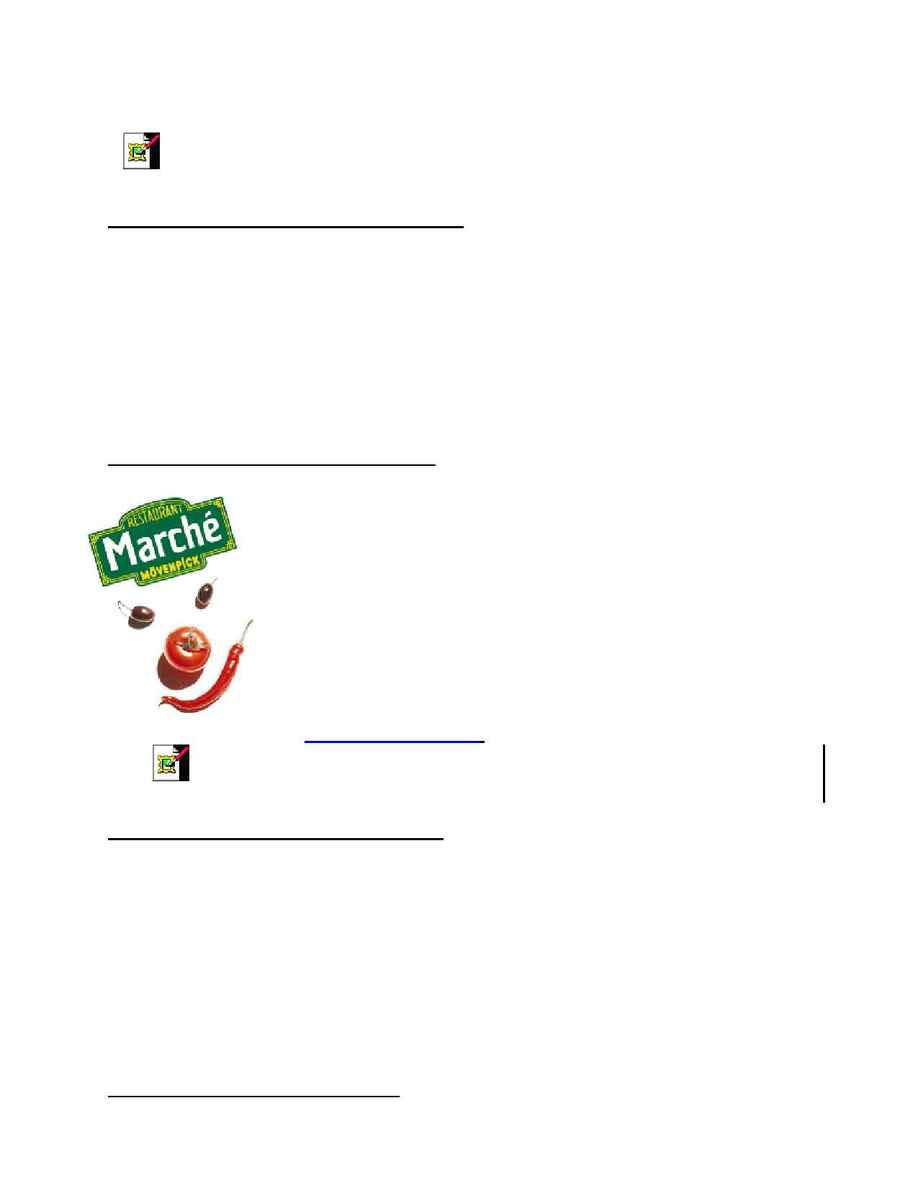 (1994), and POWERaDE (1993). Internationally, Coca-Cola markets a bottled water
brand, BonAqua, in about 35 countries.
New Product Trends: Pizza Inn Spices It Up
The pizza chain segment continues to be fiercely competitive. Pizza Inn is upping the
ante by introducing a bevy of new items to its menu this spring. Lunch to-go choices
include non-pizza items like specialty sandwiches (meatball, Italian sub, ham & cheese,
turkey & cheese), and premium salads. Express locations will offer Pepperoni Wraps,
(showing there's no end to where wraps can go). Pepperoni Stuffed Pizza has become a
permanent item on the chain's menu, after a trial run. And "Fire It Up!" will be the
first-of-its-kind (along with the pizza wrap thing) in the pizza segment, namely a hotter
pizza made with a spicy sauce. Beginning April 5, you can call Pizza Inn in the Dallas
area for a test-market taste.
Restaurant Trends: Marché on the March
In last year's February 18 issue, Food Channel reported the plan for
Richtree, Inc to bring Movenpick's Marché concept to the United
States in the summer of 1998. In November, the concept opened in
Boston at the Prudential Center. For anyone who has seen Eatzi's or
foodlife, this is the mother Euro-market concept (from Canada &
Europe) that inspired them all. Cook-to-order stations include a
rotisserie grill, pasta station, rosti station, seafood, sushi, coffee,
pizza, beverages, desserts, crepes, wine cave, beer garden, soup &
salad, among others. For service dining there's a bistro, an auberge,
and a locanda. If you're in an extra hurry, there's a Take Me!
Marché prepackaged takeaway station, as well as a Marchelino, or
mini Marché. Unquestionably worth a foodie pilgrimage. For
Onsite Trends: School lessons in fast food
Restaurant brands that have relationships with school foodservice operators may want
to run for cover. Parents and the media have finally figured out that kids are eating
Pizza Hut pizza and Taco Bell burritos at school, and they're not happy about it.
Several newspapers around the country published Associated Press coverage of the
high-fat foods available to kids at schools. In fact, it quoted a 1996 government study
estimating that 13 percent of public schools tied to the federal school lunch program
offer brand-name fast foods. Foodservice directors will tell you there's not much
choice. The alternative is seeing 42 percent of the cooked vegetables they serve ending
up in the trash can. Still, some schools are trying to overcome both problems, with
pasta bars, fruit and vegetable bars, ethnic restaurant.
Consumer Trends: Functional Favorites