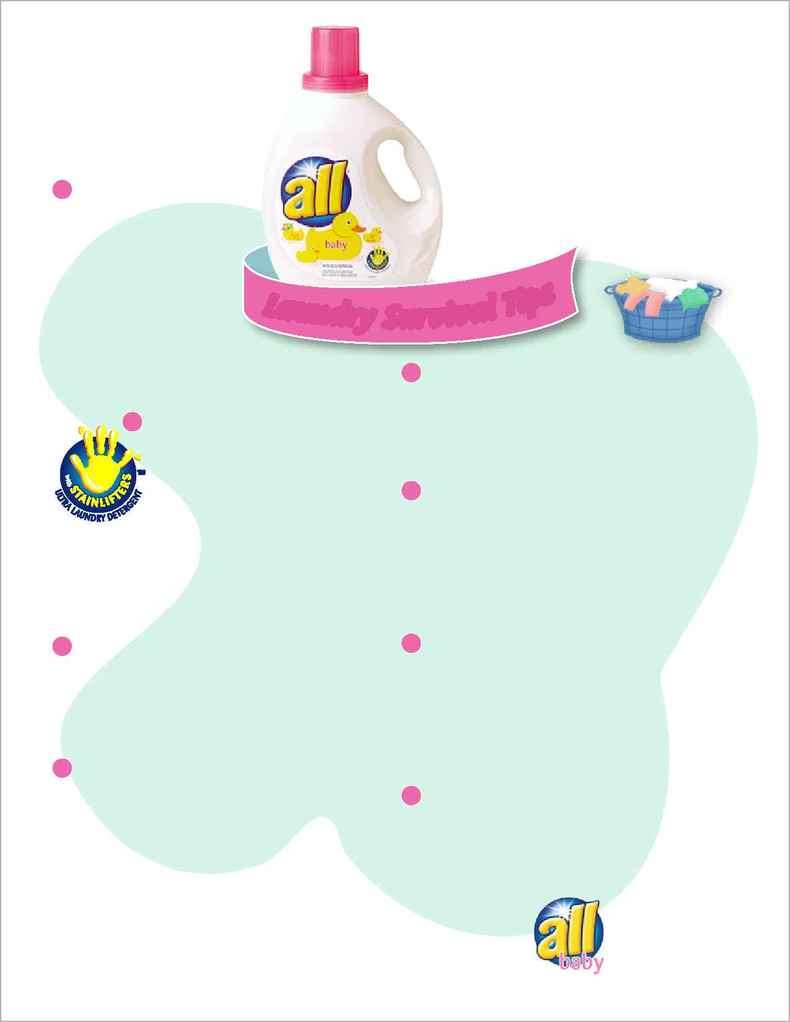 hen a new baby arrives, your hamper
will fill up faster than you ever
believed possible. Even so, laundry
doesn't have to take over your life.
Try these tips for keeping your
To help free your baby's
clothes of chemical
residues that could
irritate your baby's
tender skin, wash your
baby's clothes, cloth
diapers, blankets,
towels, bedding, and even
car seat and stroller covers before
she wears or uses them for the first time.
Rinse major food and diaper stains as
soon as possible in cold water, using
your washer's soak cycle with a little
detergent that is specially formulated
for babies. Keep some laundry
detergent in small squeeze bottles in
child-safe locations around your home so you can
spot-treat stains as soon as they happen. In a
pinch, baby wipes work wonders at getting most
of the splatter out before it sets.
Don't let molehills turn into
Do a little laundry every day or two so you don't
get stuck at home all weekend working your way
through a mountain of dirty clothes.
To make sorting simpler, buy several small laundry
baskets or hanging bags and color-code or label
them "darks, lights, baby clothes, delicates," and
so on so that your laundry is pre-sorted and you
can simply dump it in the washer. When the
laundry's done, line up the baskets and deposit
each family member's clothes in a separate one so
you don't have to sort them again once they're
folded.
If you're sick of baby socks and other small items
literally going down the drain or getting stuck
inside larger items, buy an inexpensive mesh
lingerie bag to wash them in.
To keep clothes from fading or discoloring, don't
just separate lights from darks -- wash whites apart
from pastels and other light colors and brights
apart from darks. It also helps to turn clothes
inside out to cut down on the abrasion. Wash
clothes in cool water whenever possible.
Rather than wasting your time folding clothes that
belong on hangers, set up a hanging rack or bar in
your laundry area and stock it with extra hangers.
When clothes come out of the dryer, you can hang
them up immediately (no more ironing!) and
simply carry the hung items directly to your closet.
Make a game out of sorting laundry with your
child, and let him take a stab at folding clean
washcloths or matching socks. Older kids can
actually help put laundry away.
Laundry Survival Tips
cherish
the stories.
wipe out the
stains.
cherish
the stories.
wipe out the
stains.