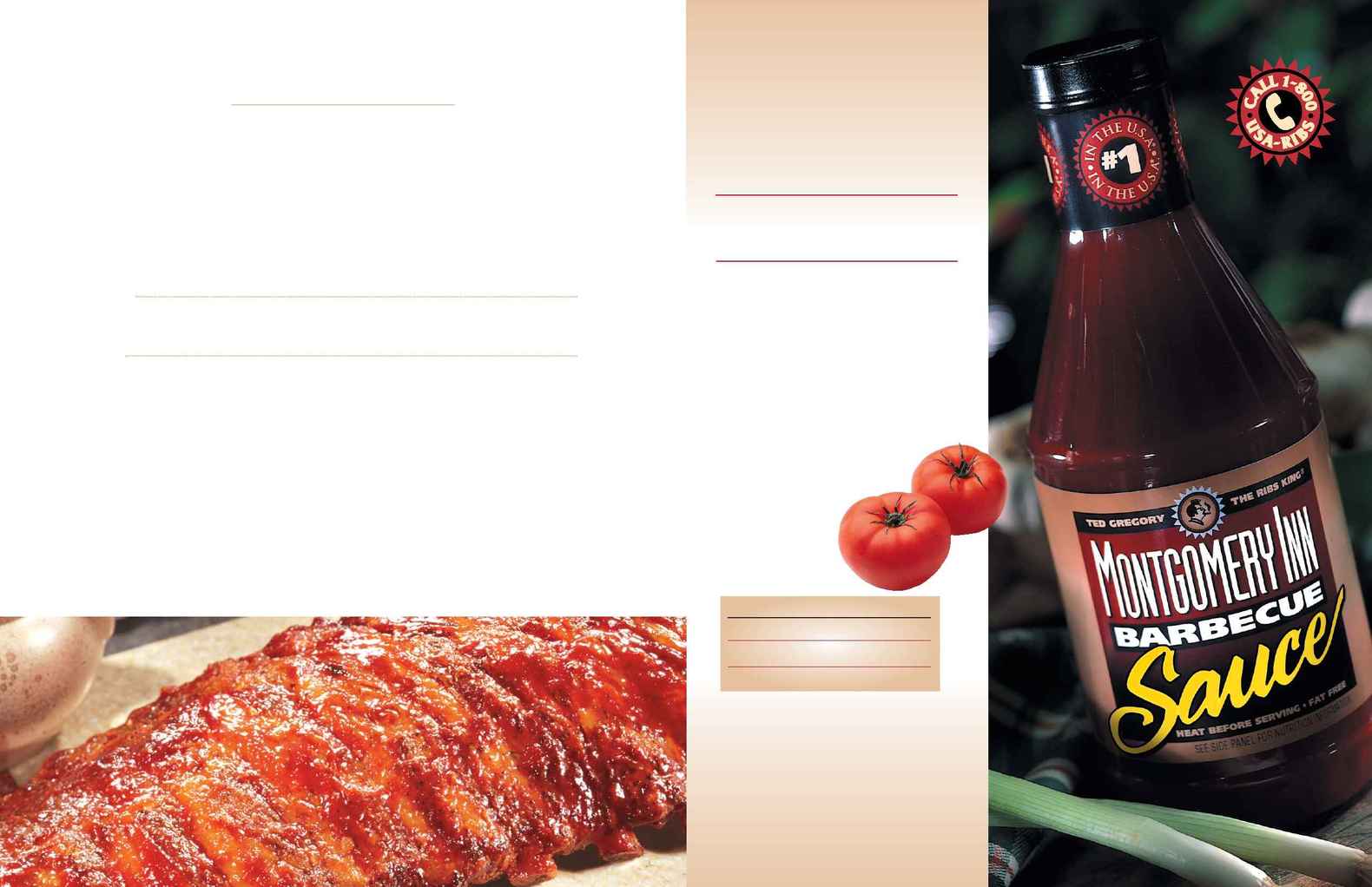 To this day, the recipe
for the sauce is a
It is known only by
Ted's wife and daughters.
The Montgomery Inn
Barbecue
Sauce is a legend in its own right.
The recipe is a closely guarded secret known
only to Ted's wife, Matula, and her daughters.
The sauce is a heavenly blend of tomatoes,
garlic, onions, molasses and secret spices.
It's specially blended to be heated and then
brushed or poured on hot AFTER cooking.
Our fat-free, all-natural sauce is truly
the world's greatest; one taste and
you'll know why. Our
#1 ingredient is
tomato paste, which
comes from fresh
whole tomatoes!
*Price does not include shipping charges.
3
­ 1 - 8 0 0 - U S A - R I B S
To send Montgomery Inn products anywhere in the U.S.A., call toll-free:
1-800-USA-RIBS
(1-800-872-7427), MasterCard,Visa, American Express, Diner's Club and Discover credit cards
welcome.When you call, please have ready:
1.
Recipient's address (No P.O. Boxes), ZIP code and daytime phone number.
2.
The Montgomery Inn products and item numbers you want to order.
3.
Your credit card number and expiration date.
For Further Assistance, Call Our Customer Service Dept.
1-800-289-RIBS (7427)
After you've placed your order, further questions regarding your order should be directed to our
Customer Service Department.
To ensure the quality of our products, be sure that all shipping addresses are correct. Delivery
services will not forward packages. It will be the sender's responsibility to cover the costs for
reshipment of a product in the event that we were provided with an incorrect address.
All charges affecting your order must be approved prior to your shipment.
10