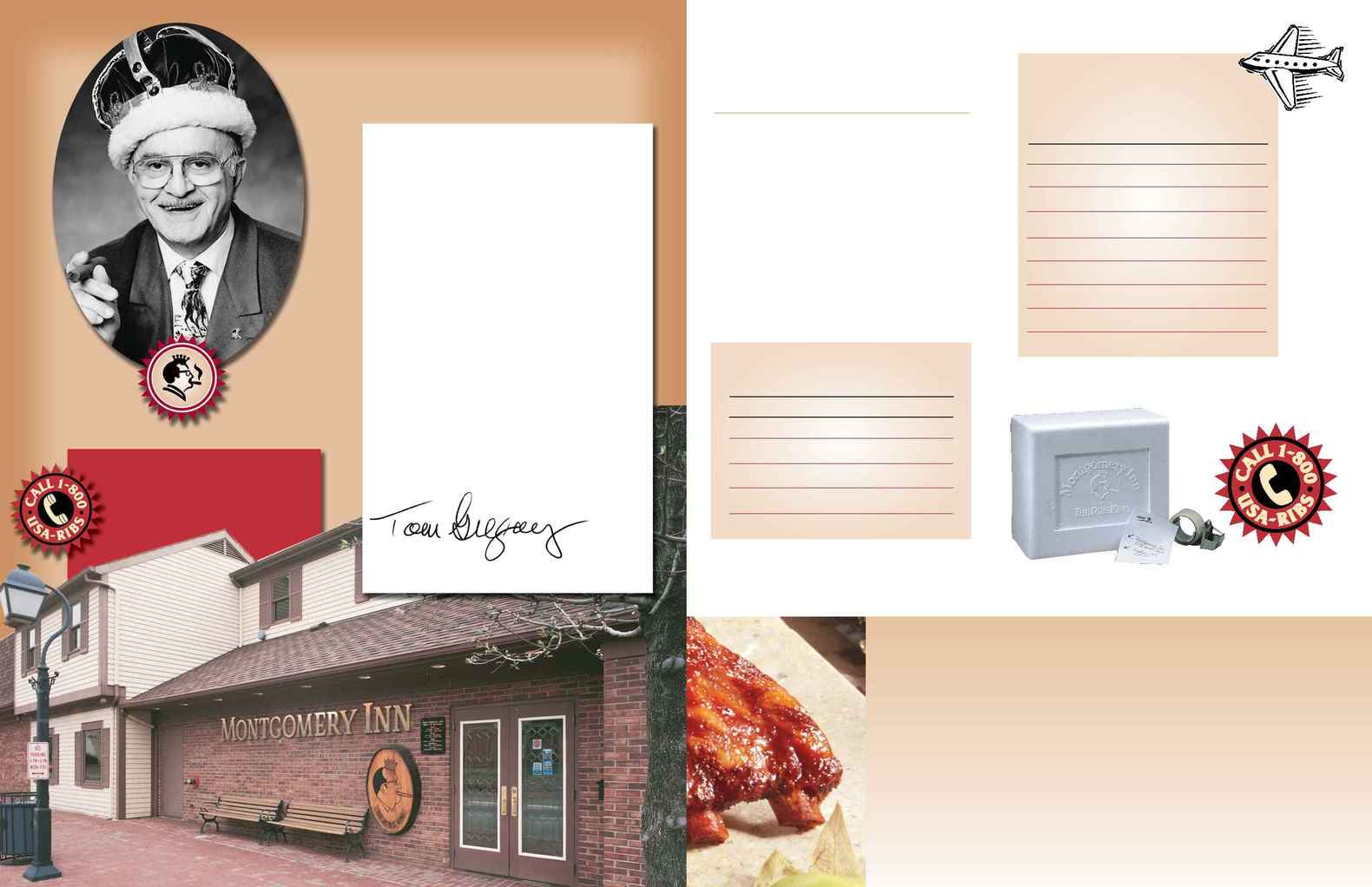 The "Montgomery Inn Experience" is so special that
we take great effort to get it to you fast and fresh. Our
entire product line is carefully packed and packaged in
order to get to you overnight. Bottles of Montgomery
Inn Barbecue Sauce and Skyline Chili are shipped via
ground transit (unless otherwise specified) because they
are non-perishable. Note that with every rib order, we
include PLENTY of sauce for your dining pleasure.
ALL PERISHABLE ITEMS NEXT-DAY DELIVERY
(CONTINENTAL U.S.)
* Shipping/Handling for Super Cincinnati is $42.45.
** Shipping rates apply to each item ordered.
Orders placed after 2 p.m. EST will be shipped the next
shipping day. Additional charge for Saturday delivery.
(SAUCE AND GIFT BASKETS)
Montgomery Inn is proud to accept American Express on all mail order purchases.
F O R O R D E R I N G T H E G I F T O F G O O D T A S T E
11
O U R F O U N D E R T E D G R E G O R Y
DEAR LOVER of
Dear Friend of Montgomery Inn,
Our parents,Ted and Matula Gregory, first created
Montgomery Inn's signature ribs and sauce in the 1950s.
Since then, we've gained a loyal following of people who
have grown to love and appreciate our uniquely formulated
sauce and precise methods of preparation.
It has been our goal over the years to provide our patrons
with the highest quality food, service and atmosphere at all
of our establishments.
But we wanted to be able to serve our faithful customers
who have moved away or discovered us while here on
vacation, too. So in the late 90s, we decided to start ship-
ping our ribs and sauce coast to coast so that Montgomery
Inn lovers all over the U.S. could still enjoy our world-
famous ribs, even if they couldn't be in Cincinnati.
And to make this at-home dining experience even more
authentic, we partnered with a few other Cincinnati main-
stays, like Graeter's and Skyline, to complete the meal.
We hope you agree that this collection of gifts includes the
best of what Cincinnati has to offer. And that you share
our confidence that any gift you give from this catalog will
be well-received.
Thank you for shopping with us,
Tom Gregory
President and CEO
Montgomery Inn, Inc.
Call Toll Free: 1-800-USA-RIBS
2