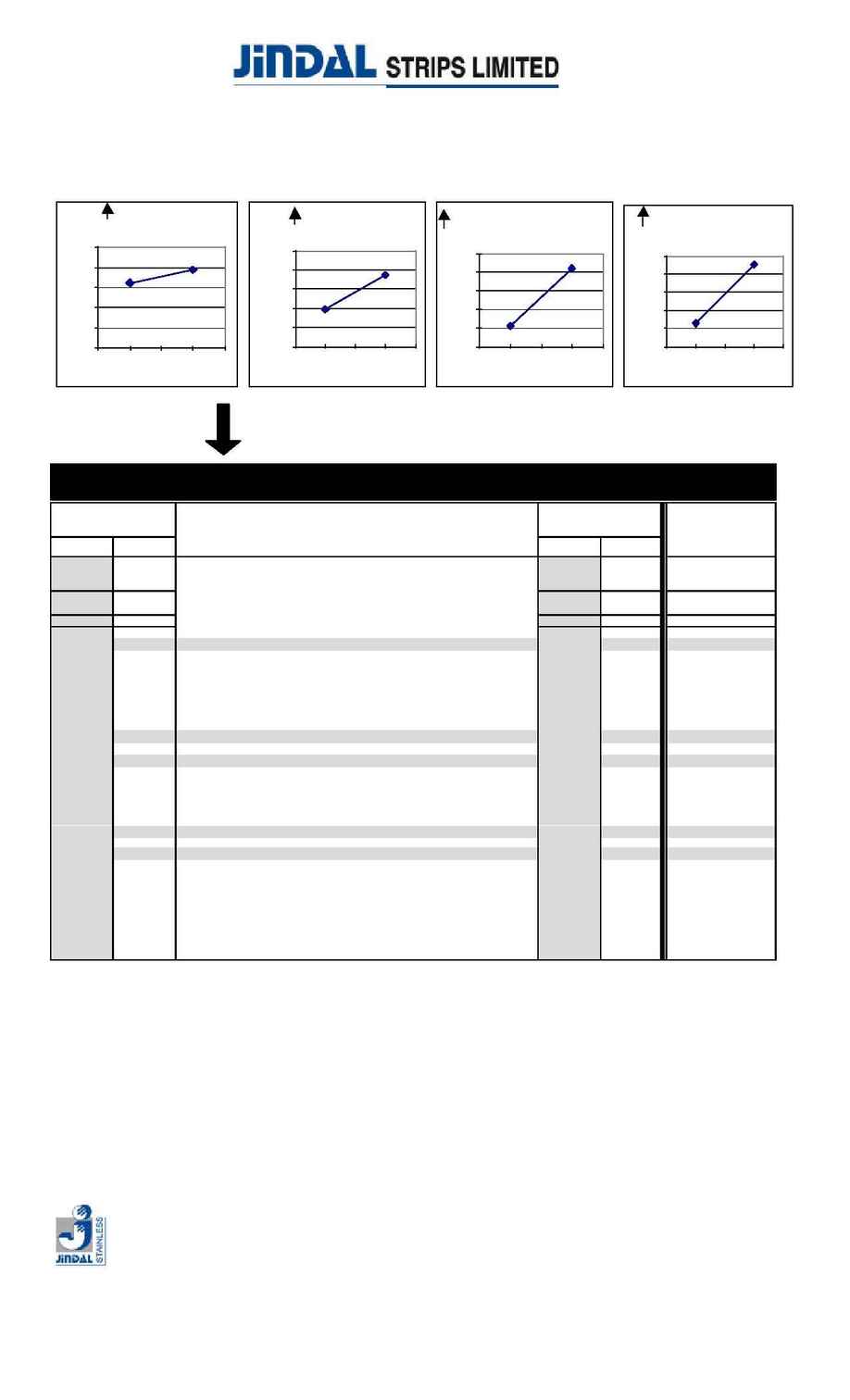 "O u r n u m b e r s s p e a k f o r t h e m s e l v e s
W e a r e n o w p o i s e d f o r g r o w t h."
-
Net Sales 20 %
Third Quarter
Rs Crore
Cash Profit 92 %
Third Quarter
Rs. Crore
Profit (Before Extraordinary items) 292%
Third Quarter
Rs. Crore
Profit (After Current Tax) 257%
Third Quarter
Rs Crore
Q3 INTEREST DOWN BY 54%
(Rs. in Crore, except per share data)
UNAUDITED FINANCIAL RESULTS (PROVISIONAL) FOR THE THIRD QUARTER ENDED 31
ST
DECEMBER'2002
Nine Months
Ended
31
st
December
PARTICULARS
3
rd
Quarter
Ended
31
st
December
Year ended
31
st
March' 2002
(Audited)
2002
2001
2002
2001
1337.80
940.94
Total Income
466.13
387.12
1367.41
(a) (Increase)/Decrease in Stock-in-trade
(b) Consumption of Raw Material
246.72
184.20
Operating Profit before Interest, Depreciation & Tax
89.54
71.00
250.63
178.95
106.14
Cash Profit
74.57
38.79
143.33
Profit before Extraordinary items
7.45
--
2.48
--
98.91
38.18
48.27
12.94
2.06
Provision for Current Taxes
2.96
0.26
36.12
Profit after current taxes
45.31
12.68
46.36
29.15
11.03
Provision for Deferred tax
14.06
3.67
25.09
Net Profit/Loss after tax
31.25
9.01
31.66
- Equity (Face value Rs.10/ - each)
- Preference (Face value Rs.10/ - each)
Reserves excluding revaluation reserve
(As per the Balance Sheet of previous year)
Basic & diluted EPS for the period for year to date and for the previous year
EPS is for the quarter (not annualized Rs.)

Notes :
1. The above results have been reviewed by the Audit Committee and taken on record by the Board of Directors in their respective meetings held on 29
2. Out of the total Entry tax liability of Rs. 9.94 Cr., Rs. 7.45 crores has been provided for in the first nine months under the head of Extraordinary items.
3. The operations of Vizag Division have been restarted in Novem ber 2002.
4. The company has, for a consideration of Rs. 5.07 lacs, purchased all the 50,700 Equity Shares of Jindal Stainless Limited at Rs. 10/ - per share (face value).
Consequent upon the purchase of said shares, it has become a wholly owned subsidiary of Jindal Strips Limited.
5. The Board has subject to necessary statutory/other approvals, approved the Scheme of Arrangement vide which the entire Stainless Steel manufacturing operations of
the company will be transferred to Jindal Stainless Ltd. and the inv estments would remain in the residual Jindal Strips Limited.
6. Diluted EPS is contingent upon conversion of Foreign Currency Convertible Bonds. However, the company proposes to prepay part of the Bonds under the Scheme of
Arrangement subject to necessary approvals.
7. The figures of previous period/quarter have been regrouped wherever necessary to conform to this period/quarter's classification.
By order of the Board
for Jindal Strips Limited

Sd/-
Place : New Delhi
Naveen Jindal
Date : 29
th
January, 2003
Director
Regd. Office: Delhi Road, Hisar ­ 125005 (Haryana)
Corporate Office: Jindal Centre, 12,Bhikaiji Cama Place, New Delhi-110 066