CVS Pharmacy cvsfact Page 1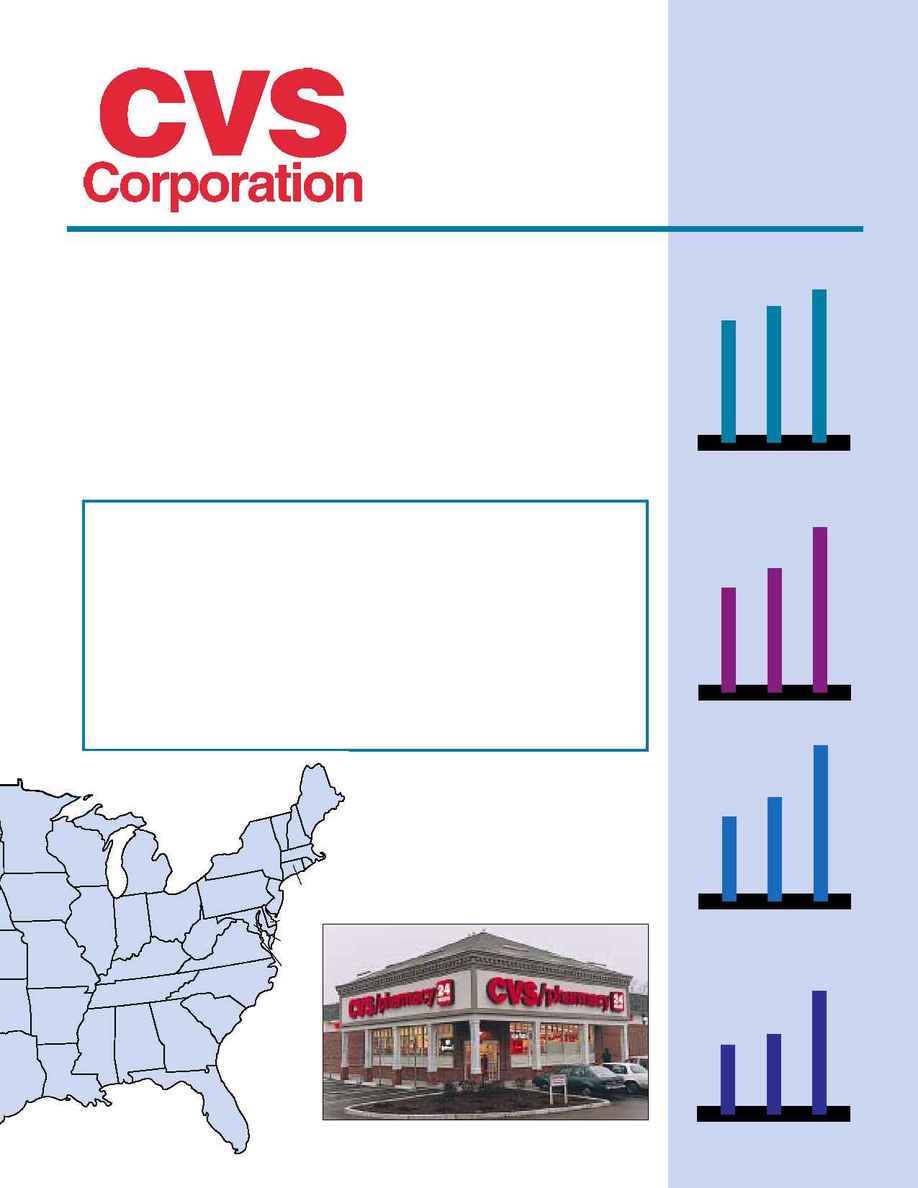 About CVS Corporation
CVS is the nation's largest drugstore chain in terms of store count with more than 3,900
stores. It ranks #2 in sales, with sales expected to approach $13 billion in 1997. With
its strong presence in the fast-growing managed care market, the chain is #1 in scripts
filled and Rx sales, filling 7 percent of all U.S. prescriptions in 1997. CVS has delivered
industry leading growth and productivity. Its recent acquisition of Revco D.S., Inc.
makes CVS the leader in the northeast, mid-Atlantic, southeast and midwest and creates
a platform for continued expansion and accelerated earnings growth. The company
anticipates significant upside potential as it integrates Revco into CVS and narrows the
gap between the two companies' performance. CVS' growth strategy focuses on driving
top-line revenue growth, improving operating efficiencies, and ensuring that CVS
achieves appropriate returns on the capital it deploys.
Sales (millions)
94 95 96
$8,762
$9,763
$10,945
Operating Profit
(before one-time charges)
(millions)
94 95 96
$376.3
$445.7
$591.7
Operating Profit %
to Sales
94 95 96
4.3%
4.6%
5.4%
EPS
(before non-recurring items)
94 95 96
$0.88
$1.02
$1.57
ME
20
NY
349
PA
320
VA
269
OH
380
IN
302
NH
29
IL
68
KY
68
WV
59
TN 151
MS
7
AL
171
GA
335
SC
188
NC
308
FL
23
DC
47
MD
174
VT
2
DE 3
NJ 175
MA
308
RI 51
CT 117
CVS Store Locations
(as of June 30, 1997)
Total Store Count: 3,924
INVESTMENT MERITS
· Industry leading growth and productivity
· #1 in store count, scripts filled and Rx sales
· Upside potential from the Revco acquisition
· Vibrant industry with favorable long-term trends
· Motivated and experienced management team
· Wall Street anticipates 18-20% annual growth in EPS
· Attractive valuation relative to growth
I N V E S T O R F A C T S H E E T