Health Grades qaionesheet 080406 Page 1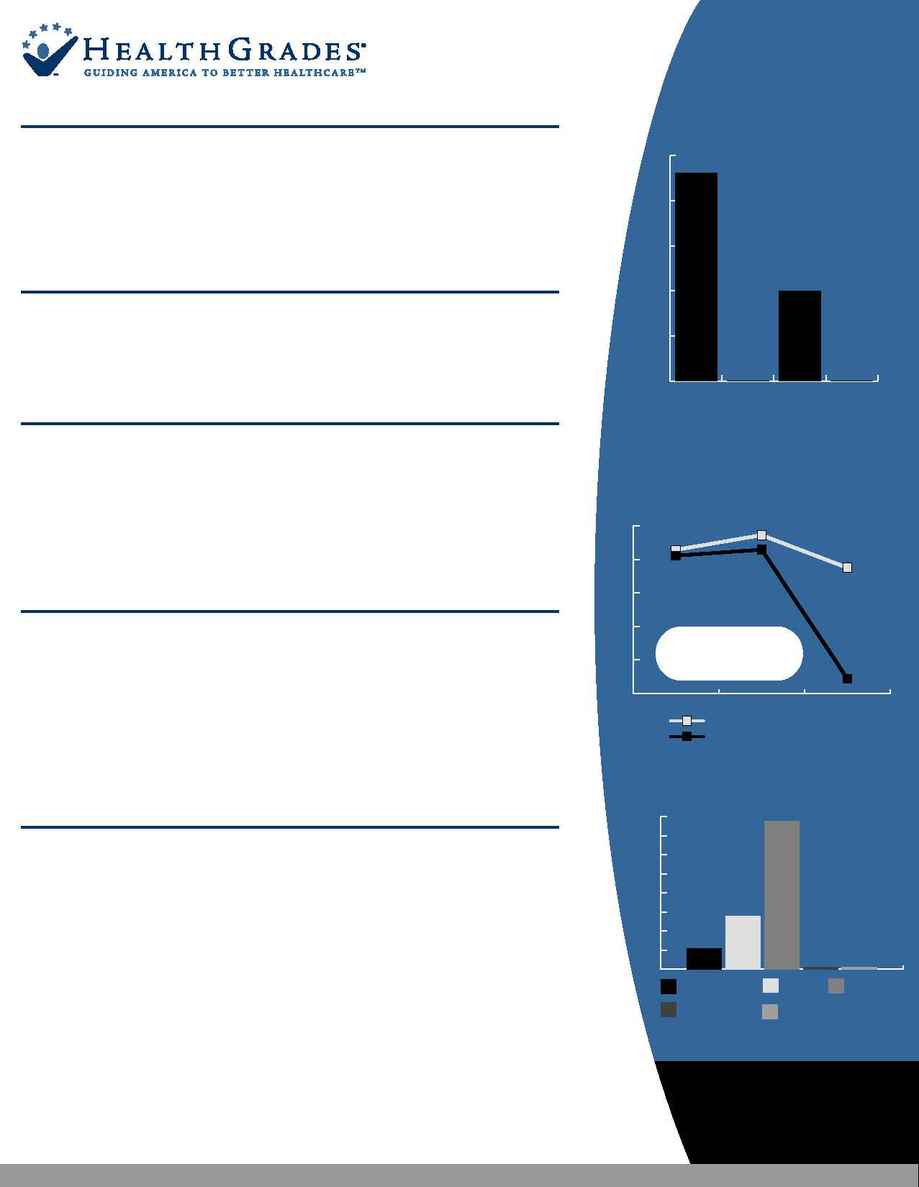 For more information, please contact Health
Grades, Inc., 303.716.0041 or via email at
providerservices@healthgrades.com.
Higher than benchmark mortality rates
Financial pressures to decrease length of stay
Maintaining high quality health care
Providing cost effective care
Hospitals today are challenged to improve the quality of their medical care. Collecting
and analyzing outcome data improves patient satisfaction and decreases complications
and mortality. Unfortunately, successful use of performance data is often limited by the
inability to influence physician practice patterns. Many physicians report that they do not
receive feedback regarding their outcomes. Yet, performance feedback is critical. This
case study illustrates the effectiveness of HealthGrades' unique approach in meeting this
challenge at the Hospital (anonymity requested).
The Hospital faced several challenges, including:
HealthGrades' strategy to assist the Hospital meet their challenges included:
Hospital and HealthGrades took action by:
Reviewing hospital and individual physician data with physician peers in group and
one-on-one meetings to provide an overview of the data and quality improvement
opportunities and to elicit and collect critical physician feedback and assess level of
buy-in around standardizing practice patterns
Identification of physician-specific acute renal failure rates (Figure A), delayed
door to EKG and balloon times, suboptimal use of evidence-based protocol and
significant variation in practice patterns as major contributors to mortality in the
Identification of the best practice and outlier physicians
HealthGrades consultants understand the sensitive and challenging nature of providing
meaningful clinical performance feedback to physicians. Our experiences at Hospital show that
accurate, valid, and meaningful communication changes physician practice and improves
Increased physician knowledge of their performance relative to their peers and best
Improved communication among physicians and staff within the organization
Increased physician buy-in and leadership
Implemented critical pathway that resulted in decreased variation in practice
patterns and outcomes and process improvements (Figure B)
Decreased physician-specific central line use associated with development of acute
Improved quality analysis and focus on measurable objectives
Working in conjunction with Hospital's quality improvement team prioritized CABG
and AMI as the main areas in need of improvement.
Using historical outcome data to demonstrate persistently higher-than-average mortality
and complications in CABG and AMI over the previous 2 years.
Analyzing physicians' practice patterns, complications and outcomes
Identifying the root cause of the unexpected CABG and AMI complications that drive
high length of stay and associated mortalities
This case study underscores that performance feedback:
Is critical to a successful quality improvement program
Must be delivered by an experienced person whom the physician respects as a knowledgeable,
experienced, and objective colleague
Quality Assessment and Implementation: A Case Study
Acute Myocardial Infarction Mortality Trending
Figure A:
Mortality Associated with Non ST Elevation MI
Acute Renal Failure Complication
by Physician 4/01-3/02
606
Cases
170
Cases
139
Cases
Figure B:
Difference is
statistically
significant
Hospital Predicted Mortality
Hospital Actual Mortality
Actual Mortality:
Texas Average: 11.09%
National Benchmark: 6.95%
Hospital
(04/03-06/03)
Hospital
(01/03-03/03)
Hospital
(01/02-12/02)
0.54%
1.39%
3.88%
0%
0%