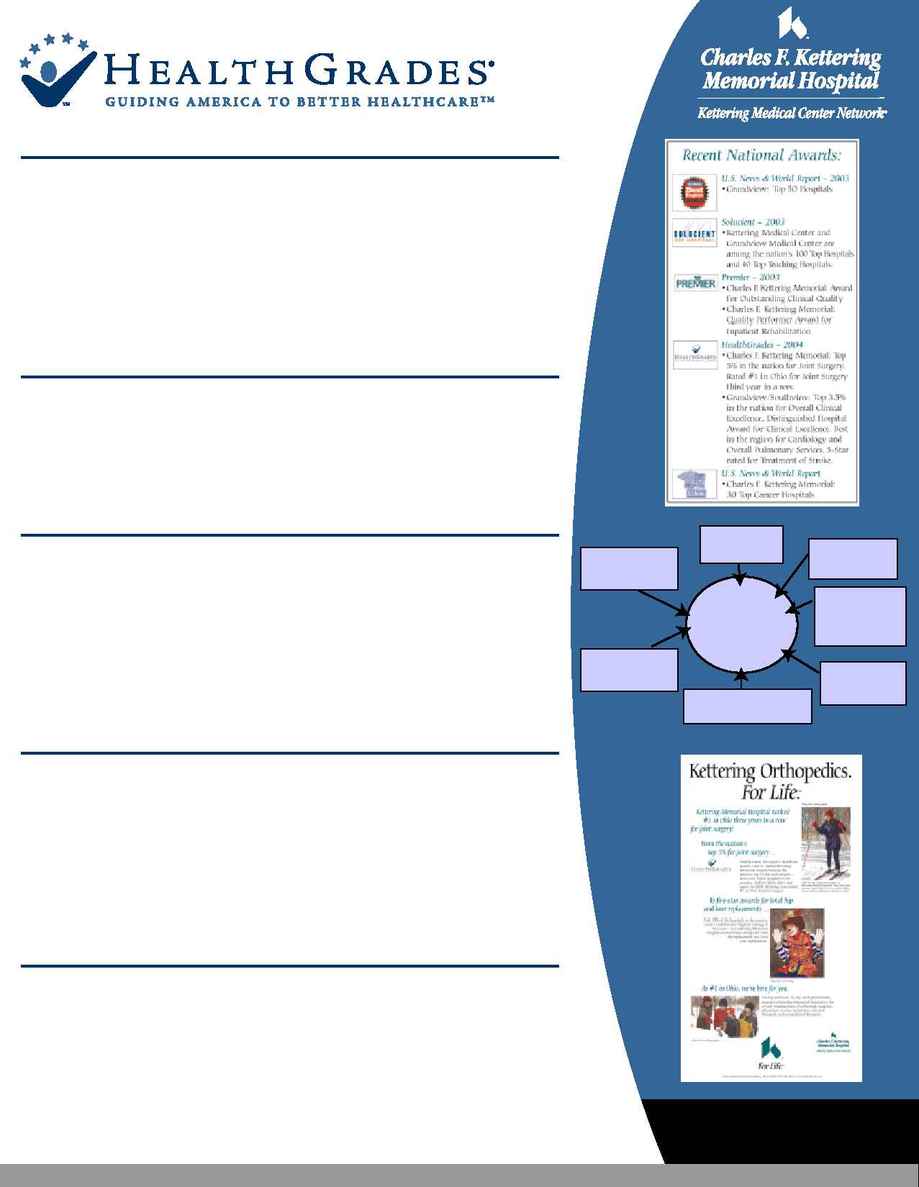 For more information, please contact Health
Grades, Inc., 303.716.0041 or via email at
providerservices@healthgrades.com.
Kettering Medical Center (KMC), a HealthGrades client since August 2002,
uses HealthGrades as a key component of their Total Joint Center Model of
Excellence (see diagram for Model details). HealthGrades Quality Ratings
Analysis plays a significant role in allowing the hospital to benchmark, assess
and enhance their clinical performance. The HealthGrades star ratings are
included in all advertising material and have driven new patients to the hospital.
KMC is realizing excellent results by focusing on quality, marketing, patient
satisfaction and financial performance.
As with many hospitals, Kettering faces operational, budgetary and competitive
challenges. By utilizing both the quality analysis and promotional HealthGrades'
resources, as well information from Premier Inc., Aspen Healthcare Metrics,
Solucient, and US News and World Report, Kettering continues to advance their
commitment to being a Total Joint Center of Excellence.
HealthGrades plays a key role in helping the hospital run a profitable total joint
program and achieve budgetary goals.
Case volume increased 11% between 2002 and 2003 (HealthGrades agreement
was signed in 2002)
Total Joint Replacement Center performed more joint replacements than any
other Dayton area hospital between 2000 and 2002 according the MedPAR data
Inpatient orthopedic net revenue increased 5% between September 2002 and
September 2003
Full-page ads in local papers feature HealthGrades' ratings, along with case
studies of patients returning to active lifestyles.
All accolades are posted on the hospital's website and are included in print
materials.
The orthopedic service line director works directly with marketing to develop
advertising concepts and places her phone number on all orthopedic ads to
track response, personally handle questions and measure revenue.
Targeted articles in senior magazines.
Use of HealthGrades Quality Ratings Analysis to analyze, sustain and
continue to improve outcomes. As a result, KMC has been recognized as the
best rated hospital in Ohio for Total Joint Replacement Surgery three years in
a row.
Other quality initiatives that contribute to the success of the Center of
Excellence include patient care paths, dedicated rehabilitation within the
nursing unit, patient therapy seven days per week, pre-admission educational
classes and clinical innovations, such as pain management.
Strategic Quality Initiative: A Case Study
BEST OF CLASS
PERFORMANCE
PATIENT PREPARATION
COLLABORATION
CLINICAL PATHS
CLINICAL INNOVATION
Intra Articular Bupivacaine
CLINICAL REGISTRY
Track Key Clinical Indicators
Communication Tool with Physicians
PATIENT FOLLOW UP
EXTERNAL
BENCHMARKING
Copyright Kettering Medical Center