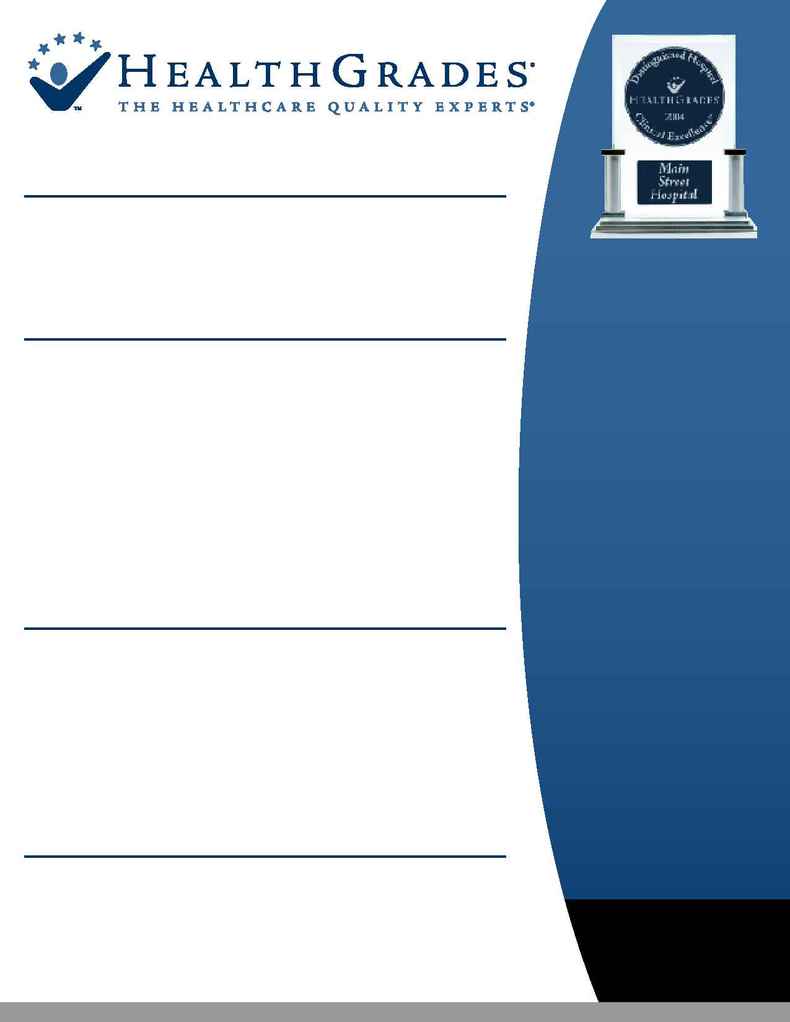 For more information, please contact Health
Grades, Inc., 303.716.0041 or via email
at providerservices@healthgrades.com.
Today, quality of care is paramount for those making healthcare decisions. In the past, it has
been difficult for employers, payers and consumers to understand what constitutes quality in
healthcare. But with intense media attention on healthcare quality and broad adoption of the
Internet, quality of care information is demanded by the community and readily available. In
a recent Voluntary Hospitals of America study, 87% of consumers surveyed agreed that poor
or below average clinical quality reports would persuade them to choose a different hospital.
Because of the breadth and sophistication of HealthGrades' unique content, coupled with our
professional services, healthcare providers, employers, health plans and insurance companies
rely on us to help them identify the best quality and communicate that information to their
constituents. Consumers depend on HealthGrades' quality ratings to make better informed
healthcare choices.
HealthGrades has established the Distinguished Hospital Award for Clinical ExcellenceTM to recognize
the top tier of tertiary hospitals nationwide. HealthGrades evaluates clinical quality on a
national basis across twenty-six procedures and diagnoses in clinical specialties such as
cardiac surgery, cardiology, orthopedic surgery, vascular surgery, neurosciences, pulmonary,
and gastroenterology. HealthGrades statistically aggregates cohort performance to create a
hospital-wide evaluation of quality based on risk-adjusted quality ratings. Full-service
hospitals that score among the top 20 percent nationwide are eligible to be recognized by
HealthGrades as a Distinguished Hospital for Clinical ExcellenceTM. This includes only 3.4% of the
nation's hospitals.
HealthGrades is creating the standard for healthcare quality with its objective provider
ratings and expert advisory services. HealthGrades is a healthcare quality ratings, information
and advisory services company whose clients include healthcare providers, employers, health
plans, insurance companies and consumers. HealthGrades provides its clients with targeted
solutions that enable them to measure, assess, enhance and market healthcare quality.
Differentiate Your Services From The Competition
Setting the Benchmark For Clinical Excellence -
The Distinguished Hospital AwardTM
Promoting Your Commitment To Excellence -
The Distinguished Hospital ProgramTM
Take advantage of this exceptional opportunity to capitalize on your hospital's outstanding
clinical quality. By signing a licensing agreement, you can use the HealthGrades name and
Distinguished Hospital for Clinical Excellence
TM award to promote your hospital's achievement.
Leveraging this recognition with proven marketing strategies will help your hospital increase
volume, expand market share, recruit and retain the best staff and physicians, negotiate with
payers, and more. The result will be a strong reputation for quality, backed by clinical data, to
help you thrive in today's quality-driven environment.
Being recognized for clinical excellence
can help you:
Recognizing Clinical Excellence Among Hospitals
T
AKE
A
DVANTAGE OF
Y
OUR
R
ECOGNITION
Stay ahead of the competition in today's
customer-driven market by developing
unique and meaningful ways to differentiate
yourself in the eyes of consumers, employers
and payers. Communicate your message of
excellence within your community and build
a reputation for high quality.
Leverage Relationships with
Payers and employers use healthcare quality
data and ratings to determine with whom to
partner and how to reimburse. Let them
know that you excel in patient care.
Recruit and Retain the Best Staff
Bolster recruitment efforts and employee
morale by promoting your outstanding
Enhance and Maintain High
Meeting with our quality experts will
enable your staff and physicians to
analyze, understand and effectively
monitor quality of care. We provide
detailed information including national