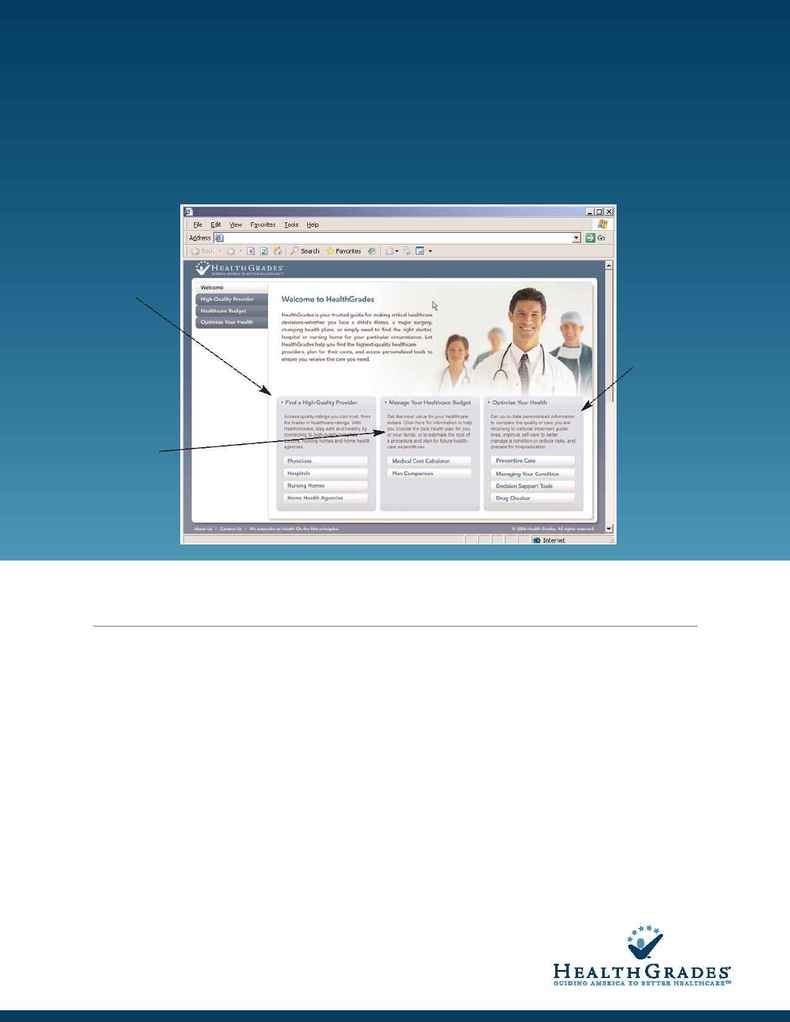 Lower Business Costs:
When individuals choose better hospitals, doctors and other care providers using HealthGrades' independent
ratings and comparison tools, companies avoid the higher costs that come with poor-quality healthcare. More
complications, more days out of the office, and higher bills can be avoided when you guide your employees and
members to better care providers with the help of HealthGrades ­ the name consumers trust.
Build a Healthy Workforce:
Imagine consumers comparing the care that they are receiving against the latest evidence-based guidelines from
the medical community ­ all in an easy-to-use, interactive tool. That's just one of the comprehensive healthcare-
management tools in HealthGrades' Quality Ratings Suite.
Support Decision Making:
Whether or not you offer consumer-driven health plans, consumers are clamoring for a trusted source to help
them find the best healthcare providers at the lowest cost. Empower your employees and members with the
ability to control their healthcare spending and take charge of their care through HealthGrades' budget and health
decision-support tools. Help them to plan their healthcare finances using the innovative Medical-Cost Calculator.
And to continue staying healthy, give them personal coaching tools that raise awareness about quality care and
evidence-based treatments.
HealthGrades'
Quality Ratings Suite
TM
From the leading healthcare ratings company, a suite of decision-support tools
that guide your employees and members to better care ­ at a lower cost.
Provides consumers with
actionable information
to estimate the cost of a
procedure, plan for
spending in their health
savings accounts, and
save money as they shop
for the best care.
Gives consumers the
power to make smart
healthcare choices
through education,
activation, and
engagement.
State-of-the-art
interactive healthcare
tools The Wall Street
Journal called "one of
the most ambitious
efforts" online.
More than 125 large employers, national health plans and leading benefits
consultants currently rely on HealthGrades' Quality Ratings Suite
TM
.
PROVIDE HIGH-QUALITY INFORMATION ON HEALTHCARE QUALITY, COST AND CONSUMER EMPOWERMENT TO: