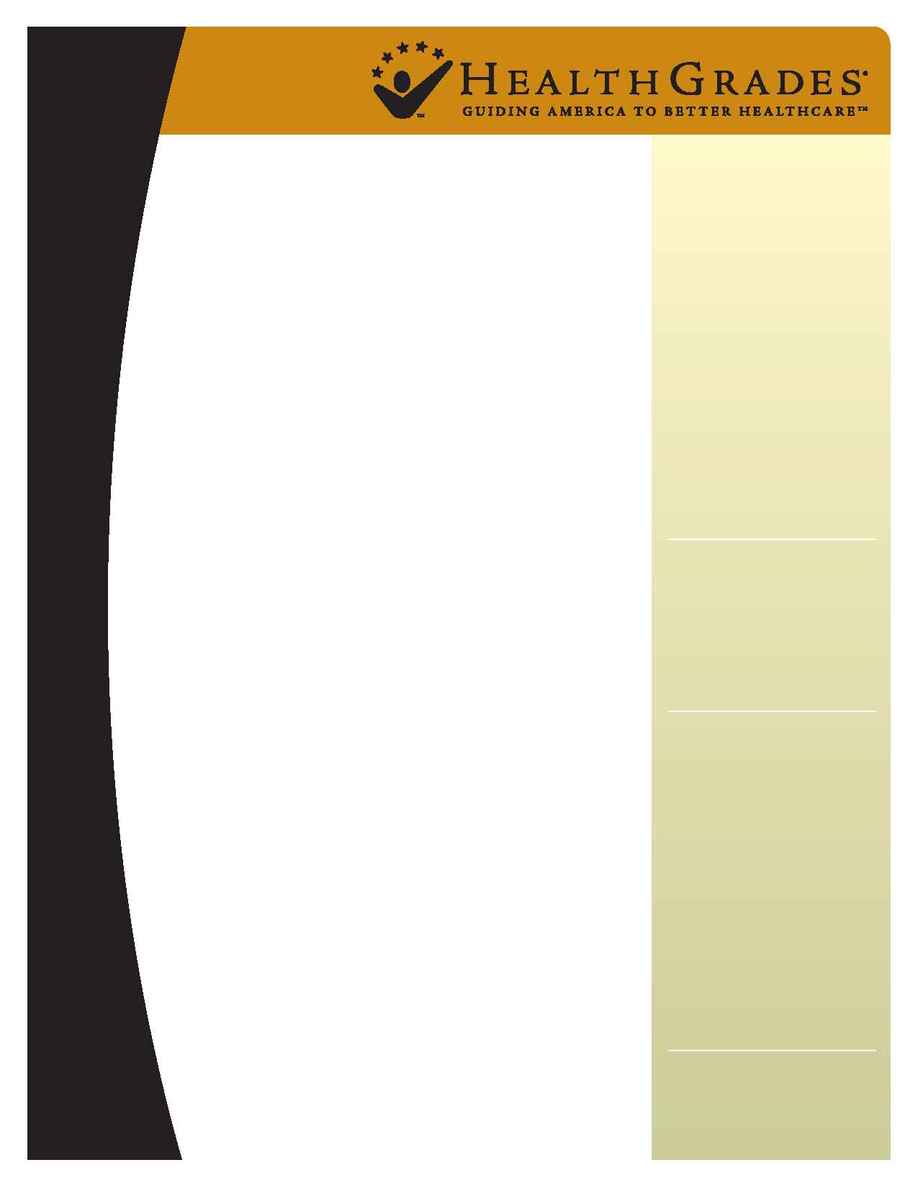 QUALITY REPORTS FOR PROFESSIONALS
Quality Reports for Professionals
Insurance underwriters and risk-management
professionals depend on our healthcare provider
data to make critical decisions.
HealthGrades' comprehensive Quality Reports for Professionals provide the
data you need to assess risk with confidence.
Hospital Quality Report
Higher quality hospitals have a lower risk profile than lower quality providers­an
important fact when evaluating a liability policy application. Use HealthGrades'
Hospital Quality Report to measure and evaluate the quality of care a hospital
provides and compare its performance to national benchmarks.
Physician Quality Report
Our in-depth professional Physician Quality Report provides comprehensive
physician background information for verification and risk assessment. Detailed
information includes education history, board certifications, DEA registrations,
sanction history and much more.
Nursing Home Quality Reports
Through HealthGrades' Nursing Home Quality Report, you have access to
information for evaluating risk when underwriting nursing home liability insurance.
This report contains information and benchmarks that measure and evaluate the
quality of care a nursing home provides.
Nursing Home Risk Assessment Report
This two- to three-page analysis summary of a Nursing Home Quality Report
highlights potential problem areas within a facility that could require risk
Nursing Home WatchDog Service
HealthGrades' WatchDog Service monitors events affecting a nursing home's
ratings. You select one or more nursing homes and events you want to monitor.
We notify you by email alerting you that an event has transpired at the facility.
For example, WatchDog Services alert you when a facility has a new complaint
or health survey, or when actually harm deficiencies occur.
HealthGrades provides the best data available.
We have won more awards than any other company in our field.
Health Grades, Inc.
1-800-938-0148
www.healthgrades.com
Hospital, Physician &
Nursing Home Data
Hospital Quality Reports
for Professionals
Risk- and severity-adjusted
performance measures for cardiac,
neuroscience, vascular,
orthopedics, pulmonary, and
obstetrics procedures and
diagnosis
Comparative statistics to state and
Infection, complication, and
`Cases at Risk' analysis that
projects likely adverse outcomes
cases based on HealthGrades'
proprietary mortality or complication
rates analysis
Physician Quality Reports
for Professionals
Board certification (ABMS or AOA
Professional licensing history
State medical board and Medicare
Education and training history
Nursing Home Quality Reports
for Professionals
Nursing Home Executive Summary
Report to quickly pre-qualify or
manage the application process
Nursing Home Risk Assessment
Report highlighting potential
problem areas within a facility that
requires risk management
Nursing Home Litigation Report
identifies high-risk facilities based
on five common factors
Ratings and detailed performance
information on health, complaint,
and life safety surveys
certification, staffing, and patient
demographics