Health Grades Physician Quality Guide Page 1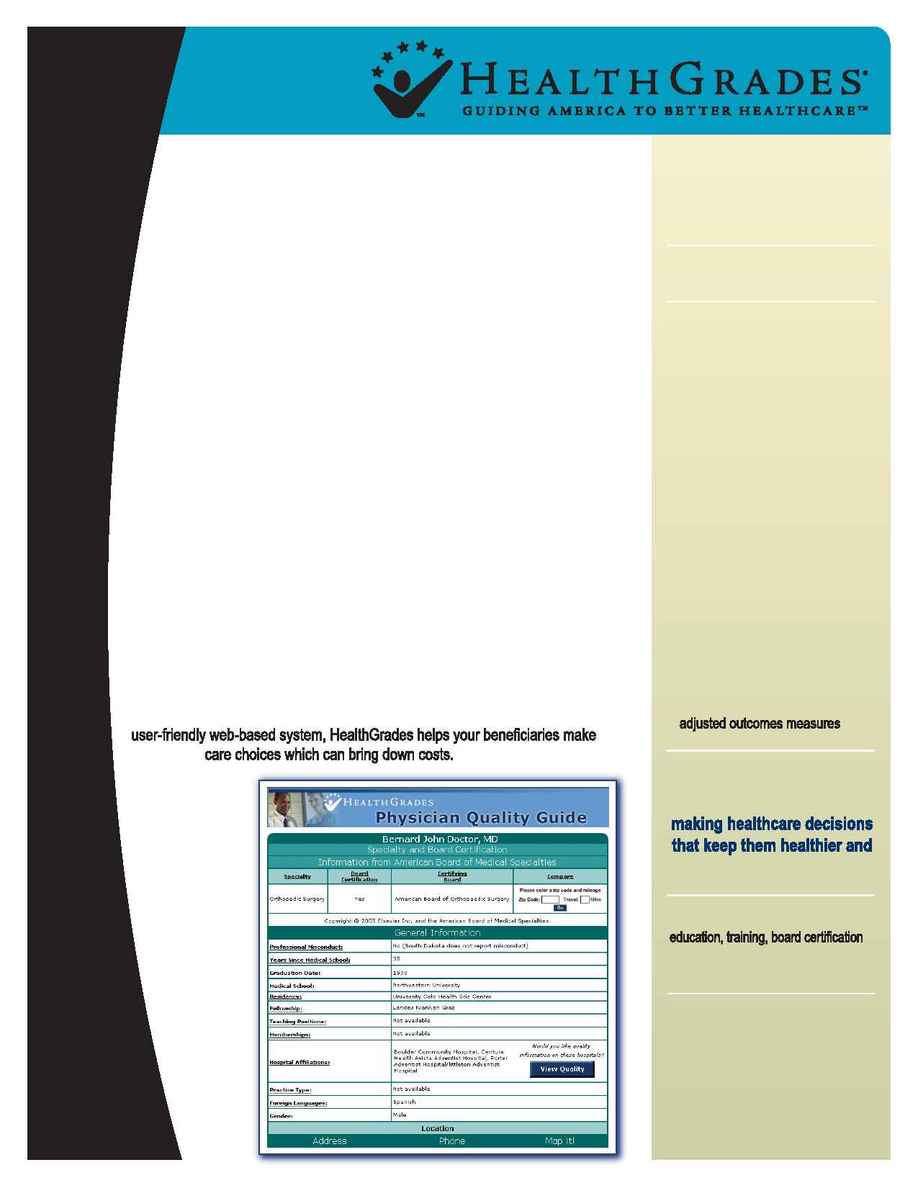 PHYSICIAN QUALITY GUIDE
Physician Quality Guide
TM
Steering beneficiaries to high-quality doctors
means cost savings and improved health.
Although choosing a physician is one of the most important decisions, many
people select only according to name and location in an insurance provider's
directory. Now, for the first time, there is a research-based method of choosing a
physician­HealthGrades' interactive Physician Quality Guide.
Research and Compare Physicians
To determine how qualified a physician is, the quality experts at HealthGrades
compile, organize and interpret information from dozens of sources. Give your
beneficiaries easy access to data that is difficult­if not impossible­to find
HealthGrades reports on physicians' board certification, years of experience,
additional specialized trainings, languages spoken, and professional misconduct
information. Your beneficiaries can look at all physicians in your area by specialty
and compare their quality.
Disciplinary Actions are on the Rise
Disciplinary actions against doctors have increased 41% between 1993 and 2003.
Only HealthGrades has discipline information from every state.
Make Wiser Healthcare Choices
In minutes, the Physician Quality Guide
puts your beneficiaries in control of their
healthcare choices. By making physician information easily accessible through our
Health Grades, Inc.
1-800-938-0148
www.healthgrades.com
The most
comprehensive and
up-to-date physician
guide available
anywhere
Detailed data continually updated
Consumer-friendly navigation and
Board certification (ABMS or AOA
State medical board and Medicare
Education and specialty training
Foreign languages and gender
Patient satisfaction results
Easy-to-understand star ratings for
affiliated hospitals based on risk-
With HealthGrades,
your beneficiaries can start
reduce your costs.
"You can find out your physicians'
- CNN