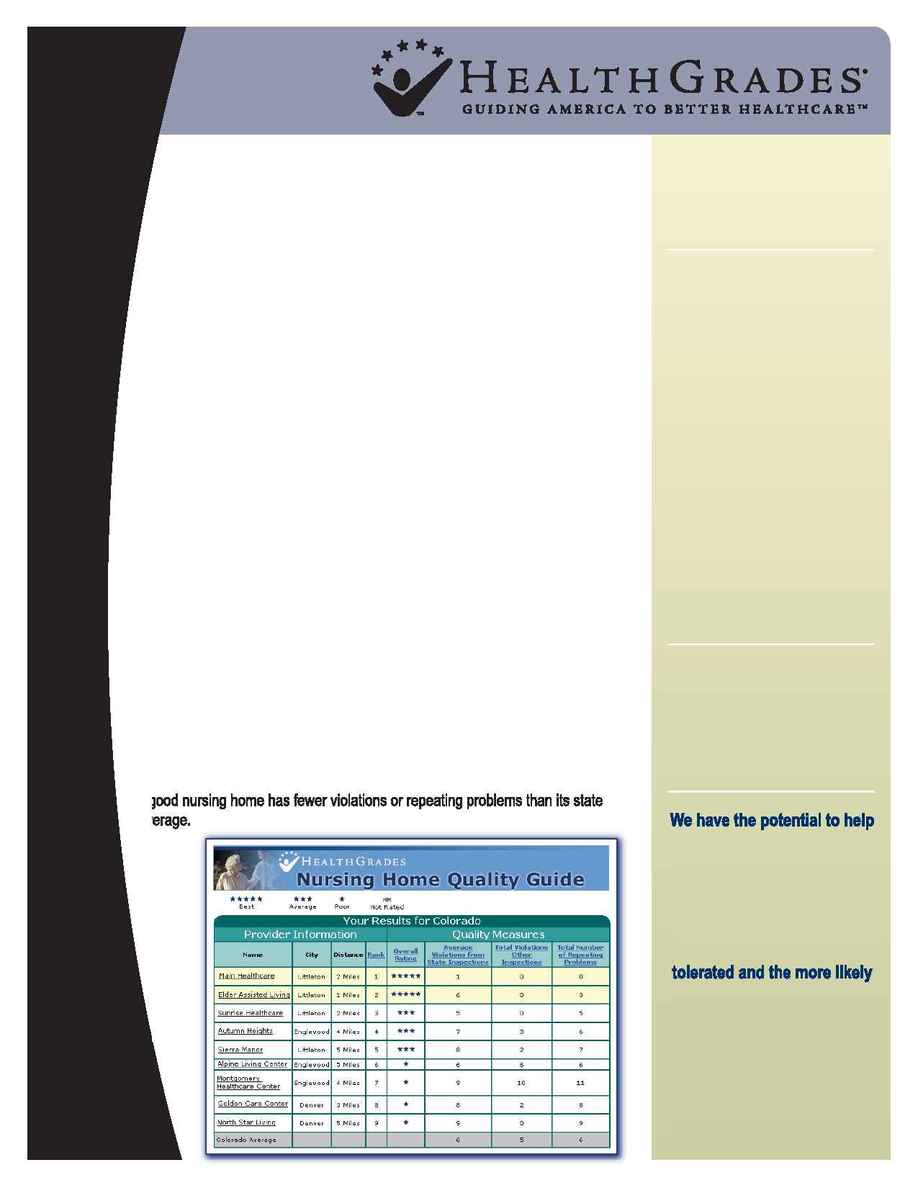 NURSING HOMES QUALITY GUIDE
Nursing Home Quality Guide
TM
Choosing a nursing home is one of the most
difficult and stressful decisions a family can
make--let the experts at HealthGrades help you
make the right choice.
Knowing the level of quality of nursing homes in an area can make that difficult
decision a little easier. By making nursing home information easily accessible
through our user-friendly web-based system, HealthGrades helps your
beneficiaries find the facility that best services their individual needs.
Research and Compare Nursing Homes
Nursing home experts at HealthGrades compile, organize and interpret four years
of state inspections and complaint investigations using the industry's best
methodology. HealthGrades then:
HealthGrades Shows You What to Look For
When choosing a nursing home facility, look for one that has:
a top ranking (in the top tier)
a good overall rating (5 stars)
the fewest average violations from state inspections
the fewest average violations from other inspections
few or no repeating problems
Health Grades, Inc.
1-800-938-0148
www.healthgrades.com
HealthGrades'
Nursing Home
Quality Guide
Comprehensive nursing home
database with more than 17,000
facilities
Consumer-friendly navigation and
Details of the four most recent
Easy-to-understand star ratings
compared to other facilities within
the state
State averages for violations and
Now there's a
definitive resource
for elder care information:
HealthGrades' Nursing
Home Quality Guide.
millions of people make
better choices about long-
term care. The better
informed the public is, the
less likely poor or
inadequate care will be
the nursing home industry
will continue to improve its
quality of care.
Aggregates this depth of data
Rank orders the nursing homes
Compares each nursing home's performance to their state average
Presents the results in an easy to understand format