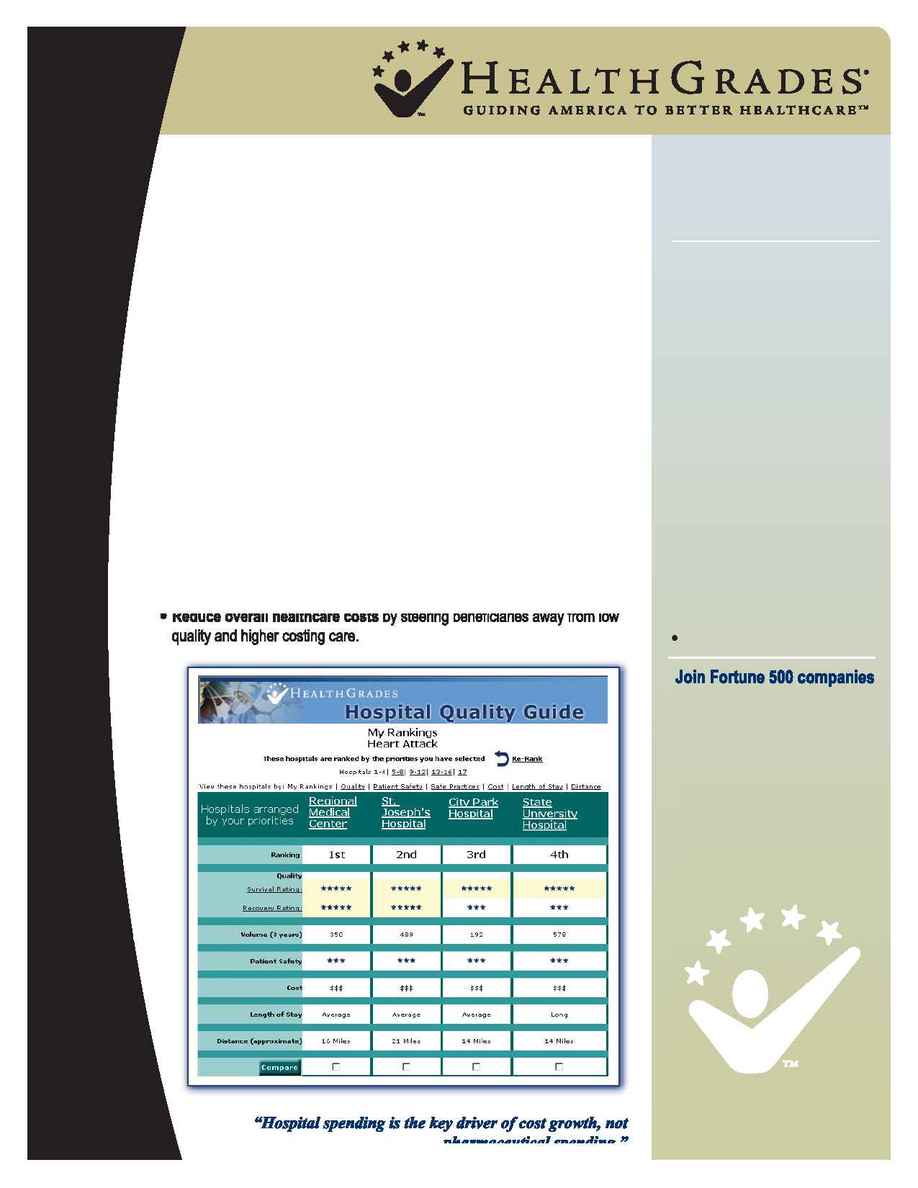 HOSPITAL QUALITY GUIDE
Make informed decisions about the quality of your health plan networks
using HealthGrades' stringent ratings methodology and nationally
recognized quality information.
Provide your beneficiaries with tools for choosing high-quality facilities
and providers using HealthGrades' quality information and The Leapfrog
Group patient safety information.
Reduce overall healthcare costs by steering beneficiaries away from low
Health Grades, Inc.
1-800-938-0148
www.healthgrades.com
Detailed Hospital
Ratings and
Comparisons
Comprehensive hospital database
with more than 5,000 hospitals
Consumer-friendly navigation and
Cost, volume, and length-of-stay
Easy-to-understand star ratings
based on risk-adjusted outcomes
measures
Ratings methodology widely
accepted by the healthcare industry
Patient safety measures from The
3M AHRQ patient safety indicators
like Honeywell and Best Buy
in using HealthGrades'
Hospital Quality Guide to
save healthcare costs.
We provide the best data
available in the industry as
affirmed by winning more
awards than any other
company in the field.
Hospital Quality Guide
TM
Reduce healthcare costs by steering
beneficiaries toward high-quality healthcare
providers.
It's a fact--lower quality hospitals mean higher costs. Poor quality costs
employers an average of $1,900 per employee per year.* Now you can control
healthcare expenditures and improve the quality of care for your beneficiaries
with HealthGrades hospital ratings.
* Midwest Business Group on Health
HealthGrades rates and compares hospitals on quality for more than 100 specific
medical conditions and procedures. By finding the safest hospital in their health
plan or city, your beneficiaries are more likely to avoid complications and
unnecessarily long hospital stays.
How HealthGrades Helps Employers, Benefit Managers and Health Plans
pharmaceutical spending.