Health Grades Compare Your Care Page 1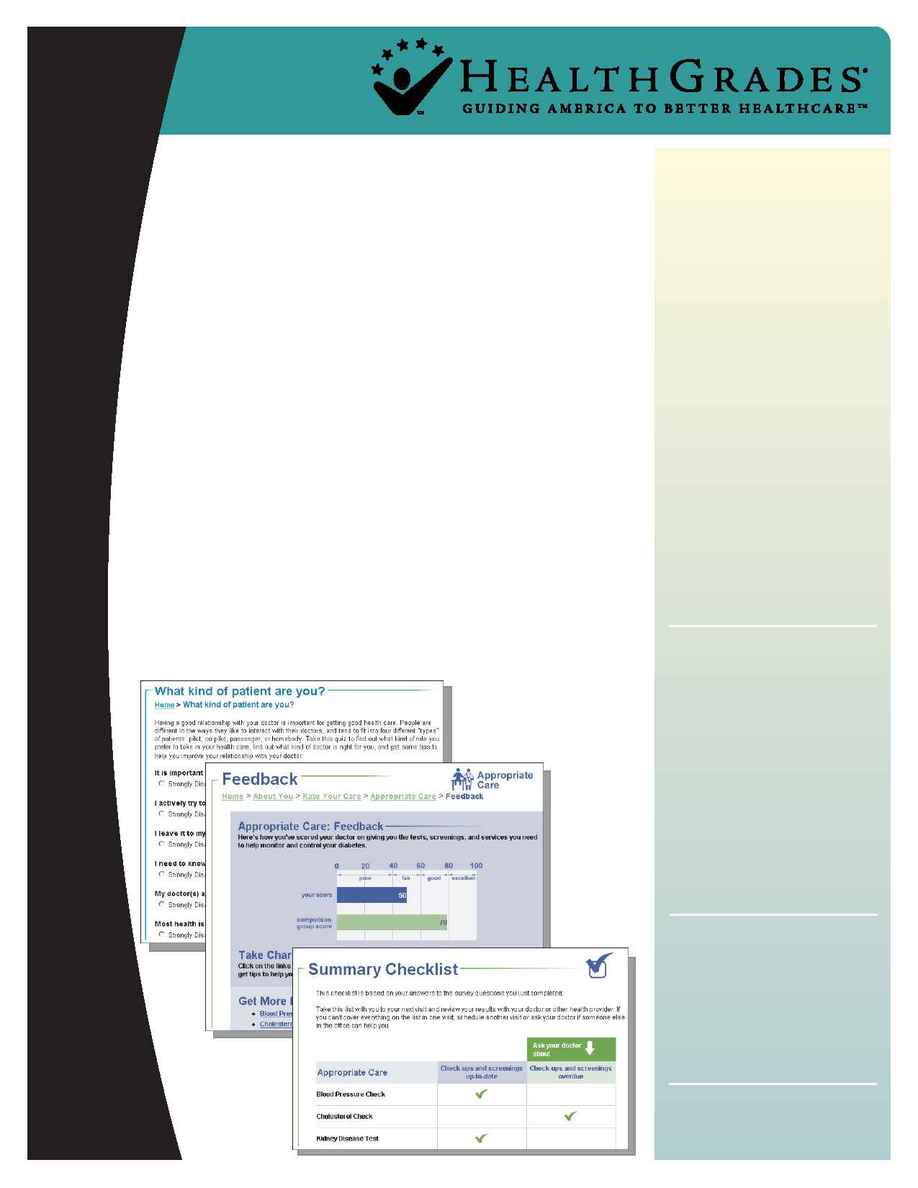 Take Charge Tools
Coaching consumers to be more
involved in their care produces better
health and reduces healthcare costs.
What Kind of Patient Are You?
Consumers discover their level of
participation in their care
Consumers receive personalized tips
on how to best work with their
What is a Good Doctor?
Educate consumers about the six
characteristics of a good doctor
Improve the quality of the doctor-
Race, Culture, Ethnicity and
Your Health
Educate consumers about culturally
Encourage consumers to work with
their healthcare providers to get
appropriate care for diverse needs
Disease Specific Tools
Reduce your costs by giving your
consumers the tools to successfully
manage and stay in compliance with
Available in Spanish & English
Offer CompareYourCare
to your employees and members
to help them be as healthy
as they can be.
Provided by HealthGrades
the leading healthcare
ratings company
Health Grades, Inc.
1-800-938-0148
www.healthgrades.com
CompareYourCare
TM
Give your employees and members tools to make
smarter, more cost-effective healthcare decisions
HealthGrades' Web-based, interactive health tools enable consumers
to be accountable for the quality of their healthcare.
Empowers consumers to rate themselves as patients.
Provides consumers with individually tailored feedback on the healthcare
received during their regular doctor visits.
Shows consumers how to compare their care with the latest evidence-based
Motivates consumers to take a more active role in their healthcare so they
receive higher quality care while controlling healthcare costs.
Activate Your Employees and Members
Encourage your employees or members to seek out the best healthcare possible by
providing up-to-date information to help them better manage an illness­or just stay
healthy. Feedback is positive in tone, and encourages the employee or member to
develop a partnership with his/her healthcare provider. Educating consumers who have
chronic conditions on ways to self-manage their illness can improve their health and
quality of life. It also results in savings on healthcare costs. Stand out as an employer
or plan that cares enough to guide consumers to better self-care.
5
0
/
1
1
CompareYourCare
TM