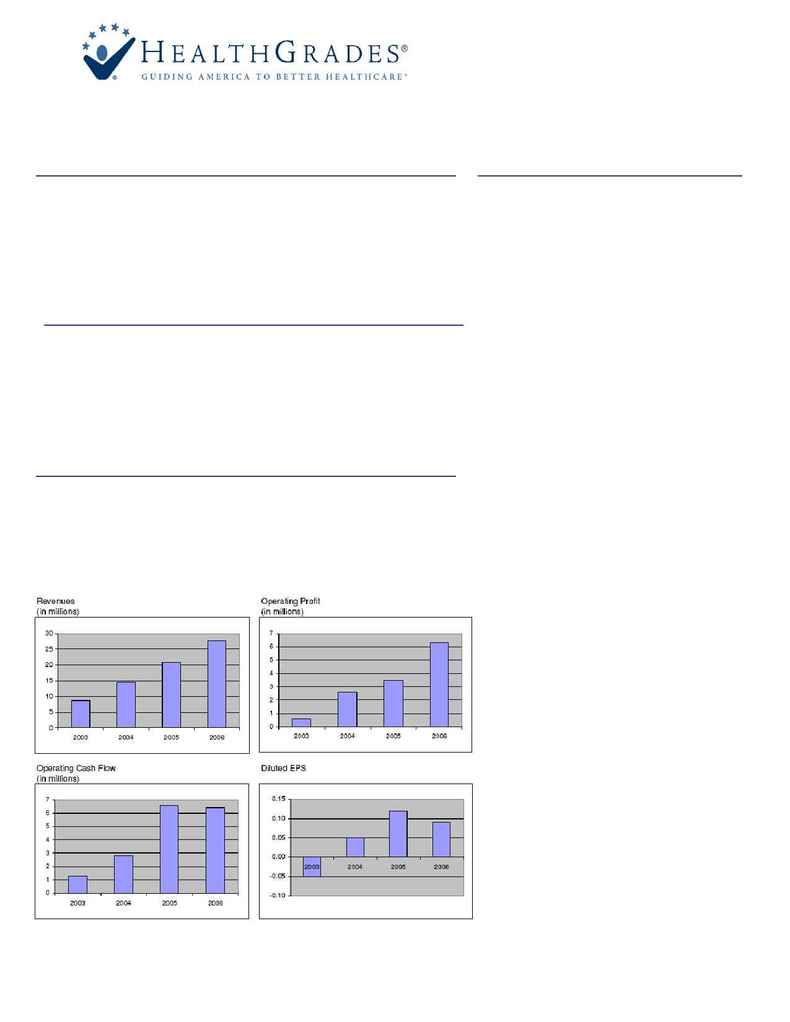 Performance
Generated positive cash flow from operations in 2003, 2004, 2005,
and 2006
Achieved sixteen consecutive quarters of revenue growth
High returns on invested capital
Recurring revenue and scalable business model resulting in
significant operating leverage
Company Profile

HealthGrades is the leading healthcare ratings company, providing
ratings and profiles of hospitals, nursing homes and physicians to
consumers, corporations, health plans and hospitals.

Consumers, and some of the nation's largest employers, health plans and
hospitals, rely on HealthGrades' independent ratings and cost data to
make healthcare decisions based on the value of ca
Industry Leadership
HealthGrades' award-winning information
is used to educate consumers and
businesses on the subject of quality
healthcare and reaches more than 50
million people each year.
Each month, nearly 3 million consumers
visit HealthGrades' Web site, the leading
destination for consumers researching
physicians and hospitals.
More than 14 million consumers view
HealthGrades' brand offline on a daily
basis.
More than 350 top-performing hospitals
use HealthGrades' expertise to improve
their quality and the HealthGrades' brand
to promote their excellence.
Payers, such as Independence Blue
Cross and Blue Cross and Blue Shield of
Minnesota and EPAs, recognize
HealthGrades as a valuable resource for
defining reimbursement, creating
provider networks, and giving millions of
member's vital tools for making critical
healthcare decisions.
Insurance companies such as CNA
obtain essential data from HealthGrades
to evaluate business risk and provider
quality.
Employers and benefit consultants
incorporate HealthGrades' award-
winning quality, cost, and decision-
support tools and information within their
online benefits portals, giving employees
a valuable resource to find the best
providers and manage their health.
HealthGrades assists physicians in
differentiating their services and
attracting new patients with enhanced
online profiles for the millions of
consumers searching HealthGrades'
Web site for physician information.
2007 Investor Fact Sheet


Market Data
(As of June 30, 2007)
Ticker: HGRD
Exchange: NASDAQ
Closing Price: $6.51
52-Week Range: $4.00 - $6.97
Market Cap: $194.6MM
Shares Outstanding (Basic): 28.6MM
Year-End: Dec 31