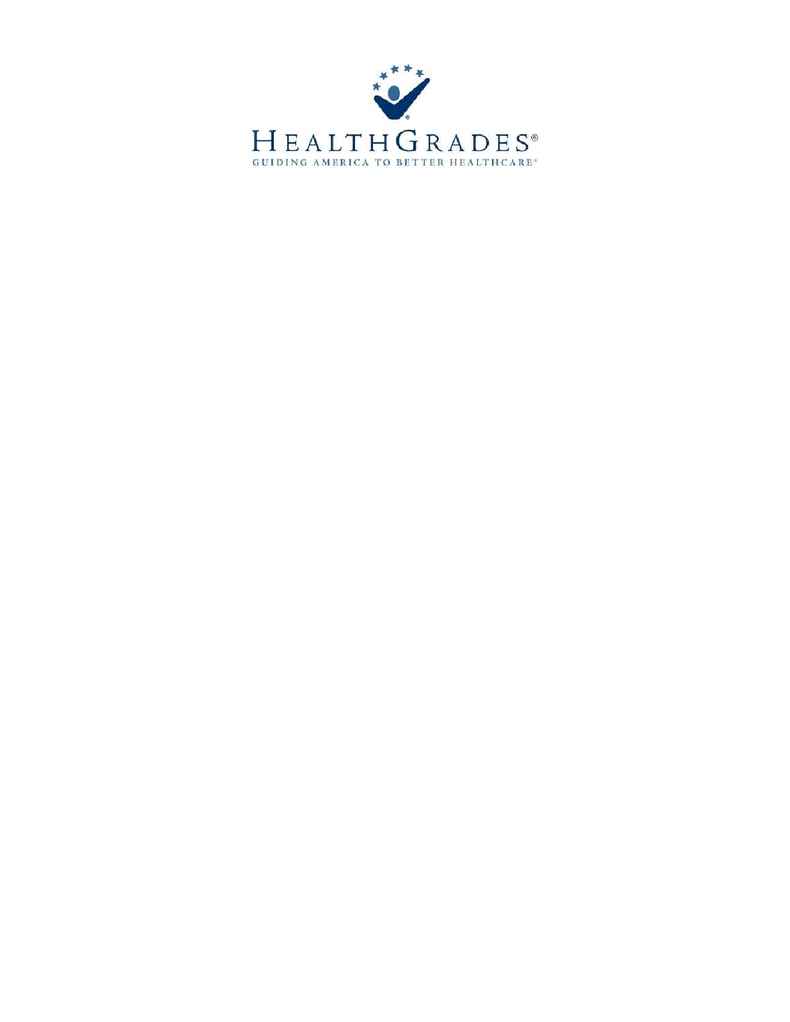 Company Background
HealthGrades stunned consumers and the health care industry in 1999 when it pioneered the
idea of hospital-quality ratings, demonstrating that the quality of care in America can vary widely
from one health care provider to the other. That helped spark what is today a revolution in health
care transparency, with consumers, employers, health plans and hospitals all demanding health
care cost and quality information with which to make better decisions.

But even as HealthGrades has grown to be the leading health care ratings company ­ the nexus
point for consumers, businesses and health care providers seeking health care cost and quality
information ­ the NASDAQ-listed company remains true to its mission: Guiding America to better
health care.

One way the company delivers on this mission is through HealthGrades.com, the award-winning
Web site that is the leading consumer destination for health care quality and cost information.
Each month, about three million consumers log on to research physicians, hospitals, medical
procedure costs and nursing homes.

Another way HealthGrades delivers on its mission is by offering employers and health plans a
suite of tools that guide their employees and plan members to better care. Called HealthGrades
Health Management Suite, the decision-support tools are provided as an employee or member
benefit, allowing individuals to research the cost and quality of care providers, plan their health
care finances and manage their health using state-of-the-art tools The Wall Street Journal called
"among the most ambitious online." Many employers and health plans currently provide
HealthGrades Health Management Suite as a benefit to their beneficiaries and families.

And lastly, HealthGrades delivers on its mission by working with hospitals themselves ­ more
than 350 of them. Through its advisory arm, HealthGrades helps hospitals understand their
quality ratings, measurably improve the quality of care they deliver, and communicate their quality
to consumers, employers, health plans and the Federal government, who are increasingly
demanding transparency.

The ability to guide individuals toward better care is only possible if the guidance is provided by a
trusted leader. In the marketplace, HealthGrades has built a strong brand based on the
independence and integrity of its health care information, becoming a name consumers trust at
important times in their lives. Major media have also come to rely on HealthGrades information,
with organizations such as The New York Times, The Wall Street Journal, CNN, the Today Show,
Newsweek and others regularly reporting on the HealthGrades hospital-quality studies, ratings
and innovations.

By being first-to-market with health care quality and cost information for consumers,
HealthGrades has established a leadership position in the current transparency revolution in
health care. As employers, health plans, consumers, physicians, hospitals and the Federal
government all call for increasing cost and quality transparency, HealthGrades has become a
nexus point for this information, the indispensable link between all parties in the health care
world. The transparency revolution is just starting, and its pioneer, HealthGrades, is committed to
continuing its pattern of innovation and leadership in the coming years, guiding ever-greater
numbers of people to better health care.