Jeen International spec JEELAN M 26 Page 1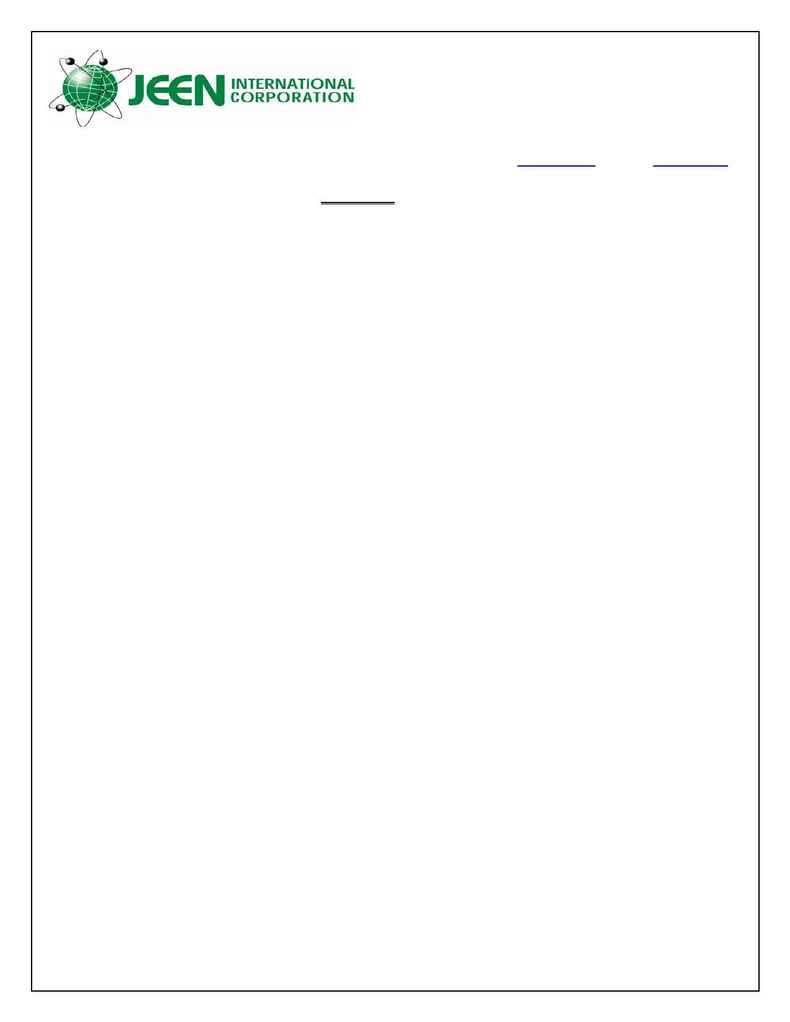 JEELAN
JEELAN M-26 IS A SPECIALLY PREPARED AND CONTROLLED CONCENTRATE OF OUR POPULAR M-16
REFINED MULTI-STEROL SOLUTION. IT WAS DEVELOPED TO PROVIDE THE MAKE-UP SPECIALIST
WITH AN EASILY USED M-16 CONCENTRATE FOR POWDER PRESSING AND PREPARATION OF
SUPERIOR MAKE-UP EMULSIONS AND GELS. IT IS PARTICULARLY VALUABLE AS AN AID IN THE
COMPACTION OF HIGH TITANATED MICA POWDER BLENDS. SINCE M-26 IS A STRONG PRIMARY W/O
EMULSIFIER WHICH CAN ABSORB OVER 25 TIMES ITS WEIGHT OF WATER WITHOUT SEPARATION OR
INVERSION. IT PERMITS THE EASY ADDITION OF WATER AS AN ECONOMICAL VOLATILE WETTING
AGENT FOR FURTHER AID IN COMPACTION WHERE NECESSARY.
LIKE M-16, THE CONCENTRATED M-26 ALSO FUNCTIONS AS A HYDROPHILIC, NONIONIC, PENETRANT,
EMOLLIENT, SOFTENING AGENT AND AS A SUPERIOR O/W EMULSION STABILIZER.
IT IS DERIVED FROM CHOLESTEROL AND A SPECIAL BLEND OF RELATED ISOMERIC STEROLS AND
LINEAR ALCOHOLS. JEELAN M-26 IS COMPLETELY FREE OF VOLATILE ADDITIVES SUCH AS MINERAL
SPIRITS AND CONTAINS NO ACIDS, ALKALIES, ESTERS, AMINES, SOAPS, GLYCOLS OR RESINS.

APPEARANCE:
HAZY, RICH YELLOW LIQUID WHICH CLEARS
COMPLETELY WHEN WARMED TO 45-50 ░C.

Standard Packaging:
Gross: 430 Lbs. Tare: 40 Lbs.

Standard Packaging:
Gross: 38 Lbs. Tare: 3 Lbs.
You Can Count On Us!
This information is furnished without warranty, expressed or implied, except that it is accurate to the best knowledge of JEEN
International Corporation. The data on this sheet relates only to the specific material designated herein. JEEN International
Corporation assumes no legal responsibility for use or reliance upon these data.
24 Madison Road, Fairfield, New Jersey 07004, USA
Tel: 800-771-JEEN (5336), Tel: 973-439-1401, Fax: 973-439-1402,