Jeen International msds JOJOBA OIL CLEAR Page 1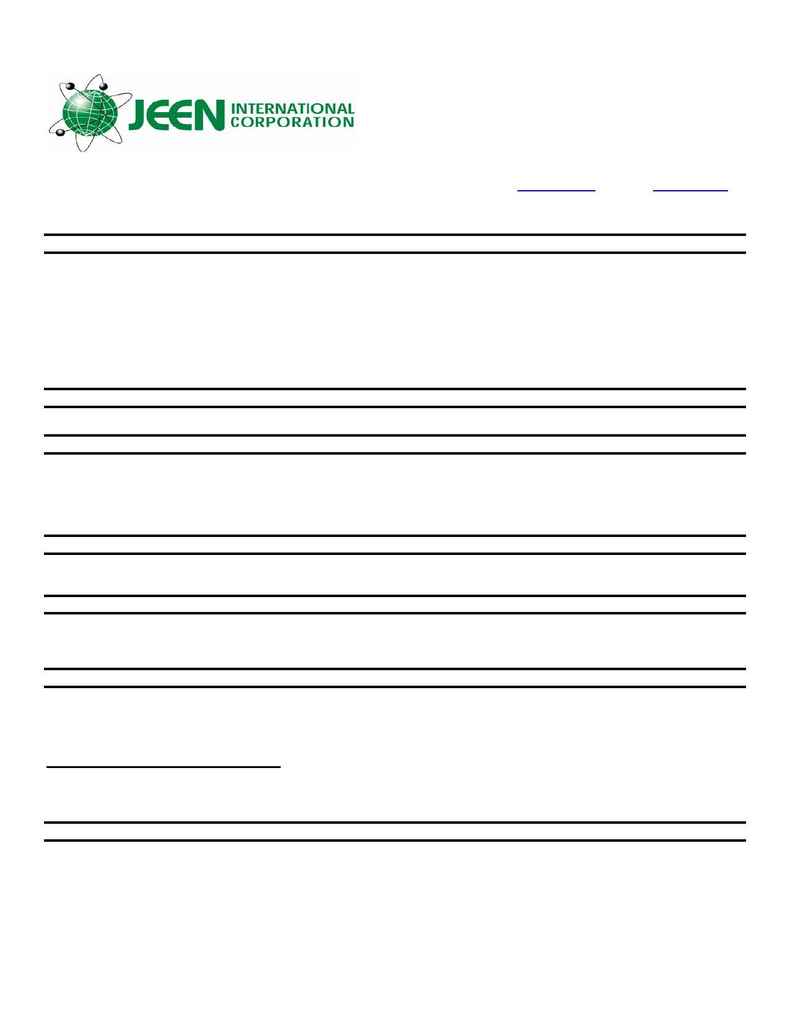 MATERIAL SAFETY DATA SHEET
SECTION 1 - MANUFACTURER INFORMATION
JEEN INTERNATIONAL CORPORATION

Chemtrec
International Emergency Tel.# 703-527-3887
JOJOBA OIL
SECTION 2 - HAZARDOUS INGREDIENTS/IDENTITY
HAZARDOUS COMPONENT(S) (CHEMICAL & COMMON NAME (S): COTAINS NO COMPONENT LISTED IN 29 CFR1910.1000
TABLES OR OTHER SECTIONS OF 29 CFR1910.1001 THRU 1910.1029
SECTION 3 - PHYSICAL & CHEMICAL CHARACTERISTICS
SPECIFIC GRAVITY (H20=1):
SECTION 4 - FIRE & EXPLOSION DATA
SPRAY, DRY CHEMICAL, CO2, FOAM
SPECIAL FIRE FIGHTING PROCEDURES: DO NOT USE STRONG SPRAY AS FATTY MATERIAL MAY TEND TO FLOAT. USE
AIR SUPPLIED EQUIPMENT FOR FIGHTING INTERIOR FIRES. COOL FIRE EXPOSED CONTAINERS WITH WATER.
SECTION 5 - PHYSICAL HAZARDS (REACTIVITY DATA)
HAZARDOUS DECOMPOSITON PRODUCTS:
HAZARDOUS POLYMERIZATION:
SECTION 6 - HEALTH HAZARDS
SIGNS AND SYMPTOMS OF EXPOSURE:
MEDICAL CONDITIONS GENERALLY AGGRAVATED BY EXPOSURE:

EMERGENCY & FIRST AID PROCEDURES:
EYES:
FLUSH EYES WITH WATER, CONSULT PHYSICIAN
REMOVE FROM AREA OF EXPOSURE, SEEK MEDICAL ATTENTION FOR COUGHING OR CHOKING.
SECTION 7 - SPECIAL PRECAUTIONS AND SPILL/LEAK PROCEDURES
PRECAUTIONS TO BE TAKEN IN HANDLING AND STORAGE: STORE IN CLOSED CONTAINERS BELOW 120 DEG F (49 DEG
C). KEEP AWAY FROM OXIDIZING AGENTS, EXCESSIVE HEAT & SOURCES OF IGNITION. STORE ONLY IN WELL
VENTILATED AREAS. DO NOT STORE OR USE NEAR HEAT, SPARKS OR FLAME & STORE OUT OF SUN.
STEPS TO BE TAKEN IN CASE MATERIAL IS RELEASED OR SPILLED: CONTAIN SPILL TO SMALLEST POSSIBLE AREA &
CLEAN UP WITH ABSORBANT MATERIALS, PAPER TOWELS, SAND, DIRT, ETC.
WASTE DISPOSAL: OBSERVE FEDERAL, STATE AND LOCAL LAWS.


Page No. 1 of 2 - MSDS - Jojoba Oil

24 Madison Road, Fairfield, New Jersey 07004, USA
Tel: 800-771-JEEN (5336), Tel: 973-439-1401, Fax: 973-439-1402,