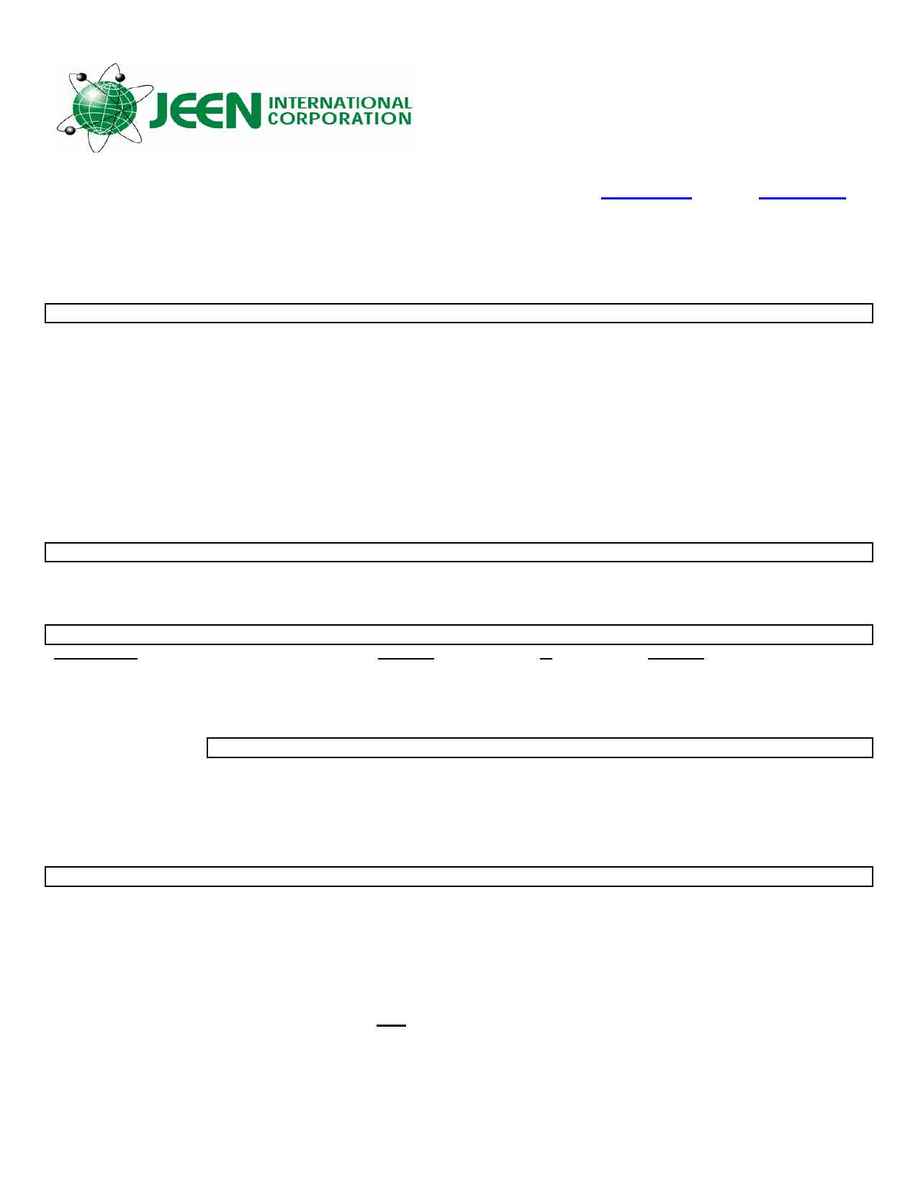 MATERIAL SAFETY DATA SHEET


SECTION I - MATERIAL AND MANUFACTURER IDENTIFICATION


Manufacturer's
Chemtrec Emergency Telephone # 800-424-9300
Chemtrec Int'l Tel.# 703-527-3887(Collect Calls Accepted)
24 Madison Road
Fairfield, NJ 07004
Telephone No.: (973) 439-1401
Product
JEETOX T-5
ETHOXYLATED; N,N-BIS (POLYOXYETHYL 1-5) UNSATD. TALLOW AMINE
0= LEAST; 1= SLIGHT; 2= MODERATE; 3= HIGH; 4= EXTREME
SECTION II - PRECAUTIONARY STATEMENT

DANGER!
CORROSIVE. CAUSES SKIN AND EYE BURNS. AVOID CONTACT WITH SKIN, EYES AND CLOTHING. WEAR
SAFETY GOGGLES, PROTECTIVE GLOVES AND IMPERVIOUS CLOTHING. WASH THOROUGHLY AFTER
HANDLING.
SECTION III - HAZARDOUS COMPONENTS
SECTION IV - HEALTH EFFECTS
CAN CAUSE SEVERE IRRITATION, EVEN BURNS, ON PROLONGED CONTACT.
RESULTS IN SEVERE DAMAGE TO MUCOUS MEMBRANES.
VAPOR, ESPECIALLY UPON HEATING, MAY CAUSE IRRITATION OF THE RESPIRATORY TRACT.
SECTION V - FIRST AID PROCEDURES

ON SKIN:
IMMEDIATELY WASH EXPOSED AREA WITH SOAP AND WARM WATER FOR AT LEAST 15 MINUTES, THEN FLUSH
WITH WATER FOR AT LEAST 5 MINUTES. IF REDDENING PERSISTS, OR IF OPEN SORES OR BLISTERS DEVELOP,
SEE A PHYSICIAN. REMOVE CONTAMINATED CLOTHING AND LAUNDER BEFORE RE-USE.
IMMEDIATELY FLUSH WITH LARGE AMOUNTS OF WATER FOR AT LEAST 15 MINUTES, LIFTING UPPER AND LOWER
LIDS OCCASIONALLY. GET MEDICAL ATTENTION IMMEDIATELY. IF PHYSICIAN IS NOT IMMEDIATELY AVAILABLE,
CONTINUE FLUSHING WITH WATER. DO NOT USE CHEMICAL ANTIDOTE.
IMMEDIATELY DRINK TWO LARGE GLASSES OF WATER. CALL A PHYSICIAN.
IF AFFECTED, MOVE TO FRESH AIR. IF A BURNING SENSATION DEVELPS IN THROAT OR CHEST, OR SHORTNESS
OF BREATH OCCURS, GET IMMEDIATE MEDICAL ATTENTION.
24 Madison Road, Fairfield, New Jersey 07004, USA
Tel: 800-771-JEEN (5336), Tel: 973-439-1401, Fax: 973-439-1402,