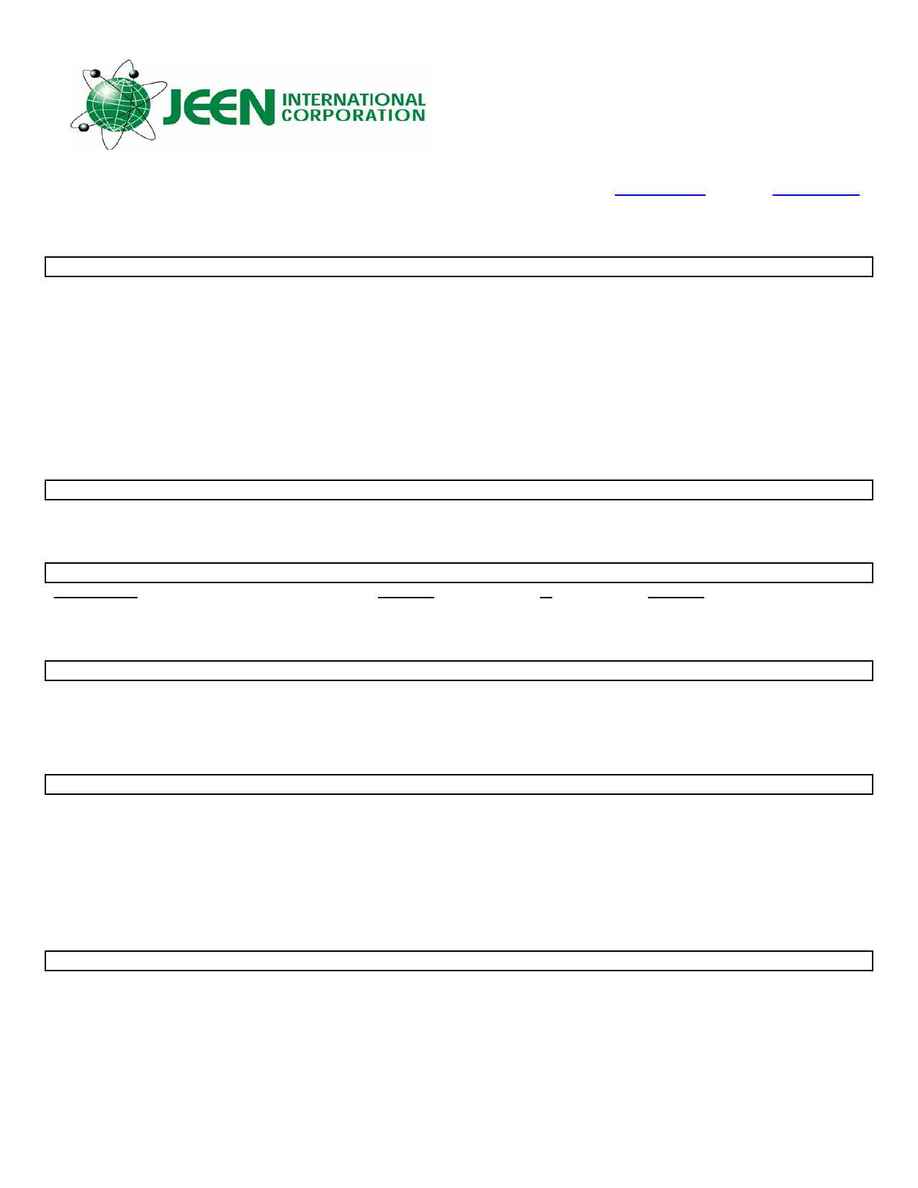 MATERIAL SAFETY DATA SHEET


SECTION I - MATERIAL AND MANUFACTURER IDENTIFICATION

Manufacturer's
Chemtrec Emergency Tel.# 800-424-9300
International Emergency Tel.# 703-527-3887 (Collect Calls Accepted)
24 Madison Road
Fairfield, NJ 07004
Telephone No.: (973) 439-1401

Product
JEETOX T-15 (TALLOW AMINE POE-15)
N,N-BIS (POLYOXYETHYL-15) UNSATURATED TALLOW AMINE
SECTION II - PRECAUTIONARY STATEMENT

WARNING!
CAUSES SEVERE EYE IRRITATION. WEAR CHEMICAL SPLASH GOGGLES AND PROTECTIVE GLOVES
WHEN HANDLING THIS PRODUCT. AVOID INHALATION OF VAPORS, ESPECIALLY WHEN HANDLING
HEATED MATERIAL. WASH THOROUGHLY AFTER HANDLING.
SECTION III - HAZARDOUS COMPONENTS
EYE IRRITANT. EXPOSURE
LIMITS NOT ESTABLISHED.
SECTION IV - HEALTH EFFECTS

SWALLOWING:
GASTROINTESTINAL IRRITATION,NAUSEA,VOMITING,
VAPOR, ESPECIALLY UPON HEATING, MAY CAUSE IRRITATION OF THE
SECTION V - FIRST AID PROCEDURES
THOROUGHLY WASH EXPOSED AREA WITH SOAP AND WARM WATER. REMOVE CONTAMINATED CLOTHING AND
LAUNDER IN HOT WATER WITH HEAVY-DUTY DETERGENT BEFORE RE-USE.
IMMEDIATELY FLUSH WITH LARGE AMOUNTS OF WATER FOR AT LEAST 15 MINUTES, LIFTING UPPER AND LOWER
LIDS OCCASIONALLY. CALL A PHYSICIAN.
IMMEDIATELY DRINK TWO LARGE GLASSES OF WATER. CALL A PHYSICIAN.
REMOVE INDIVIDUAL TO FRESH AIR.
SECTION VI - EMPLOYEE PROTECTION
NOT REQUIRED UNDER NORMAL CONDITIONS OF USE, HOWEVER, A NIOSH/MSHA APPROVED RESPIRATOR WITH
ORGANIC VAPOR CANISTER MAY BE USED TO PROTECT FROM EFFECTS OF OVEREXPOSURE, ESPECIALLY
WHEN PRODUCT IS HEATED OR WHERE THERE IS INSUFFICIENT VENTILATION.
WEAR PROTECTIVE GLOVES SUCH AS: NEOPRENE OR BUNA-N.
EYES: CHEMICAL SPLASH GOGGLES ARE RECOMMENDED.
OTHER:
PROVIDE LOCAL EXHAUST AND MECHANICAL VENTILATION IF USED IN CONFINED SPACES, ESPECIALLY IF
HEATED.

PAGE 1 OF 3 (JEETOX T-15)
24 Madison Road, Fairfield, New Jersey 07004, USA
Tel: 800-771-JEEN (5336), Tel: 973-439-1401, Fax: 973-439-1402,