Jeen International msds JEETOX HTA 2 Page 1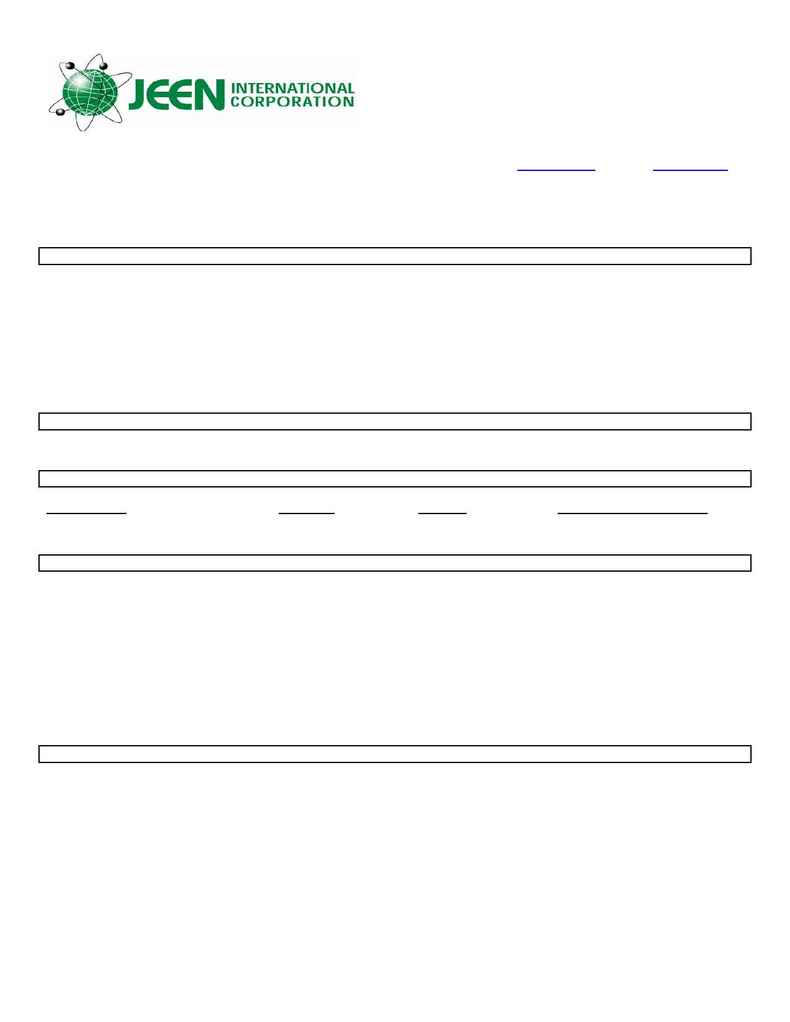 MATERIAL SAFETY DATA SHEET


SECTION I - MATERIAL AND MANUFACTURER IDENTIFICATION
Chemtrec Emergency Telephone # 800-424-9300
Chemtrec Int'l Tel.# 703-527-3887(Collect Calls Accepted)
24 Madison Road
Fairfield, New Jersey 07004
Telephone # 973-439-1401
Product
JEETOX HTA-2
(3) Fire (1) Reactivity (0)
0= LEAST; 1= SLIGHT; 2= MODERATE; 3= HIGH; 4= EXTREME
SECTION II - PRECAUTIONARY STATEMENT
WARNING! CAUSES SEVER EYE IRRITATION. AVOID CONTACT WITH EYES, SKIN AND CLOTHING. WEAR PROTECTIVE
GOGGLES AND NEOPRENE GLOVES. WASH THOROUGHLY AFTER HANDLING.


SECTION III - INGREDIENTS

DESCRIPTION
ETHANOL, 2,2' -(OCTADECYLIMINO)
SECTION IV - FIRE AND EXPLOSION HAZARD DATA

FLASH
FLASH METHOD: UNAVAILABLE
DRY CHEMICAL, WATER FOG, REGULAR FOAM
WEAR FULL PROTECTIVE CLOTHING AND SELF-CONTAINED BREATHING APPARATUS WITH FULL FACESHIELD.
COMBUSTION/DECOMPOSITION PRODUCTS MAY INCLUDE AMINES AND OTHER NITROGEN COMPOUNDS AS WELL
AS CARBON MONOXIDE AND CARBON DIOXIDE. WATER OR FOAM MAY CAUSE FROTHING WHICH CAN BE
VIOLENT, ESPECIALLY IF SPRAYED INTO CONTAINERS OF HOT, BURNING LIQUID.
UNAVAILABLE SENSITIVITY/SPARKS: UNKNOWN
UNAVAILABLE SENSITIVITY/STATIC ELEC:
SECTION V - PHYSICAL PROPERTIES
SPECIFIC GRAVITY (APPROX):

PAGE 1 OF 3 (JEETOX HTA-2)
24 Madison Road, Fairfield, New Jersey 07004, USA
Tel: 800-771-JEEN (5336), Tel: 973-439-1401, Fax: 973-439-1402,