Jeen International msds JEETERIC CDTD Page 1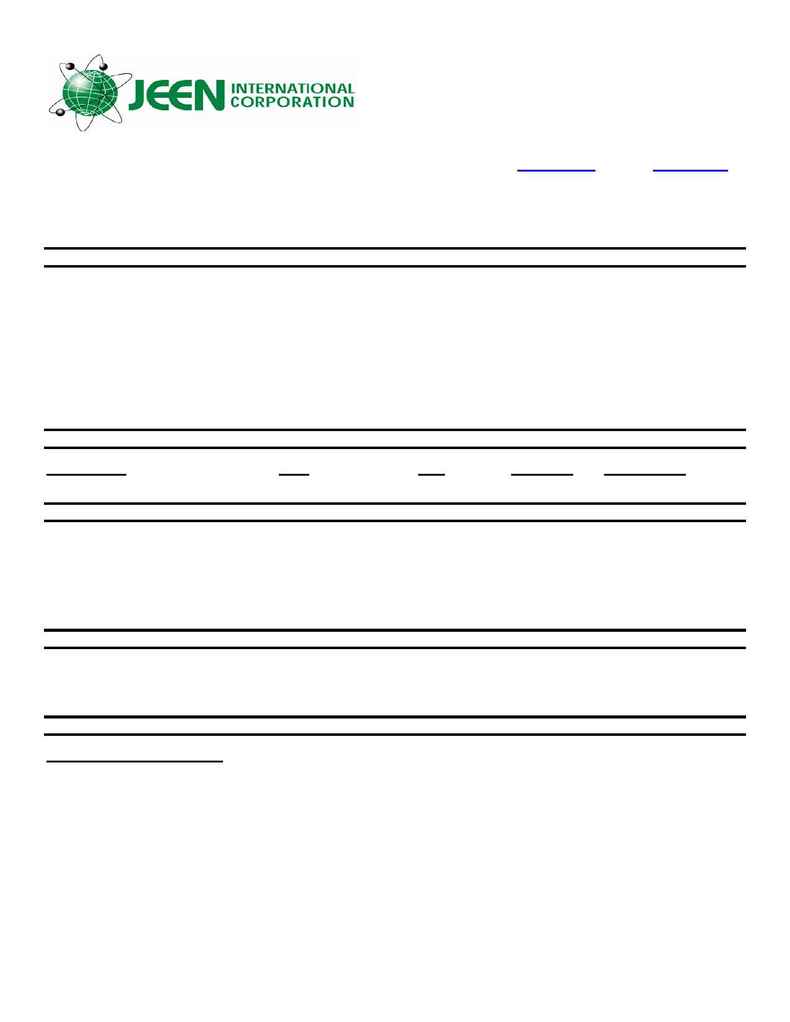 MATERIAL SAFETY DATA SHEET

SECTION I - MATERIAL AND MANUFACTURER IDENTIFICATION
Chemtrec Emergency Telephone # 800-424-9300
Chemtrec Int'l Tel.# 703-527-3887(Collect Calls Accepted)
Telephone No.: 973-439-1401

JEETERIC CDTD
(2) Reactivity (0)0 ---> 4none --> extreme
SECTION II - HAZARDOUS INGREDIENTS
SECTION III - PHYSICAL DATA
SECTION IV - FIRE AND EXPLOSION HAZARD DATA
CARBON DIOXIDE, BC/ABC EXTINGUISHERS
SPECIAL FIREFIGHTING PROCEDURES:
UNUSUAL FIRE AND EXPLOSION HAZARDS:
NONE
SECTION V - HEALTH HAZARD DATA
UNDER NORMAL USE CONDITIONS:
MAY CAUSE EYE AND SKIN IRRITATION
EFFECTS OF OVEREXPOSURE:
EYES:
PROLONGED CONTACT CAN CAUSE SEVERE IRRITATION, REDNESS, BLURRED VISION, SEVERE OR
PROLONGED CONTACT MAY CAUSE MODERATE IRRITATION.
FIRST AID:
FLUSH IMMEDIATELY WITH COPIOUS AMOUNTS OF WATER. CONTINUE FLUSHING FOR
AT LEAST 15 MINUTES. CONSULT A PHYSICIAN.
IMMEDIATELY FLUSH WITH COPIOUS AMOUNTS OF SOAP AND WATER FOR 5 MINUTES.
IF IRRITATION PERSISTS, CONTACT PHYSICIAN. LAUNDER CONTAMINATED CLOTHING
BEFORE RE-USE.
IMMEDIATELY. ADMINISTER 2 GLASSES OF WATER AND STICK
FINGERS DOWN THROAT. NEVER GIVE ANYTHING BY MOUTH TO AN UNCONSCIOUS
PERSON. CALL PHYSICIAN IMMEDIATELY.
REMOVE TO FRESH AIR. IF NECESSARY, GIVE OXYGEN, ARTIFICIAL RESPIRATION.
24 Madison Road, Fairfield, New Jersey 07004, USA
Tel: 800-771-JEEN (5336), Tel: 973-439-1401, Fax: 973-439-1402,