Jeen International msds JEESORB O 5 Page 1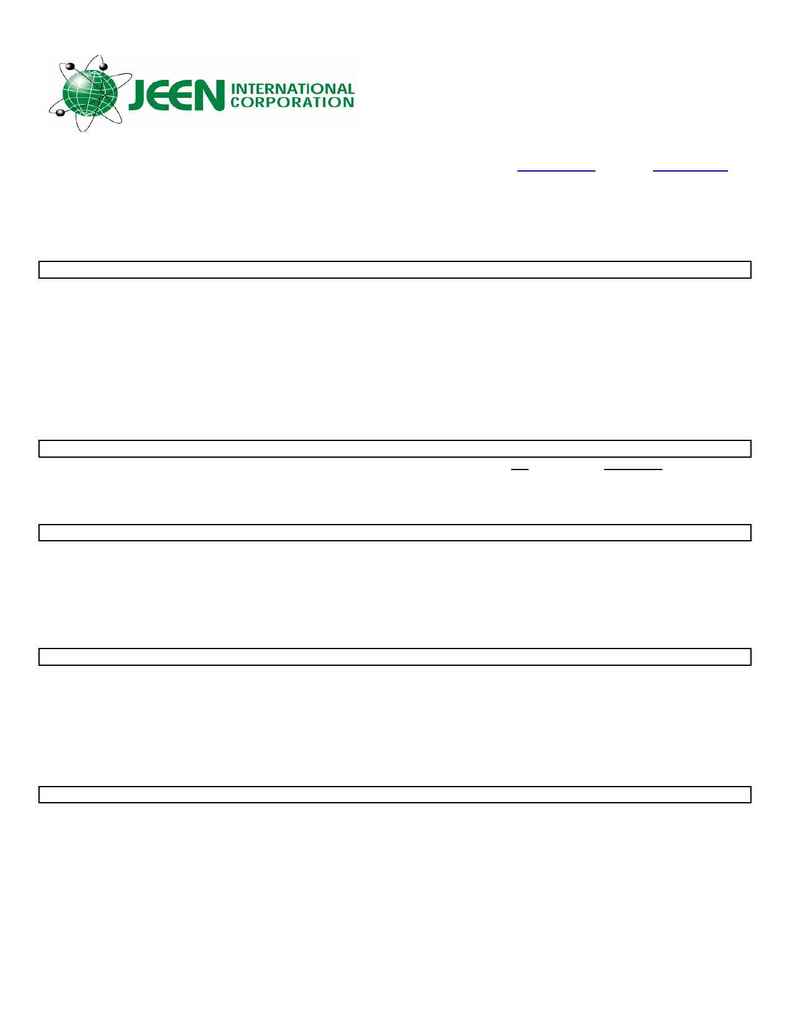 MATERIAL SAFETY DATA SHEET


SECTION I - MATERIAL AND MANUFACTURER IDENTIFICATION
Chemtrec Emergency Telephone # 800-424-9300
Chemtrec Int'l Tel.# 703-527-3887(Collect Calls Accepted)
24 Madison Road
Fairfield, NJ 07004
Telephone No.: (973) 439-1401
Material
JEESORB 0-5 NF

HAZARD SUMMARY (AS DEFINED BY OSHA HAZARD COMMUNICATION STANDARD, 29 CFR 1910.1200):

Prepared/Reviewed:
POLYOXYETHYLENE (5) SORBITAN MONOOLEATE (CAS 9005-65-6):
INGREDIENTS NOT PRECISELY IDENTIFIED ARE PROPRIETARY OR NONHAZARDOUS. VALUES ARE NOT PRODUCT
SPECIFICATIONS.

GT =GREATER THAN; LT =LESS THAN; CA= APPROXIMATELY
SECTION III - PHYSICAL DATA
VAPOR PRESSURE (mm/Hg @20
SECTION IV - FIRE AND EXPLOSION DATA
FLASH POINT (METHOD USED):
CHEMICAL, HALOGENATED AGENTS.
SELF-CONTAINED BREATHING APPARATUS WITH FULL
FACEPIECE AND PROTECTIVE CLOTHING.
UNUSUAL FIRE AND EXPLOSION HAZARDS:
SECTION V - REACTIVITY DATA
INCOMPATIBILITY (MATERIALS TO AVOID):
HAZARDOUS DECOMPOSITION
COMBUSTION PRODUCTS:
CARBON MONOXIDE, CARBON DIOXIDE



PAGE 1 OF 3 (JEESORB 0-5)





24 Madison Road, Fairfield, New Jersey 07004, USA
Tel: 800-771-JEEN (5336), Tel: 973-439-1401, Fax: 973-439-1402,