Jeen International msds JEESILC CPS 312 Page 1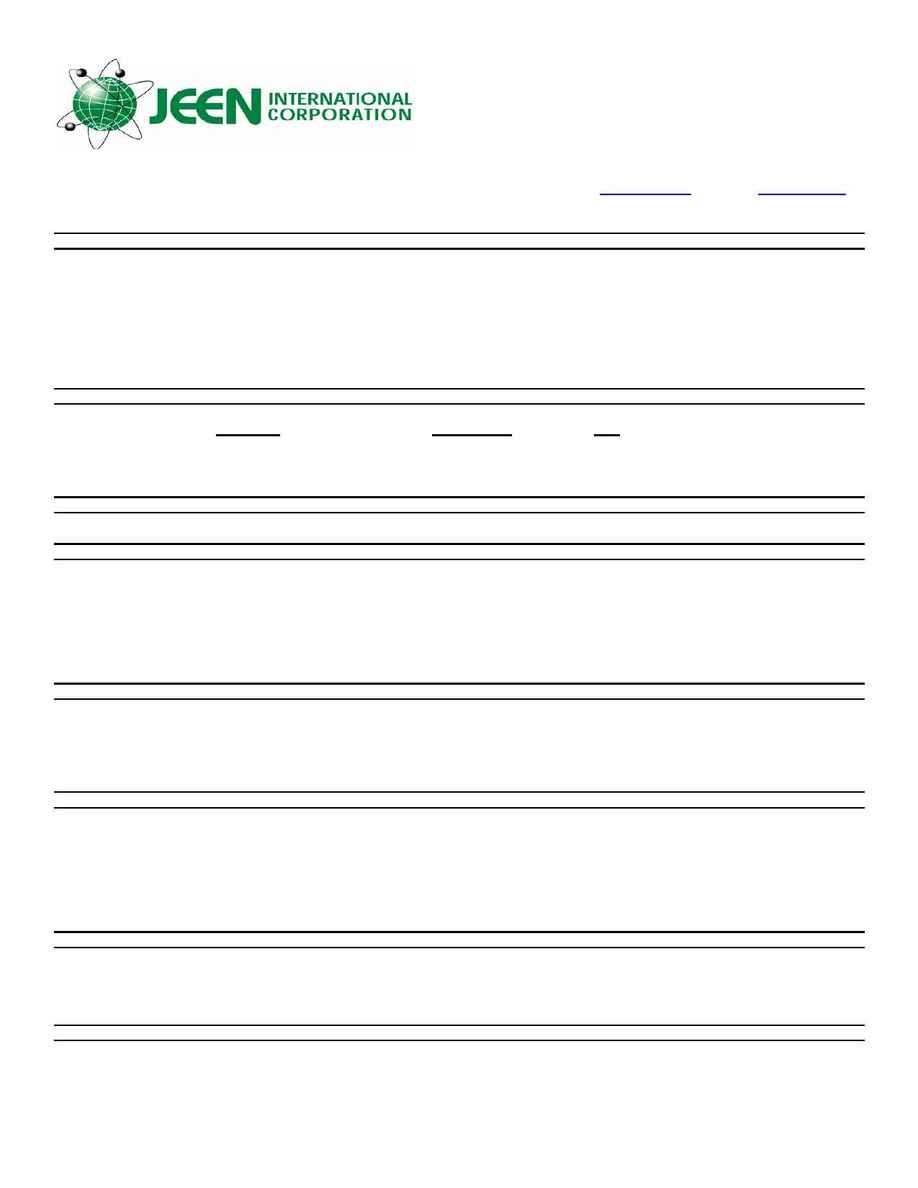 Material
Section 1 ­ Company and Product Identification
JEEN International Corporation
Chemtrec Emergency Tel.# 800-424-9300
Tel.# 703-527-3887 (Collect Calls Accepted)

Product Name:
Section 2 ­ Composition Information on Hazardous Ingredients

Substance
Decamethylcyclopentasiloxane
Dodecamethylcyclohexasiloxane
Harmful if Swallowed/Eye Irritant/Combustible

In Case of Swallowing:
Wash out mouth thoroughly with water; Do not induce vomiting; seek medial attention.
Remove to fresh air; symptomatic treatment.
In Case of Contact with Eyes:
Rinse immediately with plenty of water for at least 15 minutes; if irritation persists obtain medical
attention.
In Case of Contact with Skin:
Wash with plenty of water; if irritation persists or develops, seek medical attention. Remove
contaminated clothing and launder before reuse.

If Involved In A Fire:
Will burn and give off noxious fumes such as silica and carbon oxides. Wear self-contained breathing
apparatus and protective clothing.
Prevent run-off, extinguish all ignition sources.

Observe any warning labels on the container (see sections 14 and 15). Take precautions to avoid exposure (see section 7 and 8).
Avoid contact or breathing of vapors.

Contain any spilled material immediately with dry agent (sand, vermiculite, etc.) and vacuum or shovel into labeled containers for
disposal (see section 13). Prevent product from entering drains or being released into the environment.

Handle/weight this product under conditions of good local exhaust ventilation to avoid exposure (breathing
vapors, swallowing, and eye and skin contact). personal protective equipment given in Section 8 below
should be used if there is a possibility of exposure.
Store in a cool dry place and replace lid after use.
Wear NIOSH approved respiratory protection as appropriate to operating conditions.
As appropriate to operating conditions to avoid contact.
Page No. 1 of 3 ­ MSDS ­ JEESILC CPS-312
24 Madison Road, Fairfield, New Jersey 07004, USA
Tel: 800-771-JEEN (5336), Tel: 973-439-1401, Fax: 973-439-1402,