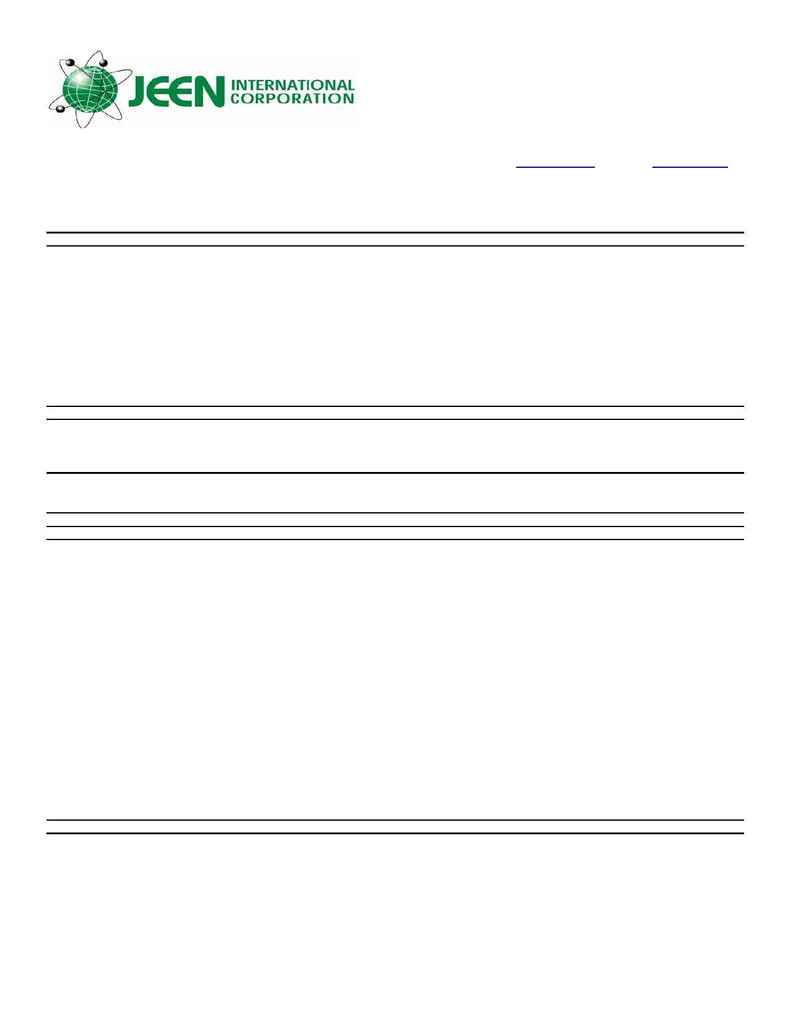 MATERIAL SAFETY DATA SHEET
Section 1 ­ Company and Product Identification
JEEN International Corporation
Chemtrec Emergency Tel: 800-424-9300
24 Madison Road Chemtrec Int'l. Emergency Tel: 703-527-3887
Fairfield, New Jersey 07004
973-439-1401
Issuance Date:
JEESILC 74
Specially Formulated Polymers
Section 2 ­ Composition/Information
All components in this product are listed in the T.S.C>A. Inventory.

Product

Any components that are listed above are hazardous as defined in 29 CFR 1910.1200.

HMIS

Acute Effects:

Eyes:
Direct contact irritates slightly with redness and discomfort.
Single, prolonged exposure (hours) causes no known effect. Several repeated, prolonged exposures may cause
slight irritation.
No irritation to nose or throat expected. No injury is likely from relatively short exposure.
Amounts transferred to the mouth by fingers, etc., during normal operations should not cause injury.

Comments:
No known, adverse chronic health effects, but unnecessary exposure to any chemical should be avoided. This
product, as with any chemical, may enhance allergic conditions on certain people. There are no known, medical
conditions that might be aggravated by exposure to this product.

Hazards Identification:
Carcinogens:
Immediately upon exposure to the eyes, they should be flushed with plenty of fresh water, ensuring that under both
the upper and lower lids are rinsed well for five to ten minutes. GET MEDICAL ATTENTION if irritation persists.
Exposed skin should be thoroughly rinsed with fresh water to move the product from the exposed area as soon as
possible. If irritation persists, CONSULT A PHYSICIAN.
No first aid should be needed.
Although this product is considered to be a safe product, the user assumes the liability to ensure that safe and
prudent procedures are used in handling and using the product in order to ensure that personnel are not dangerously
exposing the eyes and skin with proper safeguards.
Page No. 1 of 3 ­ MSDS ­ JEESILC 74
24 Madison Road, Fairfield, New Jersey 07004, USA
Tel: 800-771-JEEN (5336), Tel: 973-439-1401, Fax: 973-439-1402,