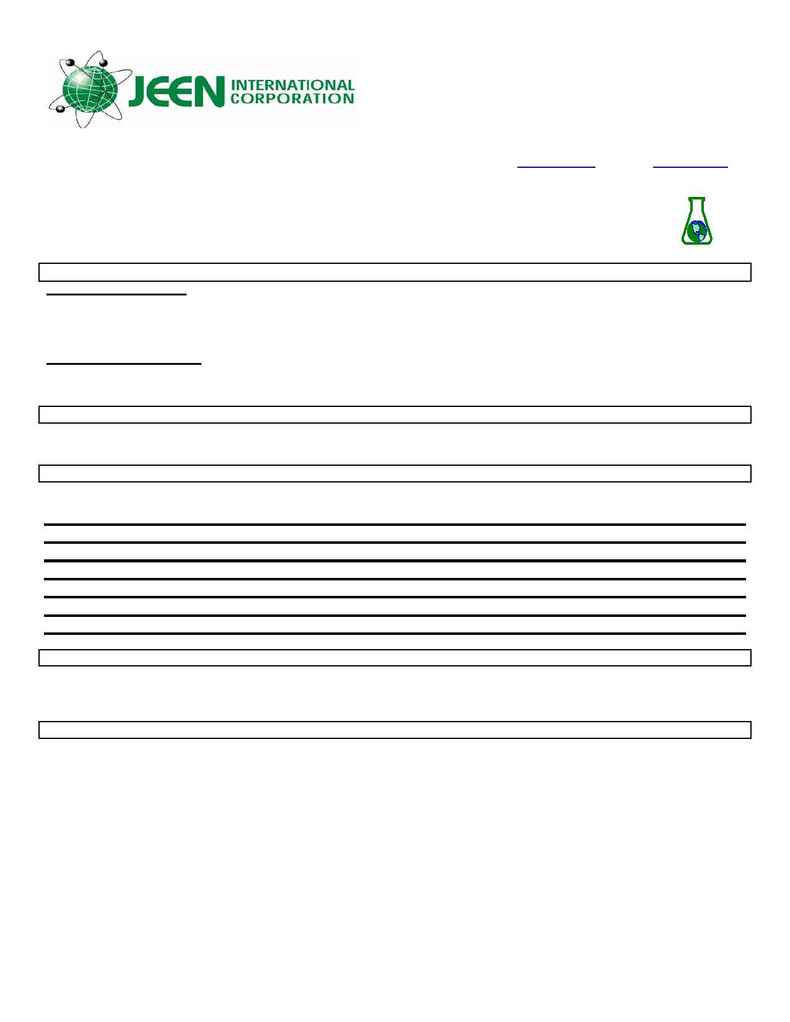 SECTION I - MATERIAL AND MANUFACTURER IDENTIFICATION
Company Identification:
JEEN INTERNATIONAL CORPORATION
Chemtrec Emergency Telephone # 800-424-9300
24 MADISON ROAD
Chemtrec Int'l Telephone # 703-527-3887(Collect Calls Accepted)
FAIRFIELD, NJ 07004
Telephone
No.:
(973)
439-1401
Product Name/Identification
CAS#:
JEEMATE
400
DO 9005-07-6
Revision date: 2003-7-09

SECTION 2 - COMPOSITION/INFORMATION ON INGREDIENTS
Chemical name of substance:
Polyethylene Di Oleate Ester
For full text of R-phrase please see section 16

SECTION 3 - HAZARDS IDENTIFICATION
No known hazards.
Specific hazards:
Vapours which may irriate the respiratory system may be released above 200 Deg. C.
SECTION 4 - FIRST AID MEASURES
General advice:
Never give anything by mouth to an unconscious person.
Eye contact: Rinse with plenty of water.
Skin contact: Wash off with plenty of water.
Ingestion:
Drink plenty of water. Do not induce vomiting without medical advice.
Consult a physician for severe cases.


SECTION 5 - FIRE FIGHTING MEASURES

Suitable extinguishing media:
Water spray, foam, dry chemical, carbon dioxide (C02)
Specific hazards:
Burning produces irritant fumes.
SECTION 6 - ACCIDENTAL RELEASE MEASURES
Personal precautions:
Remove all sources of ignition. Ensure adequate ventilation, Wear personal protective
equipment
Environmental precautions:
Do not let product enter drains.
Methods for cleaning up:
Use inert absorbent, sweep up and shovel into suitable containers for disposal.







Page No. 1 of 3 - MSDS - JEEMATE 400-DO



24 Madison Road, Fairfield, New Jersey 07004, USA
Tel: 800-771-JEEN (5336), Tel: 973-439-1401, Fax: 973-439-1402,