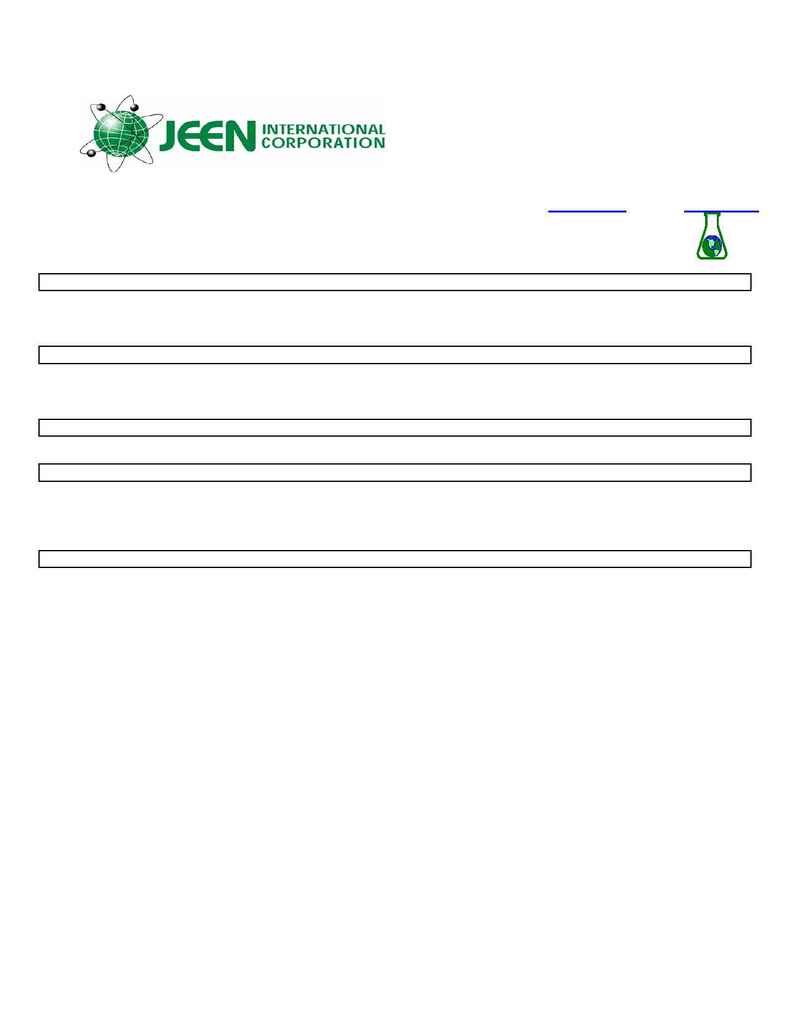 SECTION 12 - ECOLOGICAL INFORMATION

Ecotoxicity effects:
No data available
Persistence and degradability:
Not data available
SECTION 13 - DISPOSAL CONSIDERATIONS

Waste from residues / Unused products: Dispose of as special waste in compliance with local and national regulations.
Contaminated packaging:
If recycling is not practicable, dispose of in compliance with local regulations.
SECTION 14 - TRANSPORTATION INFORMATION
Not classified as dangerous in the meaning of transport regulations.
SECTION 15 - REGULATORY INFORMATION
According to EC-Dir. 67/548, as amended, the product is labeled as follows:
Symbol (s):
Xi
R-phrase (s) R36
Irritating to eyes.
S-phrase (s) S26
In case of contact with eyes, rinse immediately with plenty of water and seek medical attention.
SECTION 16 - OTHER INFORMATION
The information provided in this Safety Data Sheet is correct to the best of JEEN International knowledge, information and
belief at the date of its publication. The information given is designed only as a guidance for safe handling, use, processing,
storage, transportation, disposal and release and is not to be considered a warranty or quality specification. The information
relates only to the specific material designated and may not be valid for such material used in combination with any other
material or in any process, unless specified in the text.

***********************************************************************************************************************************************************


Page No. 3 of 3 - MSDS - JEEMATE 400-DO
24 Madison Road, Fairfield, New Jersey 07004, USA
Tel: 800-771-JEEN (5336), Tel: 973-439-1401, Fax: 973-439-1402,