Jeen International msds JEEMATE 1000 DPS Page 1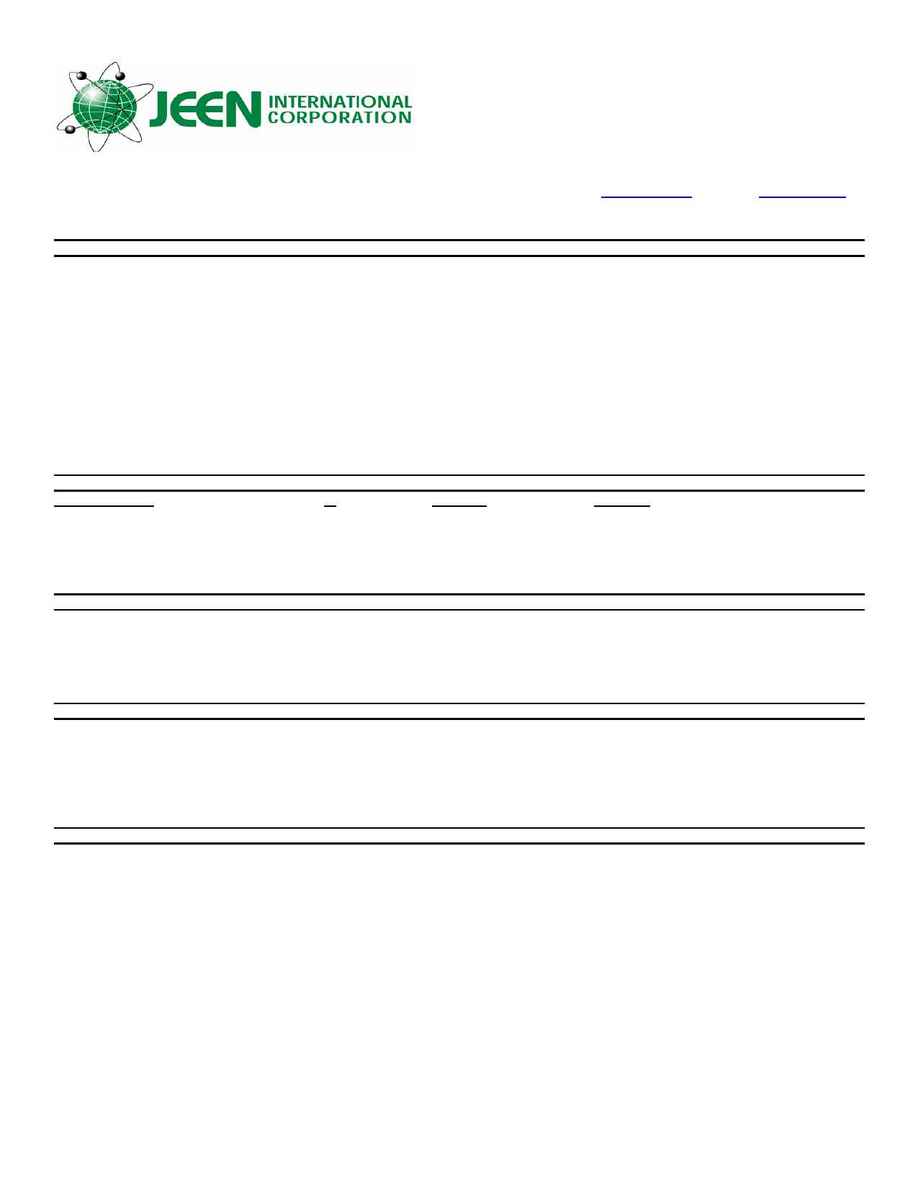 MATERIAL
SAFETY
DATA
SHEET
SECTION I - MATERIAL AND MANUFACTURER IDENTIFICATION

Manufacturer's Name:
24 MADISON ROAD
FAIRFIELD, NJ 07004
Telephone # 973-439-1401
Chemtrec Emergency Telephone Number: 800-424-9300
Chemtrec International Telephone Number 703-527-3887 (Collect Calls Accepted)
JEEMATE 1000 DPS
NONE NOTED (SECTION 311/312)
SECTION II - HAZARDOUS INGREDIENTS
PEG 1000 MONOSTEARATE FLAKE
THIS PRODUCT MAY CONTAIN TRACE AMOUNTS OF ETHYLENE OXIDE (75-21-8), ACETALDEHYDE (75-07-0), AND 1,4-DIOXANE (123-91-1),
AND IS LISTED IN ACCORDANCE WITH THE REGULATIONS AS SPECIFIED IN CALIFORNIA PROPOSITION 65. ETHYLENE OXIDE IS A
POTENTIAL CANCER AND REPRODUCTIVE HAZARD. 1,4-DIOXANE IS A POTENTIAL CANCER HAZARD.
SECTION III - HEALTH INFORMATION
LD50:20 G/KG (ALBINO RAT)
THE PRODUCT WAS NOT CLASSIFIED AS A PRIMARY EYE IRRITANT.
PEG (1000) MONSTEARTE IS NOT A PRIMARY SKIN IRRITANT OR A CORROSIVE MATERIAL
(RABBITS).
PRIMARY SKIN IRRITATION INDEX WAS EQUAL TO 0.0.
SECTION IV - OCCUPATIONAL EXPOSURE LIMITS
25 PPM (SKIN) (1,4-DIOXANE)

TLV:
SECTION V - EMERGENCY FIRST AID PROCEDURE
FOR OVEREXPOSURE
BY SWALLOWING:
CALL A PHYSICIAN OR POISON CONTROL CENTER IMMEDIATELY.

FOR OVEREXPOSURE
BY SKIN CONTACT:

FOR OVEREXPOSURE
BY EYE CONTACT:
IMMEDIATELY FLUSH EYES WITH PLENTY OF COOL WATER FOR AT LEAST 15 MINUTES.
DO NOT LET VICTIM RUB EYES. GET MEDICAL ATTENTION IMMEDIATELY.
FOR OVEREXPOSURE
BY INHALATION:
IMMEDIATELY REMOVE VICTIM TO FRESH AIR. IF VICTIM HAS STOPPED BREATHING GIVE
ARTIFICIAL RESPIRATION, PREFERABLY BY MOUTH-TO-MOUTH. GET MEDICAL
Page No. 1 of 3 - MSDS - JEEMATE 1000-DPS
24 Madison Road, Fairfield, New Jersey 07004, USA
Tel: 800-771-JEEN (5336), Tel: 973-439-1401, Fax: 973-439-1402,