Jeen International msds JEEMATE 1000 DPS Page 3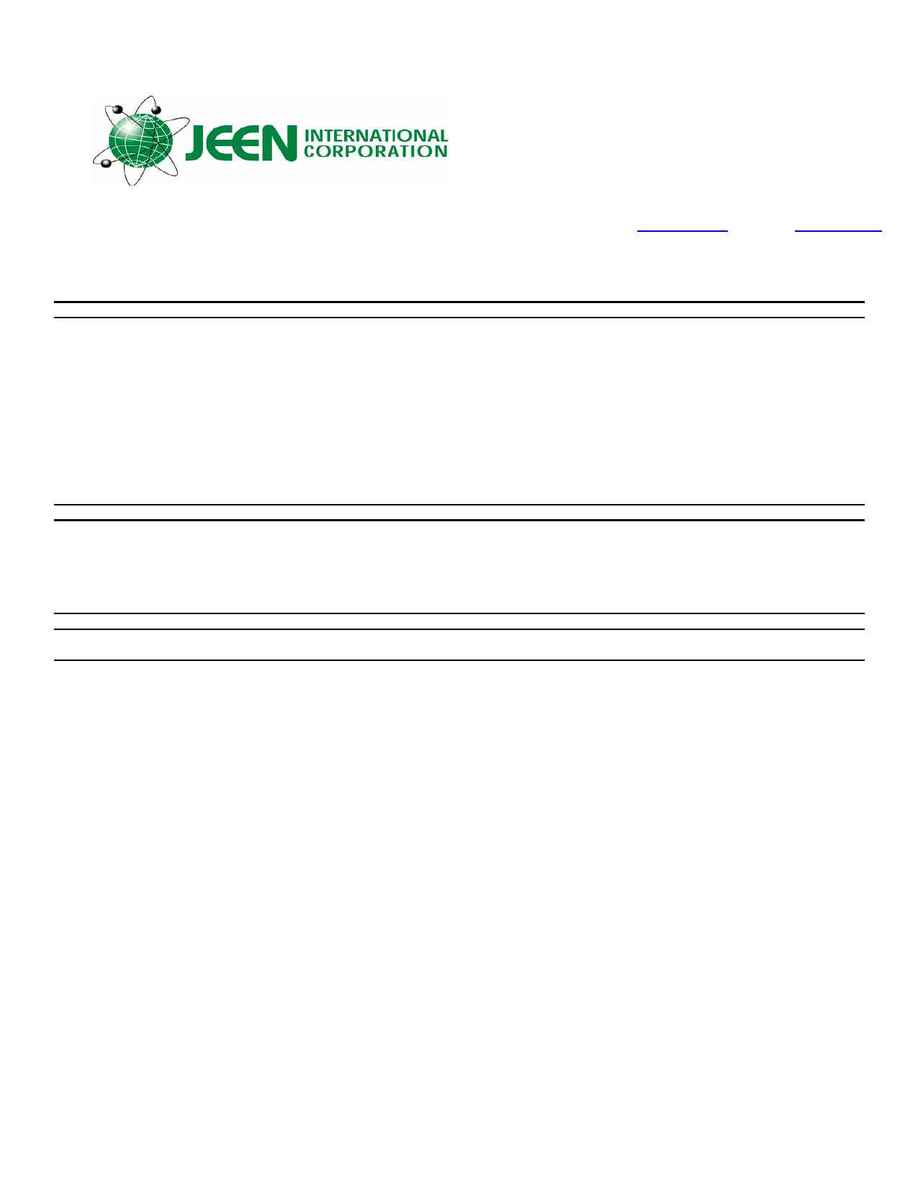 SECTION X - ENVIRONMENTAL PROTECTION
ENVIRONMENTAL PRECAUTIONS:
AVOID UNCONTROLLED RELEASES OF THIS MATERIAL. WHERE SPILLS ARE POSSIBLE, A COMPREHENSIVE SPILL
RESPONSE PLAN SHOULD BE DEVELOPED AND IMPLEMENTED.
SPILL OR LEAK PRECAUTIONS:
WEAR APPROPRIATE RESPIRATORY PROTECTION AND PROTECTIVE CLOTHING AS DESCRIBED IN SECTION IX.
CONTAIN SPILL MATERIAL. TRANSFER TO SECURE CONTAINERS. WHERE NECESSARY, COLLECT USING
ABSORBENT MEDIA. IN THE EVENT OF AN UNCONTROLLED RELEASE OF THIS MATERIAL, THE USER SHOULD
DETERMINE IF THE RELEASE IS REPORTABLE UNDER APPLICABLE LAWS AND REGULATIONS.
ALL RECOVERED MATERIAL SHOULD BE PACKED, LABELED, TRANSPORTED, AND DISPOSED OR RECLAIMED IN
CONFORMANCE WITH APPLICABLE LAWS AND REGULATIONS AND IN CONFORMANCE WITH GOOD ENGINEERING
PRACTICES. AVOID LANDFILLING OF LIQUIDS. RECLAIM WHERE POSSIBLE.
SECTION XI - REGULATORY CONTROLS
DEPARTMENT OF TRANSPORTATION:
DOT PROPER SHIPPING NAME: -
OTHER REGULATORY REQUIREMENTS:
LISTED IN TSCA INVENTORY
SECTION XII - PRECAUTIONS: HANDLING, STORAGE AND USAGE
NO SPECIAL PRECAUTIONS NECESSARY. AVOID CONTAINER DAMAGE WHILE HANDLING AND STORING.

This information is furnished without warranty, expressed or implied, except that it is accurate to the best knowledge of JEEN International Corporation. The data on this sheet
relates only to the specific material designated herein. JEEN International Corporation assumes no legal responsibility for use or reliance upon these data.
Page No. 3 of 3 - MSDS - JEEMATE 1000-DPS
24 Madison Road, Fairfield, New Jersey 07004, USA
Tel: 800-771-JEEN (5336), Tel: 973-439-1401, Fax: 973-439-1402,