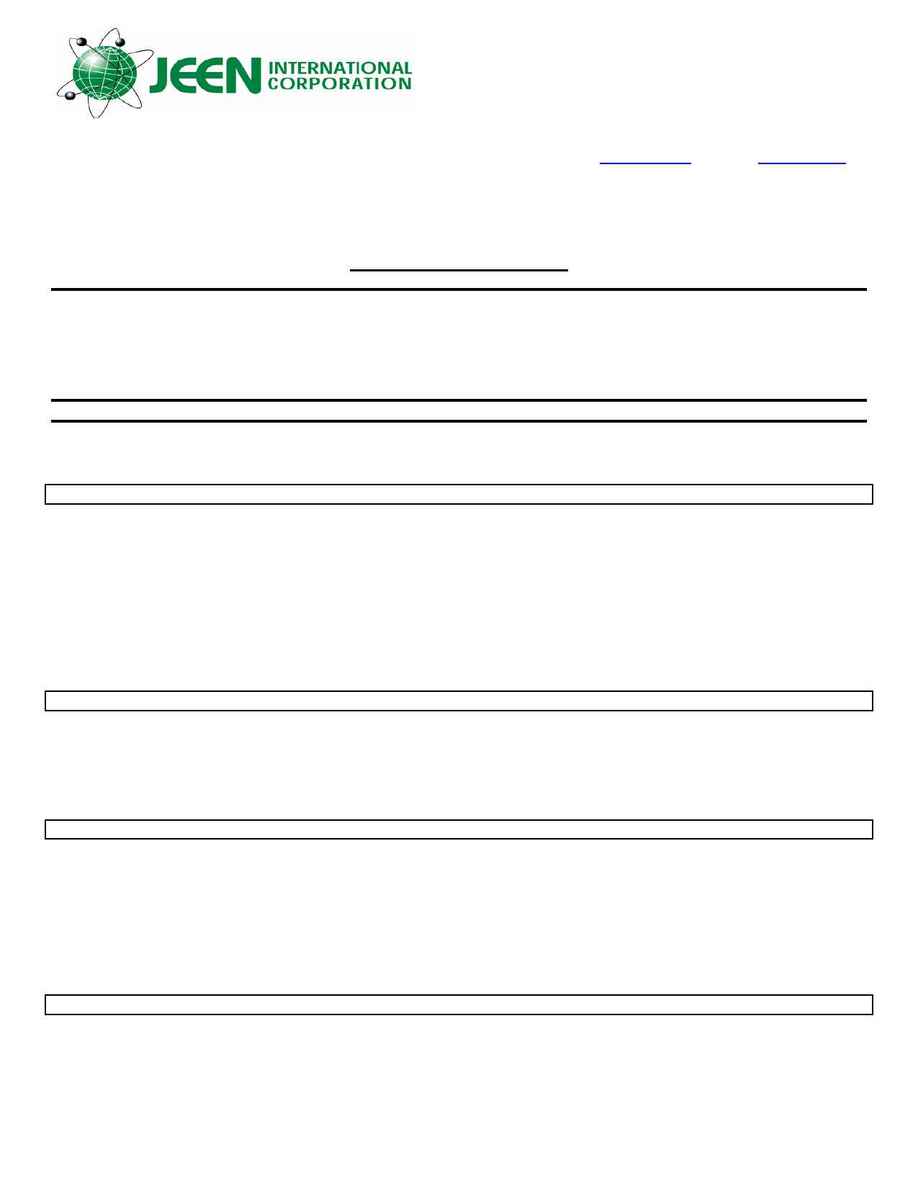 MATERIAL SAFETY DATA SHEET

MANUFACTURER:
Chemtrec Emergency Telephone No.: 800-424-9300
Chemtrec International Telephone No.: 703-527-3887 (Collect Calls Accepted)
Section - 1 ­ Product Description
JEELATE ALS-30
Section 2 ­ Composition / Information on Ingredients
Comp: Sodium lauryl sulfate
CAS No.: Confidential
Percentage (by wt.): From 30 to 39.9 percent
OSHA: TWA: N/E STEL: N/E
ACGIH: TWA: N/E STEL: N/E
Other: TWA: N/E STEL: N/E
Comp: Sodium hydroxide
CAS No: 1310-73-2
Percentage (by wt.): 4%
OSHA: TWA: N/E STEL: 2mg/cuM(c)
ACGIH: TWA: 2mg/cuM STEL: 2mg/cuM(c) Other: TWA: N/E STEL: N/E
(s)- Skin exposure (p)- Proposed limit (c)- Ceiling exposure (1)- Recommended exposure limit (u)- Supplier recommended exposure
limit (N/E)- None established

Section 3- Hazards Identification
WARNING.
HARMFUL
IF
SWALLOWED
CAUSES
EYE
IRRITATION
CAUSES
SKIN
IRRITATION
CAUSES
RESPIRATORY
TRACT
IRRITATION
complete health hazard information
Section 4- First Aid Measures
DO NOT INDUCE VOMITING. If conscious, give 2 glasses of water. Get immediate medical attention.
Flush immediately with water for at least 15 minutes. Get immediate medical attention
Wash with soap and water. Immediately remove contaminated clothing. Get medical attention if irritation
persists. Launder contaminated clothing before reuse and discard shoes and other leather articles saturated
with the material.
Remove exposed person to fresh air if adverse effects are observed. If breathing is labored, administer
oxygen. If breathing has stopped, apply artificial respiration. If irritation persists or if toxic symptoms are
observed, get medical attention.
Not to physician. Treat symptomatically.
Section 5- Fire Fighting Measures
>100 Deg. C, 212 Deg. F PMCC (Minimum)
Firefighting Procedures: Recommend wearing self-contained breathing apparatus. Water may be ineffective fighting fires.
Unusual Fire &
Toxic fumes, gases or vapors may evolve on burning.
JEELATE ALS-30 page 1 of 6
24 Madison Road, Fairfield, New Jersey 07004, USA
Tel: 800-771-JEEN (5336), Tel: 973-439-1401, Fax: 973-439-1402,