Jeen International msds JEELATE ALES 2 Page 1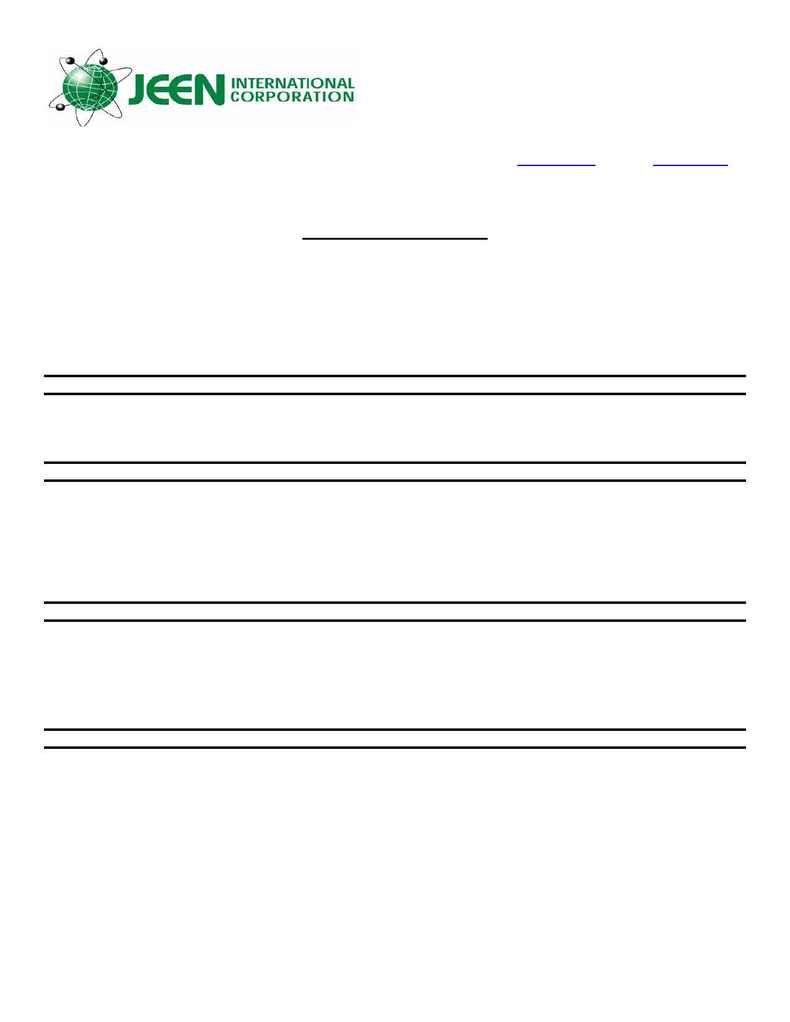 MATERIAL SAFETY DATA SHEET
Chemtrec Emergency Telephone Number: 800-424-9300
Chemtrec
International
Telephone
Number: 703-527-3887 (Collect Calls Accepted)
JEELATE ALES-2
AMMONIUM LAURYL ETHER SULFATE
TLV OR PEL (CURRENT ACGIH LIMIT) (1,2,3)FORMALDEHYDE
1) Currently in American Conference of Governmental Industrial Substances Suspect of Carcinogenic Potential for Man.
2) Formaldehyde is a listed chemical on California's State Water and Toxic Enforcement Act of 1986. Proposition 65
3) SUBJECT TO REPORTING REQUIREMENTS UNDER SECTION 313 SARA TITLE III.
SOLUBILITY IN WATER (% BY VOLUME):
WATER-WHITE, VISCOUS LIQUID
SPECIFIC GRAVITY (H2O=1):
VAPOR PRESSURE @ 20 DEG C:
FLAMMABLE LIMITS IN AIR, %BY VOLUME:
FOG, DRY POWDER OR CARBON DIOXIDE
UNUSUAL FIRE & EXPLOSION HAZARDS:
SPECIAL FIRE FIGHTING PROCEDURES:
REMOVE UNPROTECTED PERSONNEL FROM HAZARD AREA. WEAR
PROTECTIVE CLOTHING. EMERGENCY PERSONNEL SHOULD BE
EQUIPED WITH A NIOSH APPROVED SCBA WITH FULL FACE PIECE.
COOL EXPOSED CONTAINERS WITH WATER.
SWALLOWING: INGESTION MAY CAUSE IRRITATION TO TH MEMBRANES OF THE MOUTH, THROAT AND
GASTROINTESTINAL TRACT. NAUSEA, VOMITING, CRAMPS AND DIARRHEA MAY OCCUR.
NO HEALTH EFFECTS ARE KNOWN TO OCCUR FROM INHALATION OF THIS PRODUCT.
INHALATION OF MISTS OR SPRAYS MAY RESULT IN NON-SPECIFIC IRRITATION OF THE UPPER
RESPIRATORY TRACT.
CONTACT WITH SKIN MAY CAUSE MILD TO MODERATE LOCAL IRRITATION.
MODERATE IRRITATION MAY RESULT.
CHRONIC EFFECTS
OF OVEREXPOSURE:
NO CHRONIC EFFECTS, EITHER SYSTEMIC OR LOCAL ARE KNOWN.
OTHER HEALTH
HAZARDS:
Page No. 1 of 2 - MSDS - JEELATE ALES-2
24 Madison Road, Fairfield, New Jersey 07004, USA
Tel: 800-771-JEEN (5336), Tel: 973-439-1401, Fax: 973-439-1402,