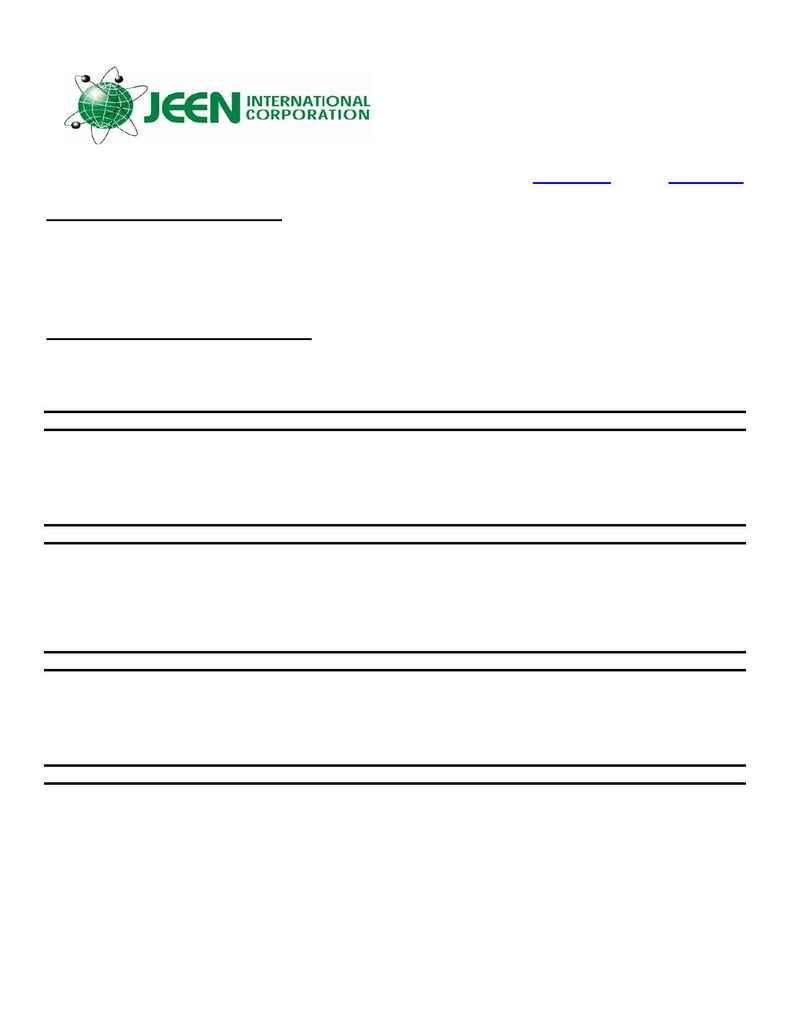 EMERGENCY & FIRST AID PROCEDURES:
SWALLOWING: SEEK MEDICAL ATTENTION
SKIN:
REMOVE CONTAMINATED CLOTHING AND FLUSH SKIN WITH WATER. WASH WITH SOAP AND WATER
UNTIL MATERIAL HAS BEEN REMOVED. OBTAIN MEDICAL ATTENTION IF IRRITATION PERSISTS.
REMOVE TO FRESH AIR. IF SYMPTOMS OF RESPIRATORY DISCOMFOR PERSIST, OBTAIN MEDICAL
ATTENTION.
IMMEDIATELY FLUSH EYES WITH LARGE QUANTITIES OF WATER FOR 15 MINUTES. HOLD EYELIDS APART
TO ENSURE COMPLETE FLUSHING. DO NOT ATTEMPT TO NEUTRALIZE WITH CHEMICAL AGENTS. OBTAIN
MEDICAL ATTENTION.
TLV OR PEL AND SOURCE: NONE CURRENTLY ESTABLISHED.
HAZARDOUS MATERIALS INDENTIFICATION SYSTEM
HEALTH:
PERSONAL PROTECTION EQUIPMENT: GOGGLES, GLOVES,SYNTHETIC APRON
CONDITIONS TO AVOID IF UNSTABLE:
INCOMPATIBILITY WITH OTHER MATERIALS:
HAZARDOUS DECOMPOSITION PRODUCTS:
MAY PRODUCE HAZARDOUS FUMES OR HAZARDOUS DECOMPOSITION
PRODUCTS.
HAZARDOUS POLYMERIZATION:
SPILL AND DISPOSAL PROCEDURES
STEPS TO BE TAKEN IF MATERIAL IS RELEASED OR SPILLED: ELIMINATE ALL IGNITION SOURCES. WEAR SUITABLE
PROTECTIVE EQUIPMENT. SMALL SPILLS: ABSORB LIQUID WITH ABSORBENT MATERIAL. LARGE SPILLS: STOP SPILL AT
SOURCE. DIKE AREA OF THE SPILL TO PREVENT SPREADING. PUMP LIQUIDS INTO WASTE CONTAINERS. REMAINING
LIQUIDS CAN BE ABSORBED.

WASTE DISPOSAL METHOD: INCINERATE OR LANDFILL WHERE PERMITTED UNDER APPROPRIATE FEDERAL, STATE AND
LOCAL REGULATIONS. QUESTIONS CONCERNING DISPOSAL SHOULD BE DIRECTED TO JEEN INTERNATIONAL
CORPORATION.
SPECIAL PROTECTION INFORMATION
SELF-CONTAINED BREATHING APPARATUS IN HIGH CONCENTRATIONS.
NORMALLY NOT REQUIRED.
GENERAL (MECHANICAL) ROOM VENTILATION IS EXPECTED TO BE
SATISFACTORY.
BUTYL OR NEOPRENE RUBBER.
OTHER PROTECTIVE EQUIPMENT:
SYNTHETIC APRON, EYE WASH STATION.
PRECAUTIONS TO BE TAKEN IN HANDLING AND STORING: DO NOT GET IN EYES, ON SKIN, OR ON CLOTHING. WASH
THOROUGHLY AFTER HANDLING. SOILED CLOTHING SHOULD BE REMOVED AND LAUNDERED BEFORE REUSE. STORE
BELOW 120 DEG F. KEEP CONTAINER CLOSED.
Page No. 2 of 2 - MSDS - JEELATE ALES-2
24 Madison Road, Fairfield, New Jersey 07004, USA
Tel: 800-771-JEEN (5336), Tel: 973-439-1401, Fax: 973-439-1402,