Jeen International msds JEELAN ALCOHOL Page 1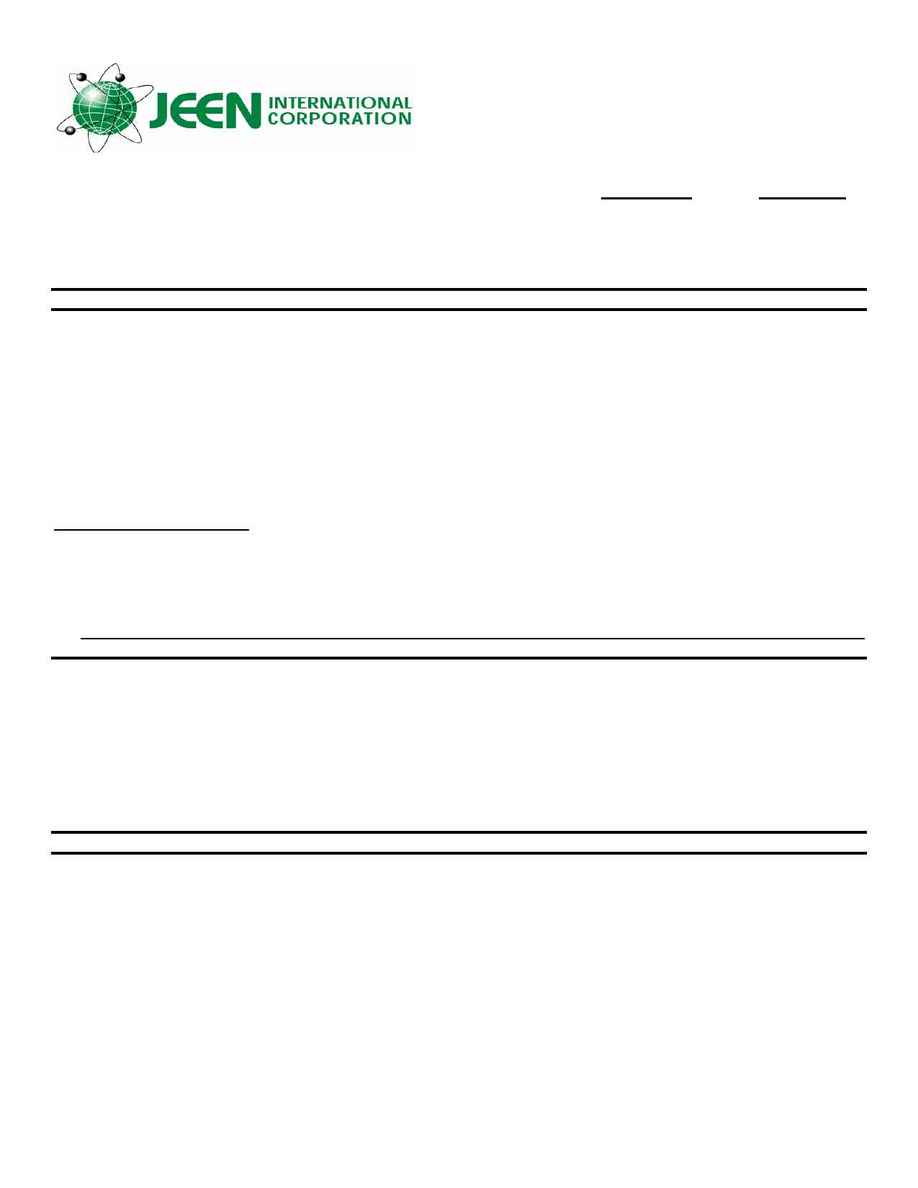 MATERIAL SAFETY DATA SHEET
SECTION I - MATERIAL AND MANUFACTURER IDENTIFICATION

Issued by:
Chemtrec Emergency Telephone No.: 800-424-9300
*Chemtrec International Telephone No.: 703-527-3887
*(Collect Calls Accepted)

Material
JEELAN ALCOHOL
Chemical Name & Synonyms:
VARIABLE/BIOLOGICAL ORIGIN
Principle Hazardous Ingredients:
HAZARD SUMMARY (AS DEFINED BY OSHA HAZARD COMMUNICATION STANDARD, 29CFR 1910.1200):
READ THE ENTIRE MSDS FOR MORE THOROUGH EVALUATION OF THE HAZARDS. THIS MATERIAL IS NOT KNOWN TO BE
HAZARDOUS. INGREDIENTS NOT PRECISELY IDENTIFIED ARE PROPRIETARY AND NONHAZARDOUS. ALL INGREDIENTS
APPEAR ON THE EPA TSCA INVENTORY. VALUES ARE NOT PRODUCT SPECIFICATIONS.
SECTION II - PHYSICAL & CHEMICAL PROPERTIES

BOILING
BROWN WAXY SOLID WITH CHARACTERIC ODOR.
SECTION III - FIRE AND EXPLOSION HAZARD DATA

FLASH POINT (AND METHOD):
CHEMICAL, FOAM, WATER SPRAY, CARBON DIOXIDE.
SPECIAL FIRE FIGHTING PROCEDURES:
WEAR SELF-CONTAINED BREATHING APPARATUS AND OTHER
PROTECTIVE CLOTHING. TREAT AS A GREASE FIRE.
UNUSUAL FIRE AND EXPLOSION HAZARDS:
IF WATER MUST BE USED, USE A FOG NOZZLE TO PREVENT SPREADING
OF BURNING LIQUID.






Page No. 1 of 3 - MSDS - JEELAN ALCOHOL
24 Madison Road, Fairfield, New Jersey 07004, USA
Tel: 800-771-JEEN (5336), Tel: 973-439-1401, Fax: 973-439-1402,
email: info@jeen.com , Website: www.jeen.com