Jeen International msds JEECOL CA 20 Page 1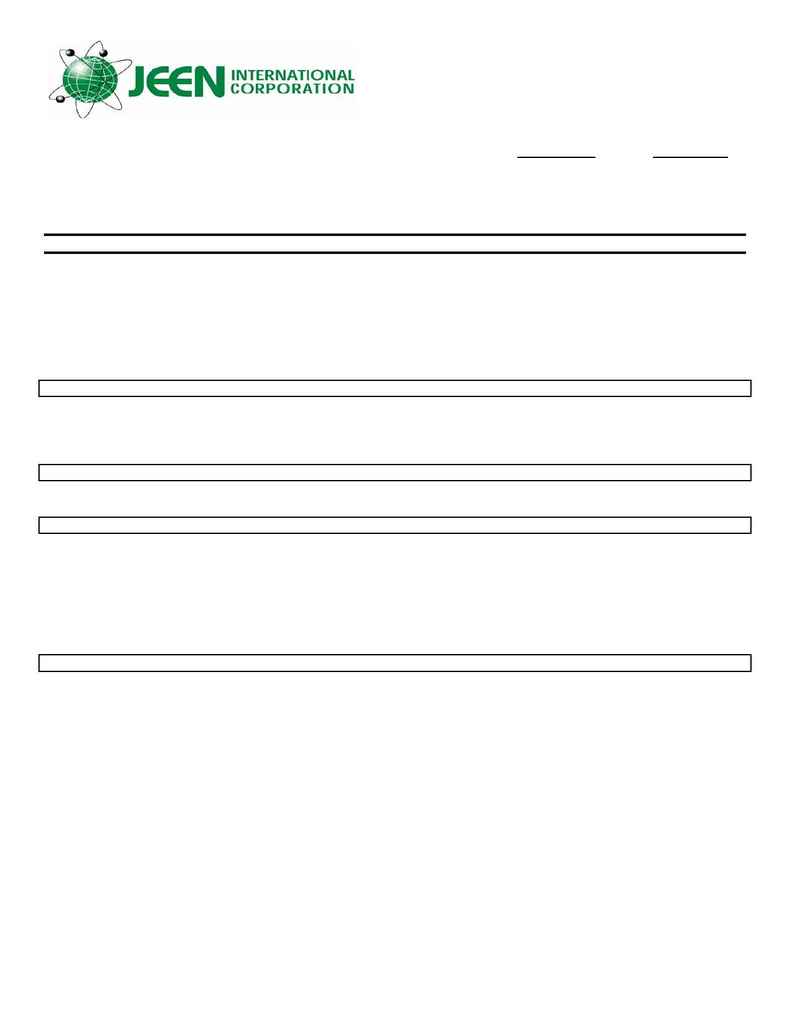 MATERIAL SAFETY DATA SHEET

SECTION I - MATERIAL AND MANUFACTURER IDENTIFICATION
24 Madison Road
Fairfield, NJ 07004
Telephone # 973-439-1401
Chemtrec Emergency Telephone Number: 800-424-9300
Chemtrec International Telephone Number: 703-527-3887 (Collect Calls Accepted)

PRODUCT:
JEECOL CA-20
SECTION 2- COMPOSITION (CTFA / INCI) INFORMATION ON INGREDIENTS

CTFA / INCI Name:

SECTION 3- POSSIBLE HAZARDS
Non-Hazardous

SECTION 4- FIRST AID MEASURES

Inhalation:
Not applicable as a solid. If heated vapors are inhaled and breathing problems occur, move victim
to fresh air and consult a physician.
Immediately flush skin with water while removing contaminated clothing.
Immediately flush eyes with plenty of cool water for at least 15 minutes. Do not rub eyes. Consult
Induce vomiting. Do not give anything by mouth if victim is unconscious. Consult a physician or

SECTION 5- FIRE FIGHTING MEASURES
Suitable extinguishing Media:
Use water to keep fire-exposed containers cool. If a spill or leak has not ignited, use water spray to
disperse with vapors. Water spray may be used to flush spills away from fire and to dilute spills to
Special Protective Equipment:
Firefighters should wear self-contained breathing apparatus in the positive pressure mode with a
full facepiece when there is a possibility of exposure to smoke, fumes or hazardous decomposition
products.



NFPA Rating:
Health: 1
Flammability: 1
Reactivity: 0


JEECOL CA-20 PAGE 1 OF 3
24 Madison Road, Fairfield, New Jersey 07004, USA
Tel: 800-771-JEEN (5336), Tel: 973-439-1401, Fax: 973-439-1402,
email: info@jeen.com , Website: www.jeen.com