Jeen International msds JEECHEM STO Page 1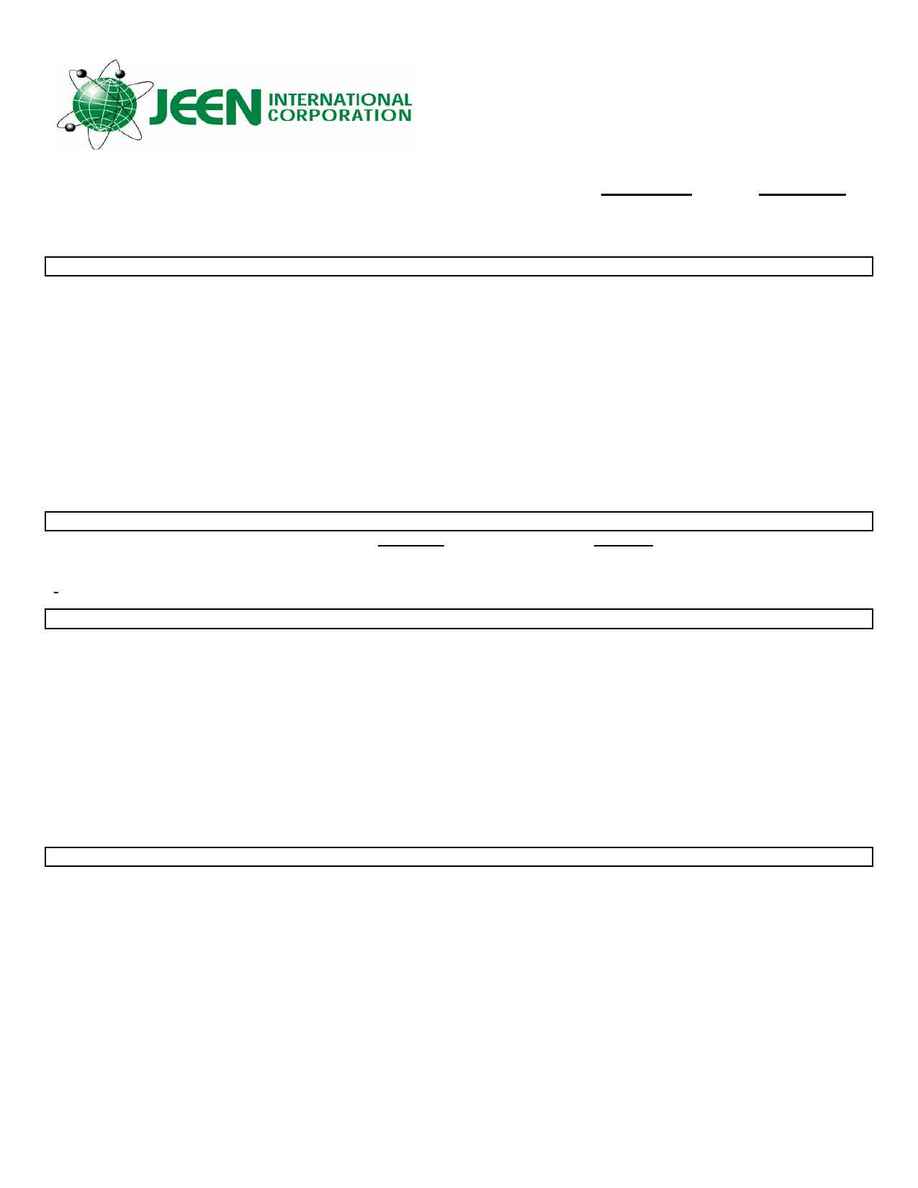 MATERIAL
SECTION I - MATERIAL AND MANUFACTURER IDENTIFICATION
JEEN INTERNATIONAL CORPORATION
24 MADISON ROAD
FAIRFIELD, NJ 07004
Latest Revision Date: 10/26/89
Chemtrec Emergency Telephone No.: 800-424-9300
Chemtrec
International
Telephone
No.: 703-527-3887 (Collect Calls Accepted)

Product:
JEECHEM STO
Sorbitan trioleate; Sorbitan trioctadecenoate
JEECHEM STO which comprises:

APPEARANCE:
PERCENT VOLATILE BY WEIGHT:
EVAPORATION RATE (BUTYL ACETATE=1):
MELTING OR FREEZING POINT:
SECTION IV - FIRE AND EXPLOSION INFORMATION

FLASH
LOWER EXPLOSION LIMIT (%):
FOAM, WATER, DRY CHEMICAL, CO
AUTO IGNITION TEMPERATURE:
UPPER EXPLOSION LIMIT (%):
SPECIAL FIRE FIGHTING PROCEDURES:
MUST WEAR MSHA/NIOSH APPROVED SELF-CONTAINED BREATHING
APPARATUS AND PROTECTIVE CLOTHING.
UNUSUAL FIRE AND EXPLOSION HAZARDS:
PRODUCTS OF COMBUSTION ARE TOXIC. TREAT AS HOT OIL OR FAT. IF
WATER MUST BE USED, USE A FOG NOZZLE TO AVOID SPLATTERING OF
HOT MATERIAL AND SPREAD OF BURNING LIQUID.


Page No. 1 of 3 - MSDS - JEECHEM STO



24 Madison Road, Fairfield, New Jersey 07004, USA
Tel: 800-771-JEEN (5336), Tel: 973-439-1401, Fax: 973-439-1402,
email: info@jeen.com , Website: www.jeen.com