Jeen International msds JEECHEM SHAMPOO CONCENTRATE 7 CL Page 1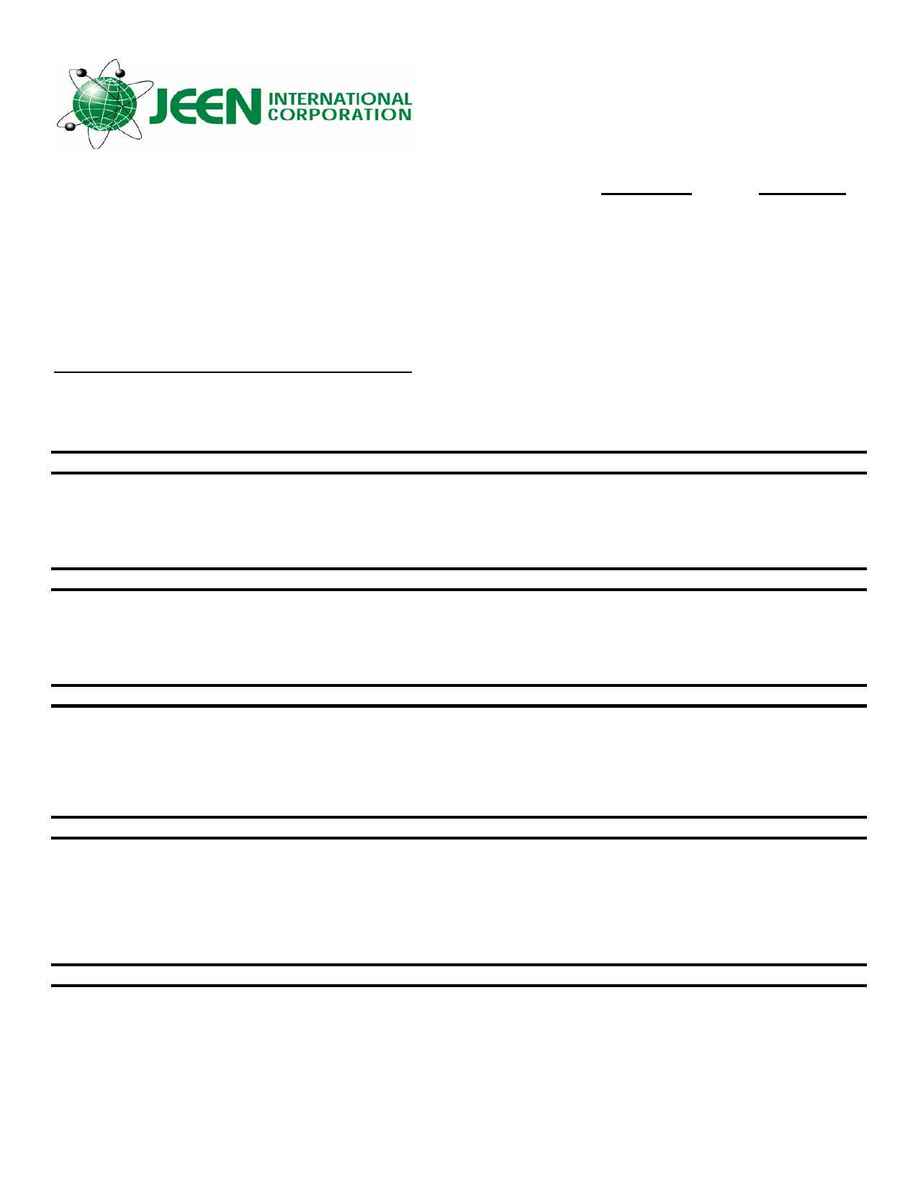 MATERIAL SAFETY DATA SHEET
JEEN INTERNATIONAL CORPORATION
Chemtrec Emergency Tel.# 800-424-9300
Chemtrec Int'l Tel.# 703-527-3887(Collect Calls Accepted)
(0=LEAST 1=SLIGHT 2=MODERATE 3=HIGH)
JEECHEM SHAMPOO CONCENTRATE #7CL
OVER 200 DEG F (CLOSED CUP)
WATER, CARBON DIOXIDE, DRY CHEMICAL,
SPECIAL FIREFIGHTING PROCEDURES:
CLOSED CONTAINERS MAY RUPTURE DUE TO
BUILD UP OF PRESSURE WHEN EXPOSED TO EXTREME HEAT.
HEALTH HAZARD INFORMATION
THRESHOLD LIMIT VALUE (ACGIH TLV):
OSHA PERMISSIBLE EXPOSURE LIMIT (PEL):
CARCINOGENICITY - NTF MONOGRAPH:
OCULAR IRRITATION STUDIES (ANIMAL): NO DATA AVAILABLE.
INHALATION TOXICITY:
NO SPECIFIC INFORMATION AVAILABLE.
PROLONGED CONTACT MAY CAUSE DEFATTING AND DERMATITIS.
EMERGENCY AND FIRST AID PROCEDURES
NOT AN EXPECTED ROUTE OF EXPOSURE. IF VAPORS OR MIST CAUSE IRRITATION OR DISTRESS,
REMOVE SUBJECT TO FRESH AIR. GIVE OXYGEN OR ARTIFICIAL RESPIRATION IF NEEDED.
EYE CONTACT: FLUSH WITH PLENTY OF WATER FOR AT LEAST 15 MINUTES. IF IRRITATION PERSISTS, SEEK MEDICAL
SKIN CONTACT: REMOVE CONTAMINATED CLOTHING AND WASH CONTACT AREA WITH WATER. LAUNDER CLOTHING
IF APPRECIABLE QUANTITIES ARE SWALLOWED, CONTACT A PHYSICIAN OR POISON CONTROL CENTER.
DRINK ONE OR TWO GLASSES OF WATER. DO NOT INDUCE VOMITING OR GIVE ANYTHING BY MOUTH.

24 Madison Road, Fairfield, New Jersey 07004, USA
Tel: 800-771-JEEN (5336), Tel: 973-439-1401, Fax: 973-439-1402,
email: info@jeen.com , Website: www.jeen.com