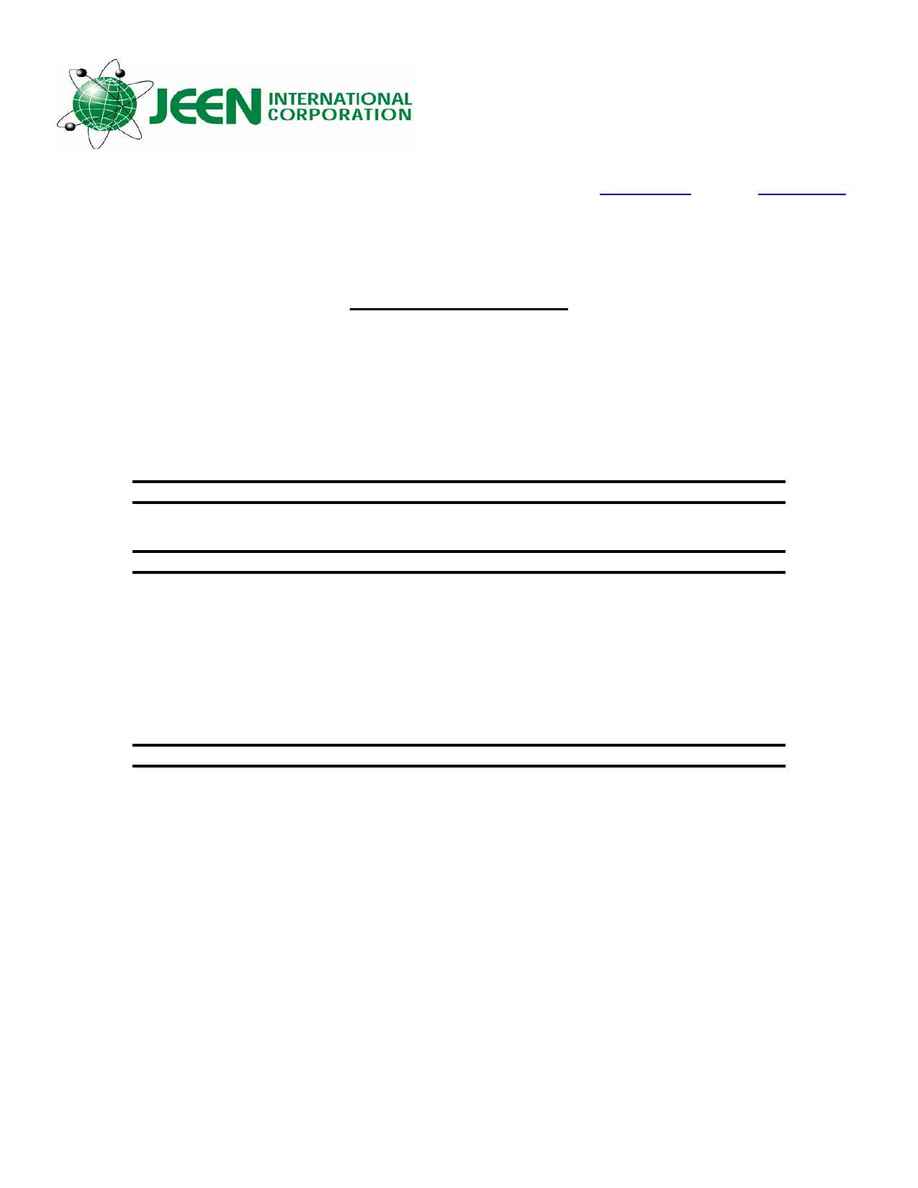 MATERIAL SAFETY DATA SHEET

MANUFACTURER:
JEEN INTERNATIONAL CORPORATION
Chemtrec Emergency Tel.# 800-424-9300-Chemtrec Int'l Tel.# 703-527-3887(Collect Calls Accepted)

PRODUCT:
JEECHEM SHAMPOO CONCENTRATE #5CL
SODIUM LAURETH SULFATE, COCAMIDE DEA
COCAMIDOPROPYL BETAINE
SOLUBILITY IN WATER
(% BY VOLUME):
(BUTYL ACETATE=1)
% VOLATILE BY VOLUME:
OPAQUE, WHITE, VISCOUS LIQUID
SPECIFIC GRAVITY (H20=1):
VAPOR PRESSURE @ 20 DEG C: NOT DETERMINED
VAPOR DENSITY:
FIRE AND EXPLOSION HAZARD
FLAMMABLE LIMITS IN AIR
(% BY VOLUME):
WATER FOG, DRY POWDER OR CARBON DIOXIDE
UNUSUAL FIRE AND
EXPLOSION HAZARDS:
SPECIAL FIRE FIGHTING
PROCEDURES:
REMOVE UNPROTECTED PERSONNEL FROM HAZARD AREA.
WEAR PROTECTIVE CLOTHING. EMERGENCY PERSONNEL
SHOULD BE EQUIPPED WITH A NIOSH APPROVED SCBA WITH
FULL FACE PIECE. COOL EXPOSED CONTAINERS WITH WATER.






Page No. 1 of 3 - MSDS - JEECHEM SHAMPOO CONCENTRATE #5CL
24 Madison Road, Fairfield, New Jersey 07004, USA
Tel: 800-771-JEEN (5336), Tel: 973-439-1401, Fax: 973-439-1402,