Jeen International msds JEECHEM NP 30 Page 1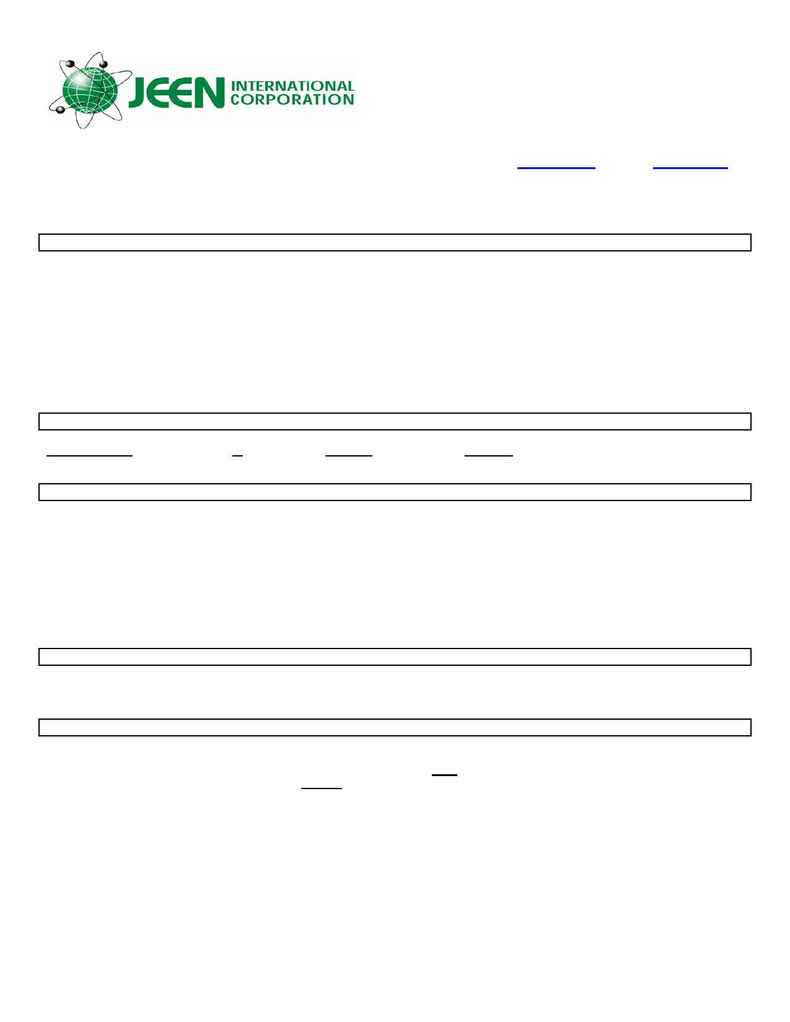 MATERIAL SAFETY DATA SHEET
SECTION I - MATERIAL AND MANUFACTURER IDENTIFICATION
` Chemtrec Emergency Tel.# 800-424-9300
JEEN INTERNATIONAL CORPORATION
Chemtrec Int'l Tel.# 703-527-3887(Collect Calls Accepted)
24 MADISON ROAD
FAIRFIELD, NEW JERSEY 07004
Telephone No.: 973-439-1401
JEECHEM NP-30 (70%)
POLYOXYETHYLENE (30) NONYL PHENYL ETHER; AQUEOUS SOLUTION
EHOXYLATED PHENOL, AQUEOUS SOLUTION
SECTION II - HAZARDOUS INGREDIENTS

COMPOSITION:
SECTION III - HEALTH INFORMATION

INHALATION:

INGESTION:
LD50:3.7 G/KG (RAT) (POE (33) NONYLPHENOL)

EYE CONTACT:
INSTILLATION OF 0.1 ML OF POE (30) NONYLPHENOL INTO THE EYES OF 9 ALBINO
RABBITS RESULTED IN NO IRRITATION.

SKIN CONTACT:
THE PRIMARY IRRITATION INDEX OF A SIMILAR POE NONYLPHENOL WAS 0. A CLOSED
PATCH TEST ON HUMANS FOR 72-HOURS DID NOT SHOW ANY IRRITATION.

SECTION IV - OCCUPATIONAL EXPOSURE LIMITS

PEL:
SECTION V - EMERGENCY FIRST AID PROCEDURE
FOR OVEREXPOSURE
BY SWALLOWING:
IF VICTIM IS CONSCIOUS AND ABLE TO SWALLOW, PROMPTLY HAVE VICTIM DRINK
WATER OR MILK TO DILUTE. DO NOT GIVE SODIUM BICARBONATE, FRUIT JUICES, OR
VINEGAR. NEVER GIVE ANYTHING BY MOUTH IF THE VICTIM IS UNCONSCIOUS OR
HAVING CONVULSIONS. INDUCE VOMITING ONLY IF ADVISED BY PHYSICIAN OR POISON
CONTROL CENTER. CALL A PHYSICIAN OR POISON CONTROL CENTER IMMEDIATELY.

FOR OVEREXPOSURE
BY SKIN CONTACT:


PAGE 1 OF 3 (JEECHEM NP-30-(70%))
24 Madison Road, Fairfield, New Jersey 07004, USA
Tel: 800-771-JEEN (5336), Tel: 973-439-1401, Fax: 973-439-1402,