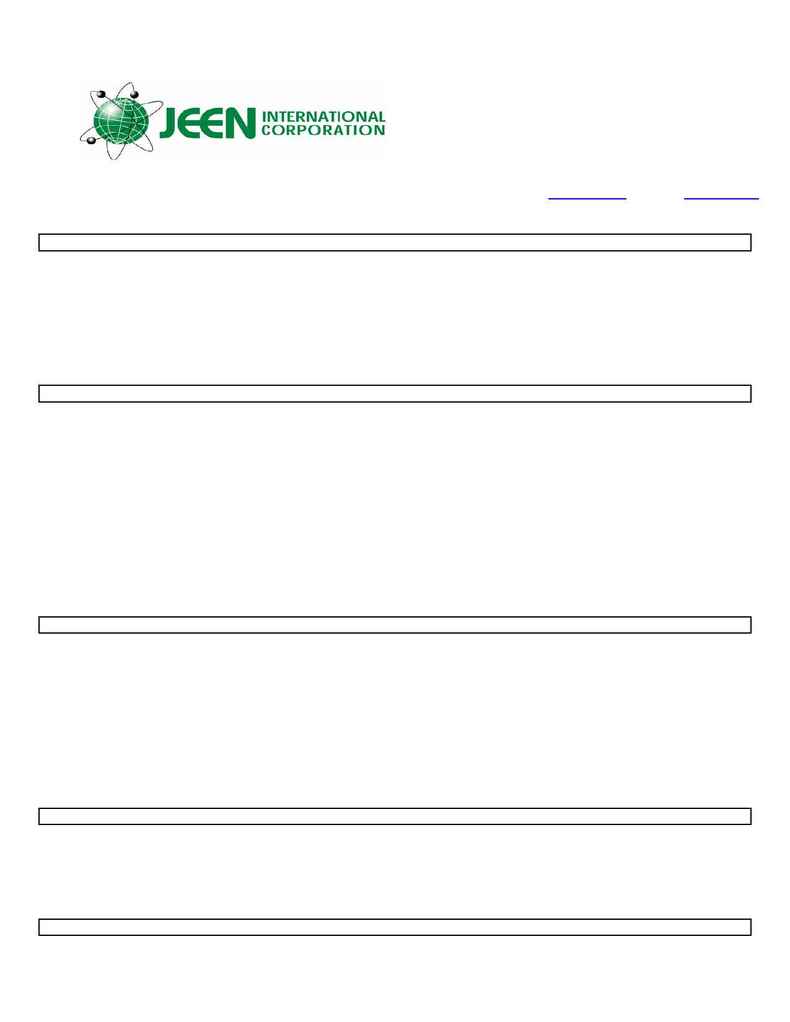 STABILITY:
HAZARDOUS POLYMERIZATION: NONE LIKELY
CONDITIONS & MATERIALS
TO AVOID:
KEEP AWAY FROM HEAT AND FLAMES. AVOID CONTACT WITH OXIDIZING
MATERIALS.
HAZARDOUS DECOMPOSITION
PRODUCTS:
MATERIALS MAY PRODUCE CARBON MONOXIDE
SECTION IX - EMPLOYEE PROTECTION

CONTROL MEASURES:
HANDLE IN THE PRESENCE OF ADEQUATE VENTILATION.
WHERE EXPOSURE IS LIKELY TO EXCEED ACCEPTABLE CRITERIA (SEE SECTIONS II AND IV), USE NIOSH/OSHA
APPROVED RESPIRATORY EQUIPMENT. RESPIRATORS SHOULD BE SELECTED BASED ON THE FORM AND
CONCENTRATION OF CONTAMINANT IN AIR AND IN ACCORDANCE WITH OSHA (29 CFR 1910.134).
WEAR GLOVES AND PROTECTIVE CLOTHING WHICH ARE IMPERVIOUS TO THE PRODUCT FOR THE DURATION OF
ANTICIPATED EXPOSURE IF THERE IS POTENTIAL FOR PROLONGED OR REPEATED SKIN CONTACT.
WEAR SAFETY GLASSES MEETING THE SPECIFICATIONS OF ANSI STANDARD Z87.1 WHERE NO CONTACT WITH
THE EYE IS ANTICIPATED. CHEMICAL SAFETY GOGGLES MEETING THE SPECIFICATIONS OF ANSI STANDARD
Z87.1 SHOULD BE WORN WHENEVER THERE IS THE POSSIBILITY OF SPLASHING OR OTHER CONTACT WITH
EYES.
SECTION X - ENVIRONMENTAL PROTECTION

ENVIRONMENTAL PRECAUTIONS:
AVOID UNCONTROLLED RELEASES OF THIS MATERIAL. WHERE SPILLS ARE POSSIBLE, A COMPREHENSIVE SPILL
RESPONSE PLAN SHOULD BE DEVELOPED AND IMPLEMENTED.
SPILL OR LEAK PRECAUTIONS:
WEAR APPROPRIATE RESPIRATORY PROTECTION AND PROTECTIVE CLOTHING AS DESCRIBED IN SECTION IX.
CONTAIN SPILLED MATERIAL. TRANSFER TO SECURE CONTAINERS. WHERE NECESSARY, COLLECT USING
ABSORBENT MEDIA. IN THE EVENT OF AN UNCONTROLLED RELEASE OF THIS MATERIAL, THE USER SHOULD
DETERMINE IF THE RELEASE IS REPORTABLE UNDER APPLICABLE LAWS AND REGULATIONS.
ALL RECOVERED MATERIAL SHOULD BE PACKED, LABELED, TRANSPORTED, AND DISPOSED OR RECLAIMED IN
CONFORMANCE WITH APPLICABLE LAWS AND REGULATIONS AND IN CONFORMANCE WITH GOOD ENGINEERING
PRACTICES. AVOID LANDFILLING OF LIQUIDS. RECLAIM WHERE POSSIBLE.
SECTION XI - REGULATORY CONTROLS
DEPARTMENT OF TRANSPORTATION:
DOT PROPER SHIPPING NAME: -

OTHER REGULATORY REQUIREMENTS:
SECTION XII - PRECAUTIONS: HANDLING, STORAGE AND USAGE
NO SPECIAL PRECUATIONS NECESSARY. AVOID CONTAINER DAMAGE WHILE HANDLING AND STORING.
PAGE 3 OF 3 (JEECHEM NP-30 (70%))
24 Madison Road, Fairfield, New Jersey 07004, USA
Tel: 800-771-JEEN (5336), Tel: 973-439-1401, Fax: 973-439-1402,