Jeen International msds JEECHEM CA 9 Page 1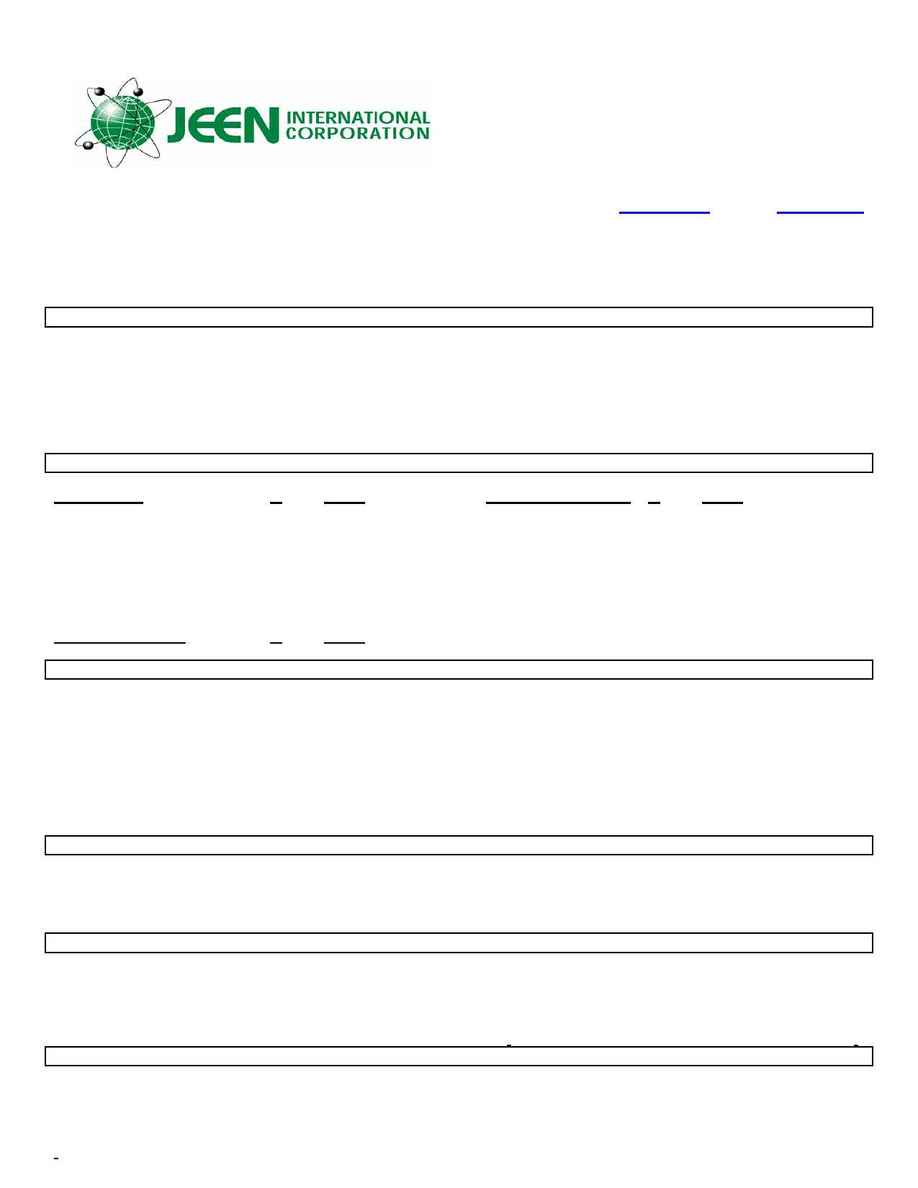 MATERIAL SAFETY DATA SHEET

U.S. Department of Labor Occupational Safety and Health Administration Required under USDL Safety and Health Regulations for Ship
Repairing, Shipbuilding, and Shipbreaking (29 CFR 1915, 1916, 1917) Form OSHA-20
SECTION I - MATERIAL AND MANUFACTURER IDENTIFICATION
Chemtrec Emergency Tel.# 800-424-9300
Chemtrec Int'l Tel.# 703-527-3887 (Collect Calls Accepted)
Fairfield, NJ 07004
Telephone No.: 973-439-1401
Chemical Name and Synonyms:
Polyoxyethylene Castor Oil
JEECHEM CA-9
HAZARDOUS MIXTURES
OR OTHER LIQUIDS,
PERCENT VOLATILE BY VOLUME (%):
SECTION IV - FIRE AND EXPLOSION HAZARD DATA
FLASH POINT (METHOD USED):
SPECIAL FIRE FIGHTING PROCEDURES:
UNUSUAL FIRE AND EXPLOSIONHAZARDS:
SECTION V - HEALTH HAZARD DATA
EYES: EXPOSURE CAUSES EXCESSIVE WATERING, REDNESS AND STINGING.
SKIN: EXPOSURE MAY CAUSE ITCHING AND REDNESS SIMILAR TO RASH.
EMERGENCY AND FIRST AID PROCEDURES: EYES: FLUSH IMMEDIATELY WITH COPIOUS AMOUNTS OF WATER.
CONTINUE FLUSHING FOR AT LEAST 15 MIN. SEEK MEDICAL ATTENTION.
SKIN: WASH EXPOSED AREAS WITH SOAP AND WATER. IF ITCHING AND REDNESS PERSIST SEEK MEDICAL ATTENTION.
SECTION
INCOMPATIBILITY (MATERIALS TO AVOID):
HAZARDOUS DECOMPOSITION PRODUCTS:
CONDITIONS TO AVOID: DO NOT EXPOSE TO STRONG OXIDIZING AGENTS
24 Madison Road, Fairfield, New Jersey 07004, USA
Tel: 800-771-JEEN (5336), Tel: 973-439-1401, Fax: 973-439-1402,