Jeen International msds JEECHEM BUBBLE BATH GSE Page 1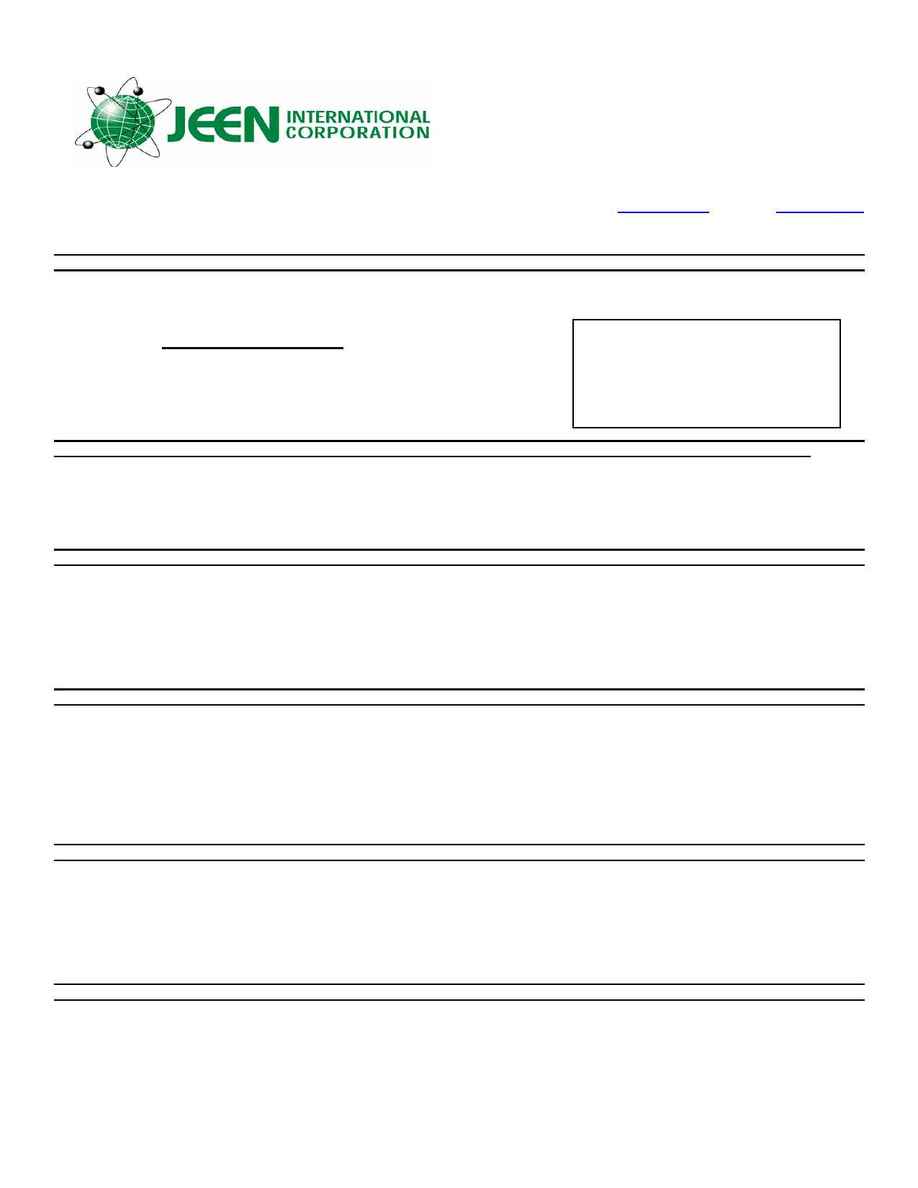 Material Safety Data Sheet
Section 1 - Company and Product Identification
JEEN International Corporation
Chemtrec Emergency Tel.# 800-424-9300
Chemtrec Int'l Tel.# 703-527-3887(Collect Calls Accepted)
Telephone No. (973) 439-1401
Product Name: JEECHEM Bubble Bath GSE
Ingredients
Section 2 - Physical Data
Evaporation Rate (BuAc = 1):
Special Fire Fighting
Procedures:
Wear self contained breathing apparatus and full protective gear when entering confined areas.
Unusual Fire and
Explosion Hazards:
Flammable liquid and escaping vapors may ignite which can result in flash fire.
Section 4 - Health Hazard Information
Threshold Limit Value (ACGIH TLV):
OSHA Permissible Exposure Limit (PEL):
Carcinogenicity - NTP Monograph: OSHA:
Ocular Irritation Studies (Animal):
Contains material that irritates nose, throat, and respiratory tract.
If breathing has stopped, administer artificial respiration and seek medical attention.
Flush with plenty of water for at least 15 minutes. If irritation persists, seek medical
attention.
Wash with soap and water.
If appreciable quantities are swallowed, contact a physician or poison control center. Drink one
or two glasses of water.
Section 6 - Reactivity Data
Hazardous Polymerization:
Hazardous Decomposition Products:
Products of combustion are hazardous.

Page No. 1 of 2 - MSDS - JEECHEM Bubble Bath GSE
Reactivity: 0 0
Equipment: B
(0=least, 1= slight,2=moderate,3=high)
24 Madison Road, Fairfield, New Jersey 07004, USA
Tel: 800-771-JEEN (5336), Tel: 973-439-1401, Fax: 973-439-1402,