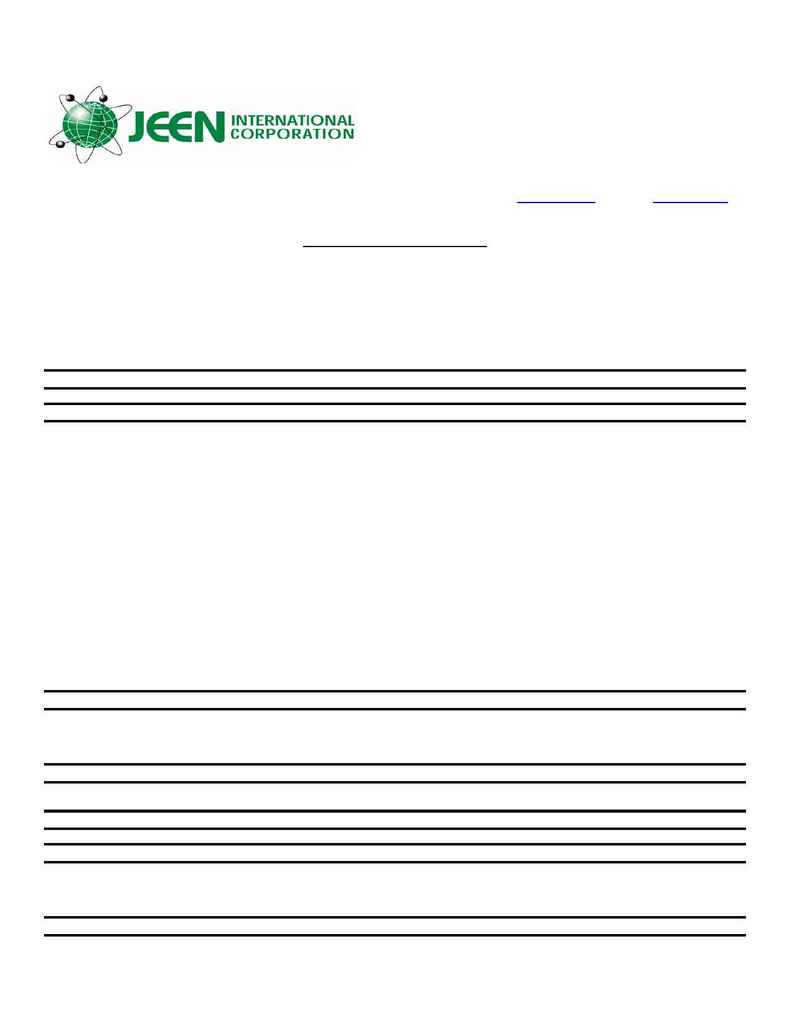 MATERIAL SAFETY DATA SHEET

MANUFACTURER:
JEEN INTERNATIONAL CORPORATION
Chemtrec Emergency Tel.# 800-424-9300
*Chemtrec Int'l Emergency Tel.# 703-527-3887
*(Collect Calls Accepted)

PRODUCT NAME:
ALOE VERA GEL DECOLORIZED 40X
SECTION 2 - HAZARDOUS COMPONENTS OF MIXTURES
SECTION 3 - HEALTH INFORMATION & PROTECTION
PROLONGED EXPOSURE TO HOT MATERIALS MAY CAUSE IRRITATION OF NASAL
PASSAGES. AVOID BREATHING HOT VAPORS. USE RESPIRATOR IF NECESSARY. IN
CASE OF OVEREXPOSURE MOVE TO FRESH AIR.

NOT A SKIN IRRITANT. PROLONGED CONTACT MAY CAUSE IRRITATION IN SOME
PEOPLE. WHEN CONTACT IS EVIDENT FLUSH AREA WITH WATER. SENSITIVE PEOPLE
SHOULD
HANDLE PRODUCT WITH GLOVES.

EYE CONTACT:
CAN CAUSE IRRITATION ON CONTACT. FLUSH WITH LARGE AMOUNTS OF WATER. SEEK
PROMPT MEDICAL ATTENTION IF IRRITATION PERSISTS.

THE ABOVE EVALUATION OF HAZARD IS BASED ON THE KNOWLEGE OF THE TOXICITY
AND THE COMPONENTS OF THIS PRODUCT.
OCCUPATIONAL EXPOSURE
LIMIT:

PERSONAL PROTECTION:
GLOVES AND SAFETY GOGGLES SHOULD BE WORN WHEN HANDLING PRODUCT.

VENTILATION:
SECTION 4 - FIRE AND EXPLOSION HAZARD DATA
HAZARDOUS COMBUSTION PRODUCTS: NONE

SECTION 5 - SPILL CONTROL PROCEDURE
PREVENT ADDITIONAL DISCHARGE OF PRODUCT. FLUSH AREA WELL WITH WATER. DISPOSAL
MUST BE IN ACCORDANCE WITH FEDERAL, STATE AND LOCAL REGULATIONS.
SECTION 7 - TYPICAL PHYSICAL & CHEMICAL PROPERTIES
VAPOR PRESSURE @ 25°C: N/A
VAPOR PRESSURE @ 25 DEG C:
SECTION 8 - REACTIVITY DATA
HAZARDOUS POLYMERIZATION:
24 Madison Road, Fairfield, New Jersey 07004, USA
Tel: 800-771-JEEN (5336), Tel: 973-439-1401, Fax: 973-439-1402,