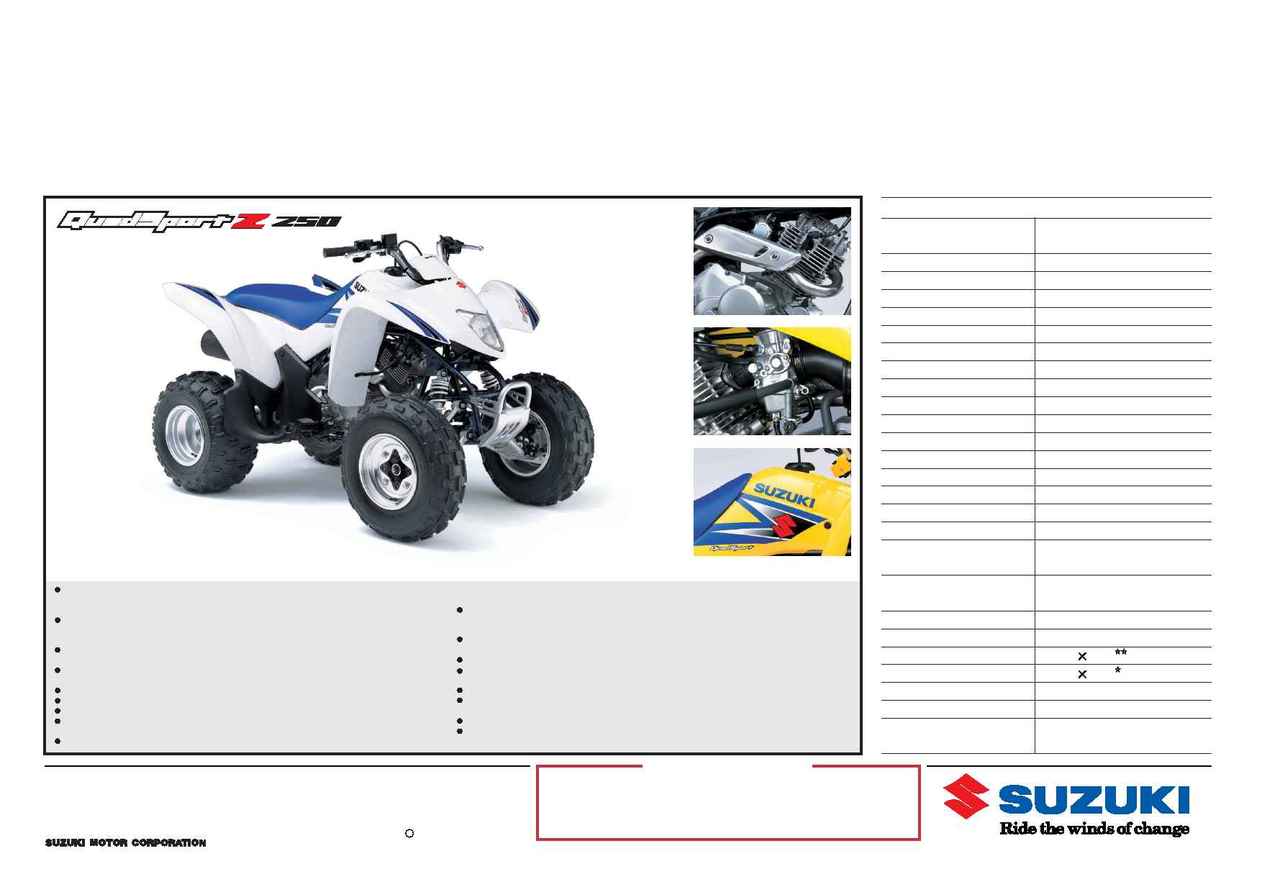 Ready For Adventure, Ready For Recreation
Fully sporty enough to be a performance Quad and thoroughly friendly enough to be a recreational ATV, the QuadSport Z250 is ready for action, whether you
like twisting forest trails, mountain roads or desert hills. Powerful 246cc engine that packs a plenty of punch. Pure Suzuki QuadSport low-slung chassis and
radical bodywork. User-friendly 5-speed transmission with automatic clutch. Terrain-traversing 22-inch front tires and high-performance 20-inch rear tires.
Sporty and comfortable T-shaped seat. Loaded with performance character that will excite any rider and packed with convenient, rider friendly features,
the QuadSport Z250 is the first real sport ATV for a wide range of customers. The fun all starts right here.
246cc, 4-stroke, 1-cylinder, air-cooled, SOHC engine with a high 9.2:1 compression ratio and
lightweight crankshaft delivers smooth power through broad rpm range, quick response and plenty
of punch.
29mm (1.1in.) MIKUNI BSR carburetor, fed by a large well-protected airbox, contributes to the
QuadSport Z250's sporty performance featuring strong takeoff response and predictable power
delivery.
Automatic cam-chain tensioner keeps the engine operation quiet and reliable. Rubber engine
mounts reduce vibration for superior riding comfort.
5-speed transmission with gear ratios chosen for dynamic performance. Height adjustable shift
pedal suits rider's favorite position.
Automatic clutch keeps shifting operation simple and silkily smooth.
Low-maintenance shaft drive ­ no worries about chain tension or lubrication.
Sturdy steel-tube frame well balanced with rigidity and flexibility.
Solid-steel skid plate protects engine against rocks and trail obstacles; strong front bumper guards
suspension and engine from frontal impacts.
Independent double-wishbone front suspensions with oil-damped, coil-over shock absorbers and
lightweight steel swingarm rear suspension with single, gas-charging, coil-over shock absorber both
deliver 155mm (6.1in.) of wheel travels and come with 5-way spring preload adjustment.
22-inch front tires ride smoothly over various terrain and contribute to the QuadSport Z250's easy
handling feel. 20-inch rear tires help delivering excellent acceleration and contribute to great
cornering feel. All tires on lightweight aluminum rims.
hydraulic front disc brakes with large-diameter discs for consistent stopping power, and single,
cable-operated drum rear brake is sealed for reliability and also serves as a parking brake.
Large 10.6-liter fuel tank. Vacuum-operated automatic fuel valve.
40W halogen multi-reflector high/low beam headlight provides visibility in tough conditions and
multi-reflector taillight.
150W generator and maintenance-free battery manage a steady supply of electricity.
Radical front and rear fenders highlight the QuadSport Z250's pure sporty image. The rear fenders
combined with vented plastic mudguards to increase leg and feet protection.
5-liter, water-resident underseat utility box.
Suzuki-original, well-padded T-shaped seat is narrow in front and blends into the fuel tank to allow
easy movement.
QuadSport Z250 (LT-Z250) SPECIFICATIONS
246cc, single-cylinder, SOHC, 2-valve engine
29mm Mikuni BSR carburetor
Engine type
4-stroke, 1-cylinder, air-cooled,
Piston displacement
Bore x stroke
Compression ratio
Carburetor
Starter system
Transmission
Drive system
Overall length
Overall width
Overall height
Wheelbase
Front track
Rear track
Ground clearance
Seat height
Dry mass
Suspension front
Independent, double wishbone,
rear
Swingarm type, coil spring,
Brakes front
rear
Tires front
rear
Ignition type
Electronic ignition (CDI)
Fuel tank
Body colors
YU1 : Champion Yellow No.2
30H : Solid Special White No.2
ATV SAFETY INFORMATION
The Suzuki QuadSport Z250 (LT-Z250) is engineered for experienced riders, and is
for use only by those aged 16 and older. ATVs can be hazardous to operate. For
your safety, always wear a helmet, eye protection and protective clothing. Always
avoid paved surfaces. Never ride on public roads. Never carry passengers or engage
in stunt riding. Riding and alcohol or other drugs do not mix. Avoid excessive speeds.
Be extra careful on difficult terrain. Read your Owner's Manual carefully.
Specifications, appearances, equipment, colors, materials and other items of 4 6 ; 6 , * ° Q S P E V D U T T I P X O P O U I J T D B U B M P H V F
N B O V G B D U V S F S T
4 P N F N P E F M T B S F O P U B W B J M B C M F J O T P N F U F S S J U P S J F T
. Each model might be discontinued without notice. Please
inquire at your local dealer for details of any such changes. Actual body colors might differ from the colors in this brochure.
` Always wear helmet, eye protection, and protective clothing Ô Read your owner's manual carefully
Ô Enjoy riding safely Ô Never ride under the influence of alcohol or other drugs
PRINTED IN JAPAN QuadSport Z250 (LT-Z250) Leaflet 99999-A3214-161 DATE OF ISSUE APR.'05
300 Takatsuka, Hamamatsu, Japan
30H : Solid Special White No.2